A top analyst believes XRP must reclaim $0.6 to solidify confidence in the recent decline being the bottom. Otherwise, a short-term decline to $0.41 is possible.
EGRAG CRYPTO, a prominent market technical analysis resource, recently shared the possible scenarios for XRP's price. Particularly, EGRAG weighed in on XRP from a short-term analysis perspective based on XRP's daily time frame.
Moreover, EGRAG sought to establish whether XRP's recent decline to $0.4346 represented its absolute bottom before the next significant bull rally. 
Is $0.4346 XRP's Bottom?
In the recent tweet, the analyst argued that XRP must re-enter a previous channel it traded in and close slightly above the value to be confident about the low point. EGRAG specifically mentioned that XRP must regain the $0.6 pivotal price point. He believes XRP closing above $0.6 and $0.67 will create assurance for the end of its bottom.
The statement read:
"To solidify confidence in the recent decline being the bottom, it's paramount that XRP re-enters the Channel and achieves a closing price above the pivotal marks of 0.60c and 0.67c."
Notably, XRP trades at $0.5256, with barely any significant gain in the last 24 hours. Reclaiming $0.6 would require a 14.13% growth. Meanwhile, the analyst noted that XRP failing to meet $0.6 would imply a short-term bearish trend. 
According to EGRAG, the projected short-term decline will see XRP pull back to $0.43. A fall to $0.41 was also within possibility. Nonetheless, the analyst stated that XRP hitting these low values will cement the foundation for the next bullish move.
"… a pullback to the range of 0.41-0.43c remains viable, potentially establishing the foundation for the next upward move."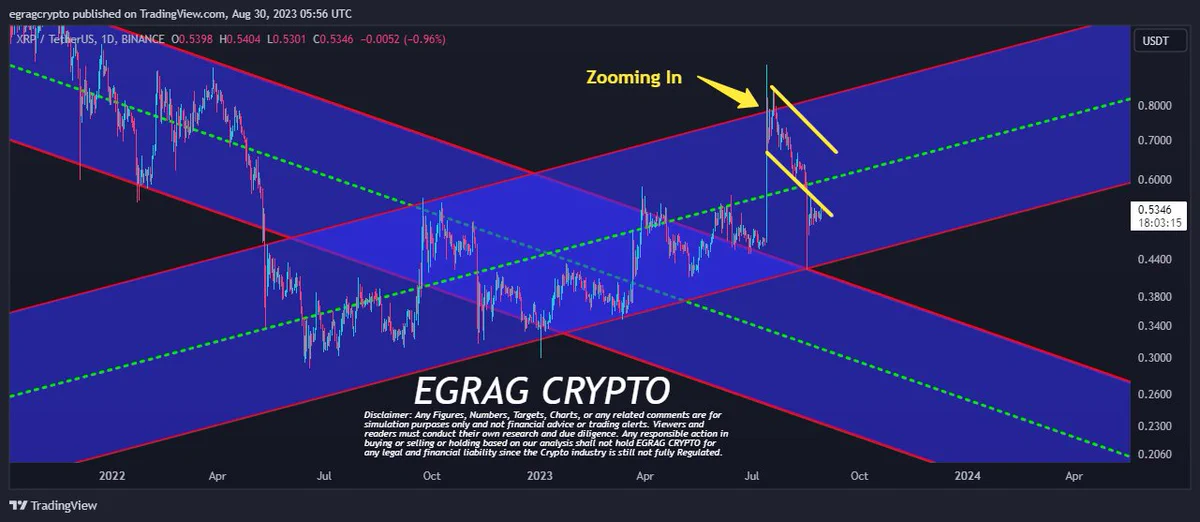 Crypto Community Reacts
Meanwhile, EGRAG's technical analysis of XRP attracted varied sentiments among crypto market participants. While some agreed, others believed the crash to $0.41 may hit hard on the crypto market.
A commenter argued that XRP reaching around $0.40 would imply that Bitcoin (BTC) crashed to $21,000. Similarly, an XRP enthusiast highlighted that the dynamics are not as simple as EGRAG presented.
The enthusiast stressed that the previous drop to $0.43 resulted from high leverage and cascading liquidations. This commenter believes presenting that specific range as an actual low might not fully capture the dynamics at play.
Follow Us on Twitter and Facebook.
Disclaimer: This content is informational and should not be considered financial advice. The views expressed in this article may include the author's personal opinions and do not reflect The Crypto Basic's opinion. Readers are encouraged to do thorough research before making any investment decisions. The Crypto Basic is not responsible for any financial losses.
-Advertisement-