Crypto analyst Identifies the formation of a cup and handle pattern on the XRP monthly chart, forecasting a looming 6,682% surge to $34.
Amid XRP's correction phase, CryptoInsightUK, a crypto analytical community-driven account, has identified a bullish pattern. A recent analysis revealed that XRP has formed a Cup and Handle pattern on the monthly chart, potentially setting the stage for a rally to $34. 
The Cup and Handle Pattern forms when the chart shows a U-shaped "cup" followed by a shorter consolidation phase, the "handle." This pattern suggests that after a period of consolidation, the asset's price is likely to break out to the upside.
In this case, the cup portion of the pattern formed as a result of XRP's journey from the all-time high (ATH) in January 2018 to the $1.2562 price in November 2021. XRP had dropped from the ATH in January 2018 but recovered to reclaim a $1.2562 high in 2021.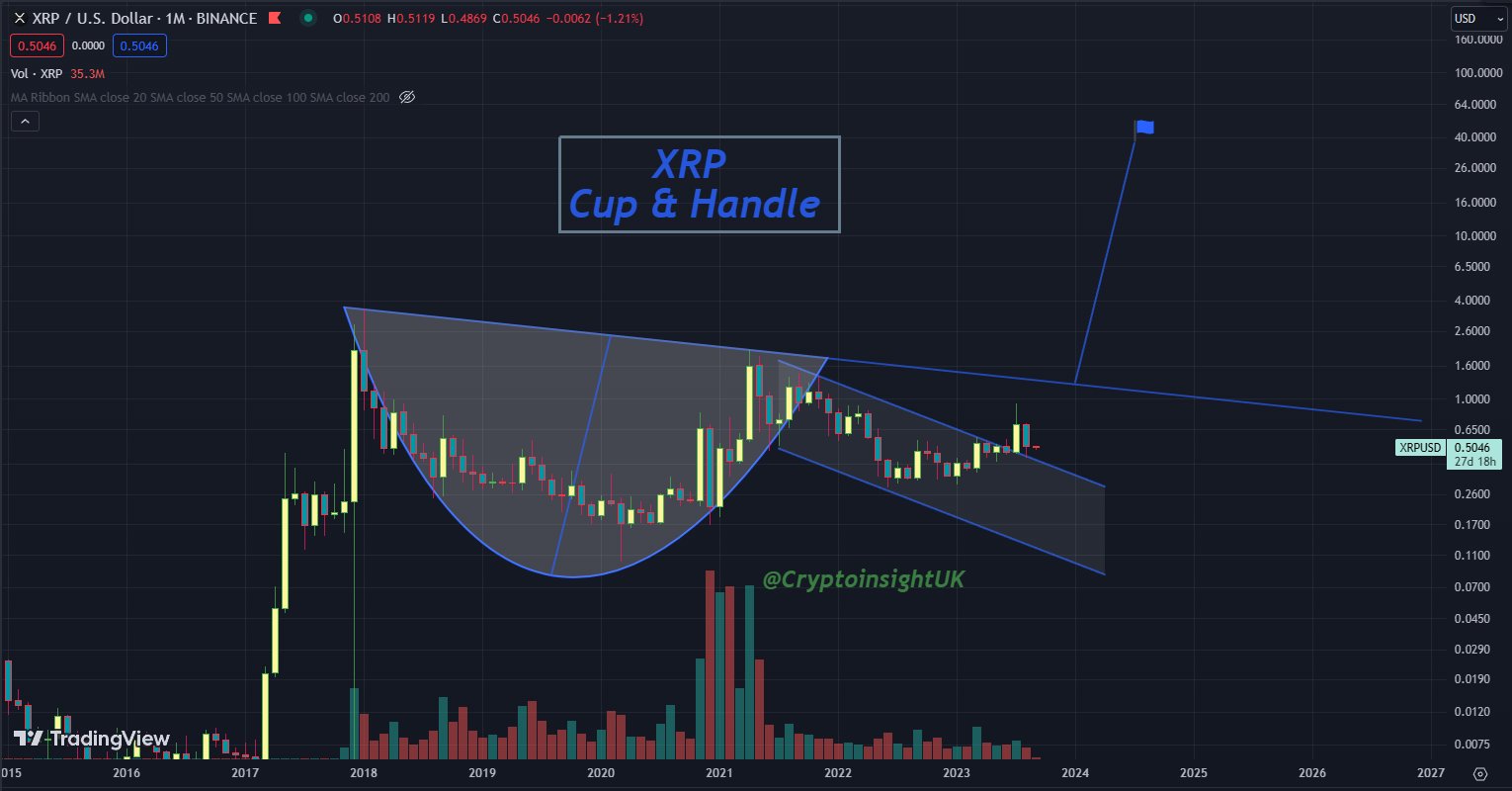 Following the $1.2562 high, XRP experienced a prolonged period of downward consolidation which led to the formation of the handle. This period extended into this year.
However, the breakthrough moment for XRP came in July, when it broke out of the handle pattern. This breakout came as a result of the significant price spike triggered by the victory in the SEC lawsuit. 
CryptoInsightUK pointed out that XRP has been consistently testing retesting the handle amid the recent correction. Recall that XRP plummeted from the $0.9380 high of July 13, currently facing a sharp retracement.
XRP Targets $34
At this point, the key factor to watch for is a clean break of a descending diagonal blue line on the chart, a level XRP has not breached in over five years. The closest XRP came to breaking this line was in April 2021, when it soared by an impressive 180% in a single month.
Should XRP break the blue line, the technical target set by CryptoInsightUK is an ambitious $34 for XRP. To put this into perspective, XRP is currently trading at $0.5013 amid the recent downtrend.
Achieving a price of $34 would require a staggering rally of 6,682%. While this might seem like a formidable task, the crypto market has a history of delivering remarkable price surges.
When asked about the timeframe for XRP to reach this ambitious target, the analyst remained cautious, stating that the technical analysis doesn't provide a clear indication of when this milestone might be reached.
Follow Us on Twitter and Facebook.
Disclaimer: This content is informational and should not be considered financial advice. The views expressed in this article may include the author's personal opinions and do not reflect The Crypto Basic's opinion. Readers are encouraged to do thorough research before making any investment decisions. The Crypto Basic is not responsible for any financial losses.
-Advertisement-