Cardano (ADA) faces a challenging market environment, unable to break the $1 barrier till 2024, amid declining bullish sentiment and mounting bearish pressures.
Cardano experienced a 50% price decline from last year, trading below $0.5 in 2023. Despite minor rebounds, ADA fails to sustain any significant bullish momentum. The coin's market capitalization fluctuates between $8 billion and $9 billion during its downtrend.
The cryptocurrency market is exhibiting slight indications of recuperation as prominent entities such as Bitcoin and Ethereum strive to uphold their crucial support thresholds. Against this contextual backdrop, Cardano (ADA), formerly regarded as a cryptocurrency with excellent fundamental attributes, has exhibited a lackluster performance. The coin's failure to sustain its profits has caused disillusionment among investors, resulting in a depreciation of nearly 50% in its value since the previous year.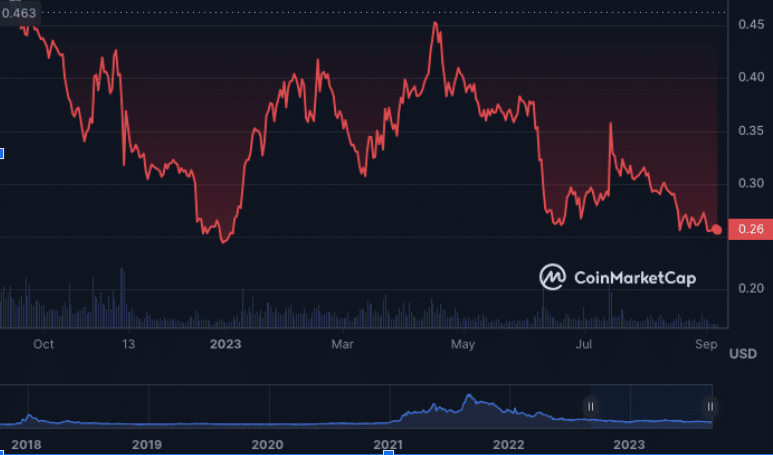 The cryptocurrency Cardano has remained at the value of $0.5 since its commencement of 2023, despite its price hovering around $0.25. The cryptocurrency surpassed the $1 threshold in April 2022, a milestone that has since been a distant recollection. Recent observations indicate that the price of ADA is anticipated to persist below $0.5 for the entirety of 2023, with the possibility of not surpassing the $1 threshold until 2024.
Analyzing Cardano's Bearish Outlook and Future Prospects
The token has exhibited a degree of stability at the support level of $0.25, demonstrating a tendency to rebound upon reaching this threshold on many occasions. In the event that this support proves ineffective, subsequent support levels can be observed at $0.22 and $0.2, representing vulnerable thresholds that may impede further downward movement.
From a technological perspective, the situation appears to be extremely grave. The current trend of the 20-day Exponential Moving Average (EMA) is downward, as evidenced by its trajectory. This negative momentum is further supported by the Moving Average Convergence Divergence (MACD) indicator. The present value of the Average Directional Index (ADX) is 23.93, suggesting a significant downward trend in the market in the day chart.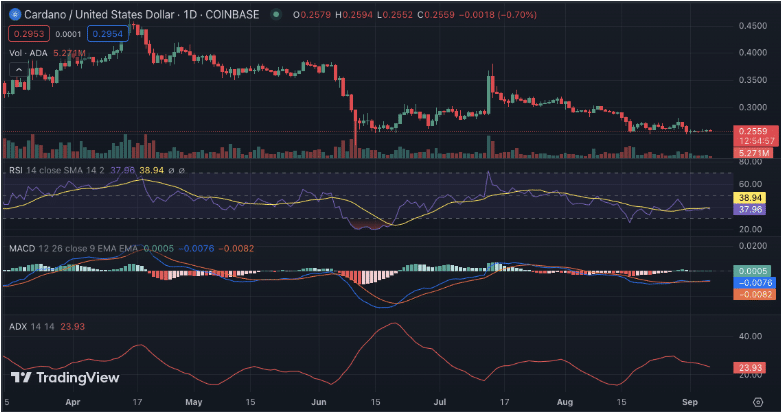 Despite minor spikes, ADA has lacked the bullish momentum to propel its price upward substantially. The coin's market capitalization has dwindled between $8 billion and $9 billion during its downswing, pointing to the need for more market confidence. ADA is trading at $0.2564, with a 24-hour decrease of 0.29 percent and a seven-day decrease of 3.67%.
Project Catalyst is an integral part of the platform, aimed at fostering community-driven innovation. It allows members to propose and vote on projects, distributing funds to those that receive community support. However, even the promise of decentralized development has yet to be sufficient to uplift Cardano's bearish market outlook.
In conclusion, Cardano's struggle to gain traction suggests a bearish scenario that could extend well into 2024. Both technical and market indicators signal a continuing downward trend, making it a challenging environment for ADA bulls. While minor rebounds may occur, the general trajectory indicates that the token might not break the $1 resistance level anytime soon.
Cardano SEC Dilemha
As reported by The Crypto Basic, the SEC initiated lawsuits against Coinbase and Binance, categorizing Cardano (ADA) as a security in both cases. Charles Hoskinson, Cardano's founder, and David Schwartz, Ripple's CTO, responded to the SEC's classification of ADA as a security in these lawsuits, disputing the SEC's stance. Hoskinson highlighted that the ICO took place in Japan and didn't involve ADA's direct sales.
The SEC's classification has significantly influenced ADA's price, leading numerous exchanges worldwide, especially in the US, to delist and halt ADA trading.
Follow Us on Twitter and Facebook.
Disclaimer: This content is informational and should not be considered financial advice. The views expressed in this article may include the author's personal opinions and do not reflect The Crypto Basic's opinion. Readers are encouraged to do thorough research before making any investment decisions. The Crypto Basic is not responsible for any financial losses.
-Advertisement-