Shiba Inu burn tracker asserts that SHIB's meteoric rise in 2021 was not a direct result of Ethereum founder Vitalik Buterin's burn but a result of demand.
Shibburn, the community-driven Shiba Inu burn tracker, recently set the record straight regarding the influence of Ethereum founder Vitalik Buterin's burn of 410.2 trillion SHIB on the asset's past rally.
Contrary to popular belief, Shibburn asserted in a post that it was the growing demand that ignited SHIB's meteoric rise in 2021 and not necessarily Vitalik's burn.  
Just to clarify something on Vitalik Buterin's burn. He did not spend $1.7B in $SHIB to burn on May 2021 for it to have any effect on price then. That was given to him when the token was deployed. Transferring 90% of what was given to him from one wallet to another (burn address)… pic.twitter.com/QCpRAnlIwz

— Shibburn (@shibburn) September 6, 2023
The burn tracker clarified that Vitalik did not spend $1.7 billion to incinerate SHIB tokens so that the burn could impact the price at the time. Note that the value of the 410 trillion tokens now stands at $3.1 billion as of press time.
Shibburn emphasized that Buterin received the SHIB tokens when the token was initially deployed, and transferring a portion of them to a burn address months later did not directly impact the token's price positively.
The community-driven burn tracker stressed that the surge in May 2021 was not solely the result of Buterin's burn but rather a reflection of the growing interest and investment in SHIB from the broader crypto community.
This substantial demand, combined with the fact that half of the token's supply was already under the custody of Vitalik Buterin, likely contributed to the asset's extraordinary price appreciation.
Shiba Inu Previous Rally
An accompanying CoinMarketCap chart substantiates these claims. Notably, data from the chart shows that SHIB had already increased by 29,151,160% from a low of $0.000000000119 on Jan. 1, 2021, to a high of $0.00003469 on May 11, 2021.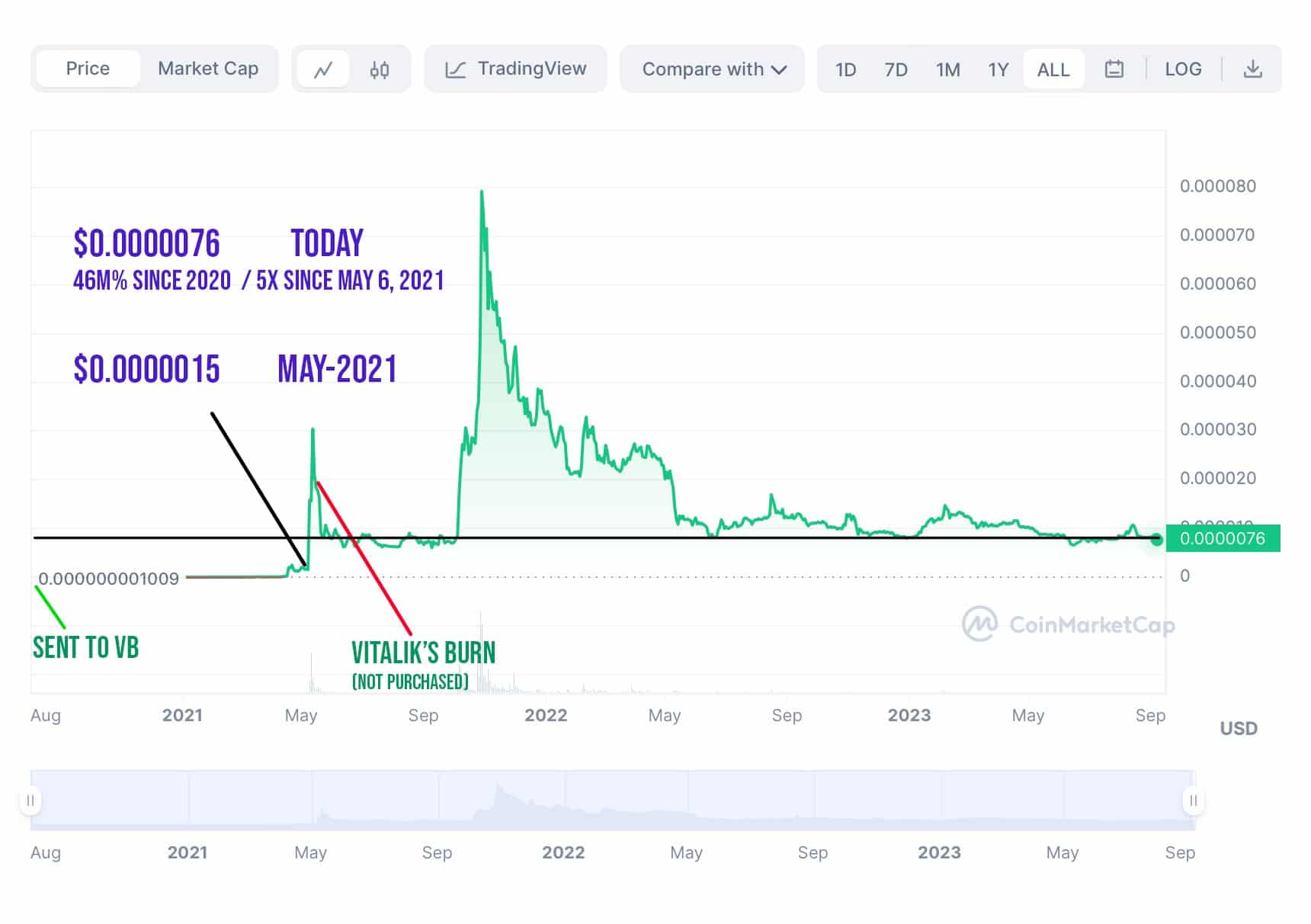 This remarkable growth occurred before Vitalik Buterin's burn, indicating that SHIB's rally was well underway before this event occurred.
However, following the initial rally, Shiba Inu experienced a temporary setback, retracing from the previous high. Buterin's burn occurred on May 16 during this correction phase.
The burn did little to stop the correction, with SHIB's price declining to $0.00000621 in June 2021. Nevertheless, the asset bounced back, surging 1,324% from that point to reach an all-time high of $0.00008845 in October 2021.
Shibburn pointed out that Shiba Inu is up over 46M% since 2020 but only 5x since May 6, 2021. This reality further confirms that the asset's meteoric rally occurred before the burn.
Shiba Inu lead developer Shytoshi Kusama previously made similar remarks on the back of calls for sustained burns. According to Kusama, burns alone cannot trigger a massive SHIB rally but utility and demand.
Follow Us on Twitter and Facebook.
Disclaimer: This content is informational and should not be considered financial advice. The views expressed in this article may include the author's personal opinions and do not reflect The Crypto Basic's opinion. Readers are encouraged to do thorough research before making any investment decisions. The Crypto Basic is not responsible for any financial losses.
-Advertisement-