Shiba Inu (SHIB) has shown remarkable growth since its inception, essentially turning a $1,000 investment into $14.7 million in four years.
Notably, Shiba Inu began trading at $0.000000000510 upon its launch in August 2020. Presented as a meme coin capable of overtaking Dogecoin (DOGE), SHIB garnered considerable attention from investors.
Investments poured in from proponents who sought to ride on yet another meme. However, following a mild increase, Shiba Inu collapsed to $0.000000000001 as 2020 came to a close. This drop tested investors' sentiments, but some remained resolute.
If an investor committed $1,000 to Shiba Inu upon its launch, this investment would have seen an impressive appreciation rate over the years. The provided chart shows how well this investment choice would have fared until now.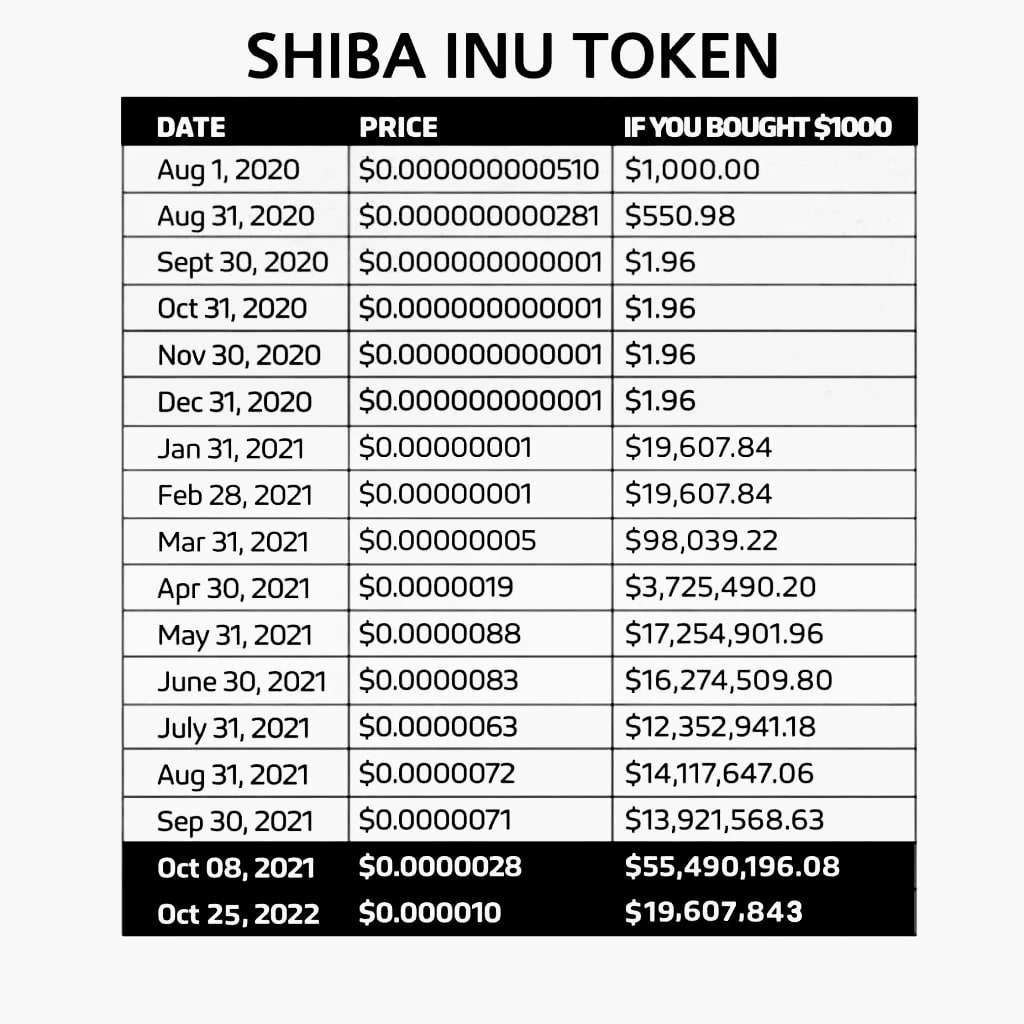 Shiba Inu Rollercoaster Ride
$1,000 invested in Shiba Inu at its earliest trading price of $0.000000000510 procured 1.96 trillion SHIB tokens. When Shiba Inu plummeted to its lowest value of $0.000000000001 later in 2020, the worth of these tokens dropped to $1.96 from Sep 2020 to Dec 2020.
However, Shiba Inu staged a comeback amid growing interest and demand as investors sought to leverage the dip. This resulted in Shiba Inu deleting up to four zeros, as it rose to $0.00000001 in the first two months of 2021. At this price, the 1.96 trillion tokens were valued at $19,607.
As SHIB continued to appreciate, so did this initial $1,000 investment. The tokens' value was worth over $3.7 million in April 2021 amid Shiba Inu's surge to $0.0000019. They hit a worth of $17.25 million when SHIB skyrocketed to $0.0000088 in May 2021.
The highest value presented on the chart is $55.49 million, attained in early October 2021 when Shiba Inu traded at $0.000028.
While not represented in the chart, this investment's peak occurred when SHIB hit its all-time high of $0.000088 on October 28, 2021. At $0.000088, the 1.96 trillion SHIB tokens were worth $172.5 million. This represented an astonishing 17,254,801% ROI.
SHIB Returns on $1000 at Current Prices
Shiba Inu is currently 91% down from its ATH value due to the prevalent turbulence in the broader crypto market. Despite the massive drop, the $1,000 investment still shows a massive appreciation rate.
If an investor held onto these tokens, at Shiba Inu's current price of $0.000007381, they would have a worth of $14.7 million. This indicates that such an investment is currently facing a 1,447,154% ROI.
For comparison, $1,000 invested in Bitcoin (BTC) in August 2020 procured 0.0854 BTC tokens. This 0.0854 BTC is currently worth $2,267 as of press time, representing a meager 126% ROI within the same timeframe as the SHIB investment.
Follow Us on Twitter and Facebook.
Disclaimer: This content is informational and should not be considered financial advice. The views expressed in this article may include the author's personal opinions and do not reflect The Crypto Basic's opinion. Readers are encouraged to do thorough research before making any investment decisions. The Crypto Basic is not responsible for any financial losses.
-Advertisement-