XRP witnesses an improvement in liquidity, exemplified in the increase in market depth to an average of $12 million in early September, Kaiko data shows.
Kaiko disclosed that the improvement in liquidity occurred on the heels of the ruling in the Ripple vs. SEC case. Notably, XRP's trade volume and price also saw significant spikes immediately after the verdict.
The asset's price surged to a yearly high of $0.9380. At the same time, 24-hour trade volume skyrocketed to $10.3 billion on July 13, the highest since Sept. 7, 2021. However, XRP's volume and price suffered declines following the rapid surges.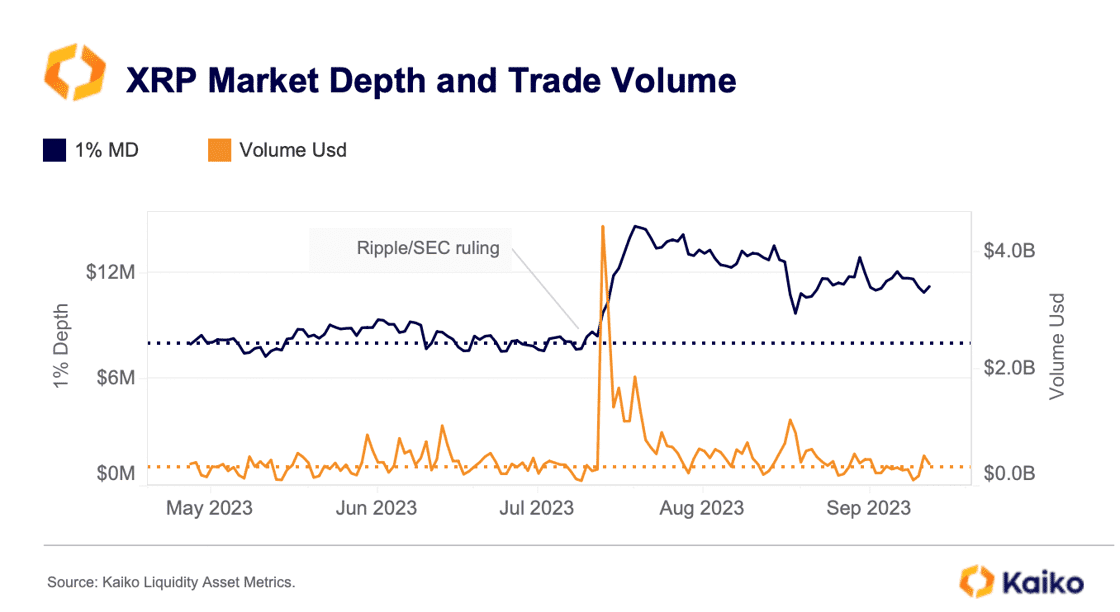 Kaiko's recent disclosure confirms that liquidity did not suffer similar declines. Interestingly, XRP's 1% market depth soared above the $12 million mark following the ruling. However, as the price and volume dropped, market depth remained reasonably stable.
Why Market Depth Matters
Market depth represents all buy and sell orders of an asset on a specific trading platform or exchange. It provides information about the supply and demand for that asset, serving as a reliable indicator of the token's liquidity.
An increase in market depth translates to an increase in liquidity. High liquidity is essential for the overall health of the XRP market, as it reduces the risk of substantial price shifts from whale transactions, eliminating chances of market manipulation. It also provides ease of trading.
Recall that XRP saw an unprecedented surge to $50 on the U.S.-based trading platform Gemini shortly after the platform listed it. This strange surge occurred due to a shallow market depth on Gemini, which resulted in a substantial price shift from a single transaction.
The Gemini situation perfectly represents the effect low market depth or liquidity could have on XRP. As a result, the relative stability observed in market depth provides traders peace of mind and represents a healthy interest in XRP.
XRP Holds Above $0.50 Amid Stable Liquidity
Unlike the price and volume, XRP's 1% depth has not plummeted to the levels witnessed before the lawsuit victory. Per Kaiko, market depth soared from $8 million in June to $12 million in early September. This increase marked a 50% surge in liquidity.
Although the market depth has slipped from $12 million, it has held well above $10 million. CoinMarketCap data reveals that Binance and Bitstamp boast relatively higher XRP depths, with $2.5 million and $1 million in +2% depth.
Amid the stable liquidity, XRP has reclaimed and secured a position above the $0.50 price. With a 7.59% increase in the past seven days, the asset is looking to recover the values lost since July 13. XRP is trading for $0.5088, up 2.3% over the last 24 hours.
Follow Us on Twitter and Facebook.
Disclaimer: This content is informational and should not be considered financial advice. The views expressed in this article may include the author's personal opinions and do not reflect The Crypto Basic's opinion. Readers are encouraged to do thorough research before making any investment decisions. The Crypto Basic is not responsible for any financial losses.
-Advertisement-