The Mt Gox Rehabilitation Trustee has moved the final repayment date to October 2024, but some creditors may get their funds at the end of the year.
The cryptocurrency market anticipated a significant event in October as Mt. Gox was scheduled to repay its creditors. However, the Trustee has changed the final repayment deadline from October 2023 to October 2024.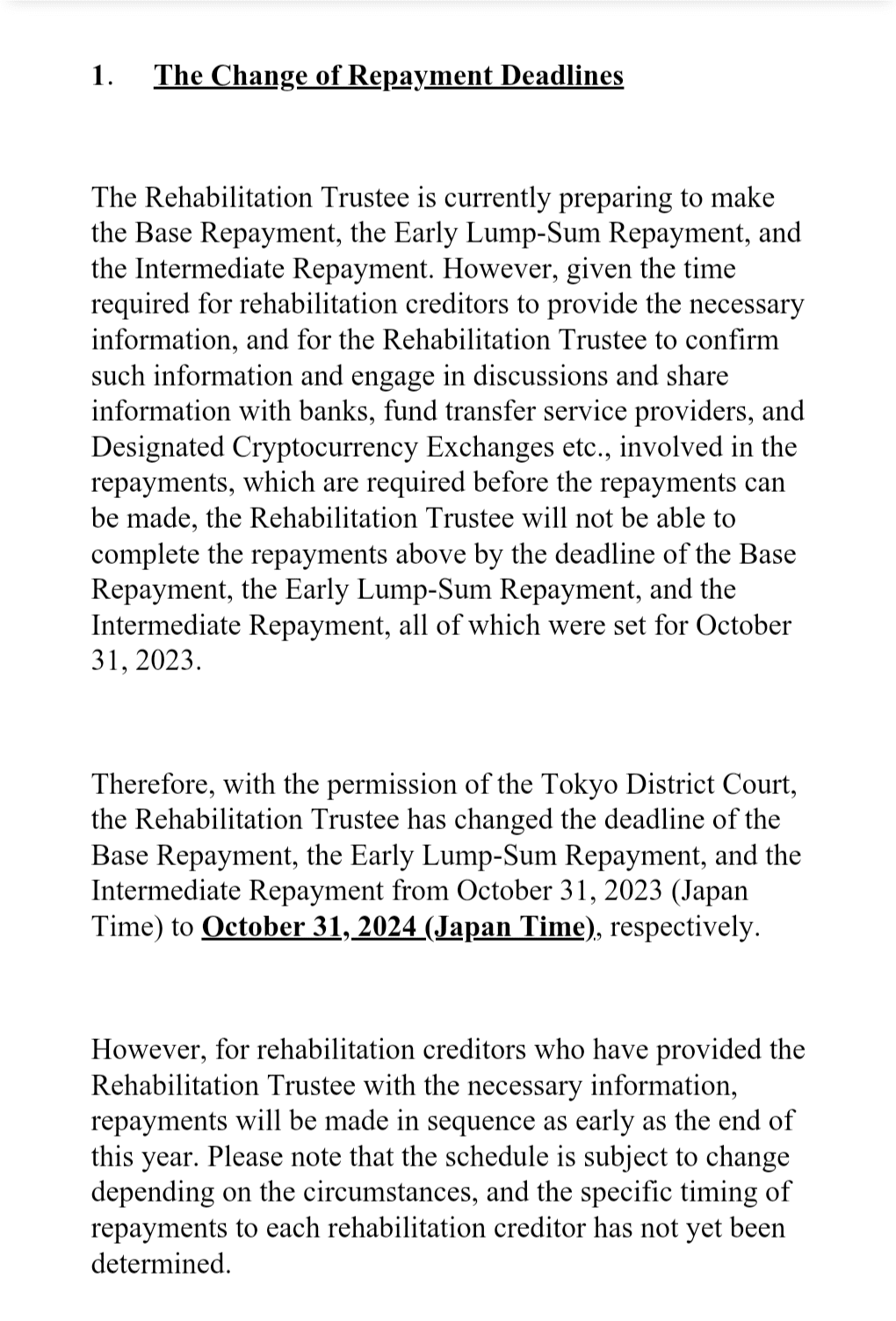 The Base Repayment, Early Lump-Sum Repayment, and Intermediate Repayment will occur in October 2024. The announcement was made via a September 21 letter. The repayment deadline was moved to October with the permission of the Tokyo District Court. 
The document explains that there is not enough time for the Rehabilitation Trustee to discuss and share information with banks, fund transfer service providers, and Designated Cryptocurrency involved in the repayments by October 2023.
Rehabilitation Creditors May Be Repaid Before the End of the Year
While the final repayment deadline has been moved to October 2024, some rehabilitation creditors may get their funds at the end of the year. 
The document adds that the Trustee will begin repaying rehabilitation creditors who have already provided all required information. The payment for this set of creditors will start by the end of this year.
However, it also adds that there is no specific timing for the repayments to each rehabilitation creditor. It also confirms that the current schedule is subject to future changes. 
How Much is Mt. Gox Paying Out Creditors?
When Mt. Gox fell in 2014, it was the biggest Bitcoin exchange and lost over 850,000 BTC. However, for the repayment, the Mt. Gox Trustee holds 142,000 Bitcoin ($3.84 billion), 143,000 Bitcoin Cash ($30 million), and 69 billion Japanese yen ($465 million).
The defunct exchange will pay over 10,000 creditors by 2024. The repayment will be made in crypto and fiat using crypto exchanges, banks, and payment processors.
Creditors have waited for over 9 nine years, and the latest update means some creditors would need to wait an extra year before being reimbursed for their losses.
The Mt. Gox Trustee had pushed the repayment deadline to September 30, as The Crypto Basic reported in March. However, they moved the deadline to October 31, a few days later. The latest development has now pushed it further by one more year.
Potential Market Impact
With the volume of funds the Mt. Gox repayment is set to re-inject, there will be a significant impact. With creditors waiting almost a decade to get repaid, many crypto analysts predicted a sell-off after the repayment.
The change in the final repayment date may not alter the formerly predicted outcome. 
Follow Us on Twitter and Facebook.
Disclaimer: This content is informational and should not be considered financial advice. The views expressed in this article may include the author's personal opinions and do not reflect The Crypto Basic's opinion. Readers are encouraged to do thorough research before making any investment decisions. The Crypto Basic is not responsible for any financial losses.
-Advertisement-