NOWNodes integrates Shibarium Tech Suite bots with Shibarium RPC Full Node, powering automated decentralized finance (DeFi) tools.
In a recent tweet, NOWNodes, a prominent node provider, made a significant announcement for the Shiba Inu community. The notification pertains to a new integration with Shibarium Technology Suite, SHIBTECH.
In particular, NOWNodes disclosed that SHIBTECH bots have now been integrated with its Shibarium remote procedure call (RPC) Full Node. The statement read:
"We're glad to announce that Shibarium Tech Suite bots are now powered by NOWNodes Shibarium RPC Full Node!"
⛓️ NEW SHIBARIUM INTEGRATION⛓️

1/ We're glad to announce that @ShibTech Shibarium Tech Suite bots are now powered by NOWNodes Shibarium RPC Full Node!

Meet the set of the best automated DeFi tools at Shibarium – in our new 🧵https://t.co/t4e5ljoXNi pic.twitter.com/neFtXPZYJ3

— NOWNodes ⛓️ (@NOWNodes) September 26, 2023
According to the notification, the integration opens up new possibilities for the Shibarium ecosystem, particularly in automated DeFi tools. NOWNodes invited the crypto community to explore the latest automated DeFi tools available via the Shibarium RPC node.
Notably, NOWNodes acknowledged the expanding Shiba Inu ecosystem, noting that SHIBTECH had played a significant role in the growth. Besides, the node provider detailed the mechanics of the newly integrated SHIBTECH bots to the Shibarium RPC node.
Shibarium Tech Suite Bots
In an image accompanying the tweets, NOWNodes described SHIBTECH as "Shibarium Multi-Bots" offering multiple features.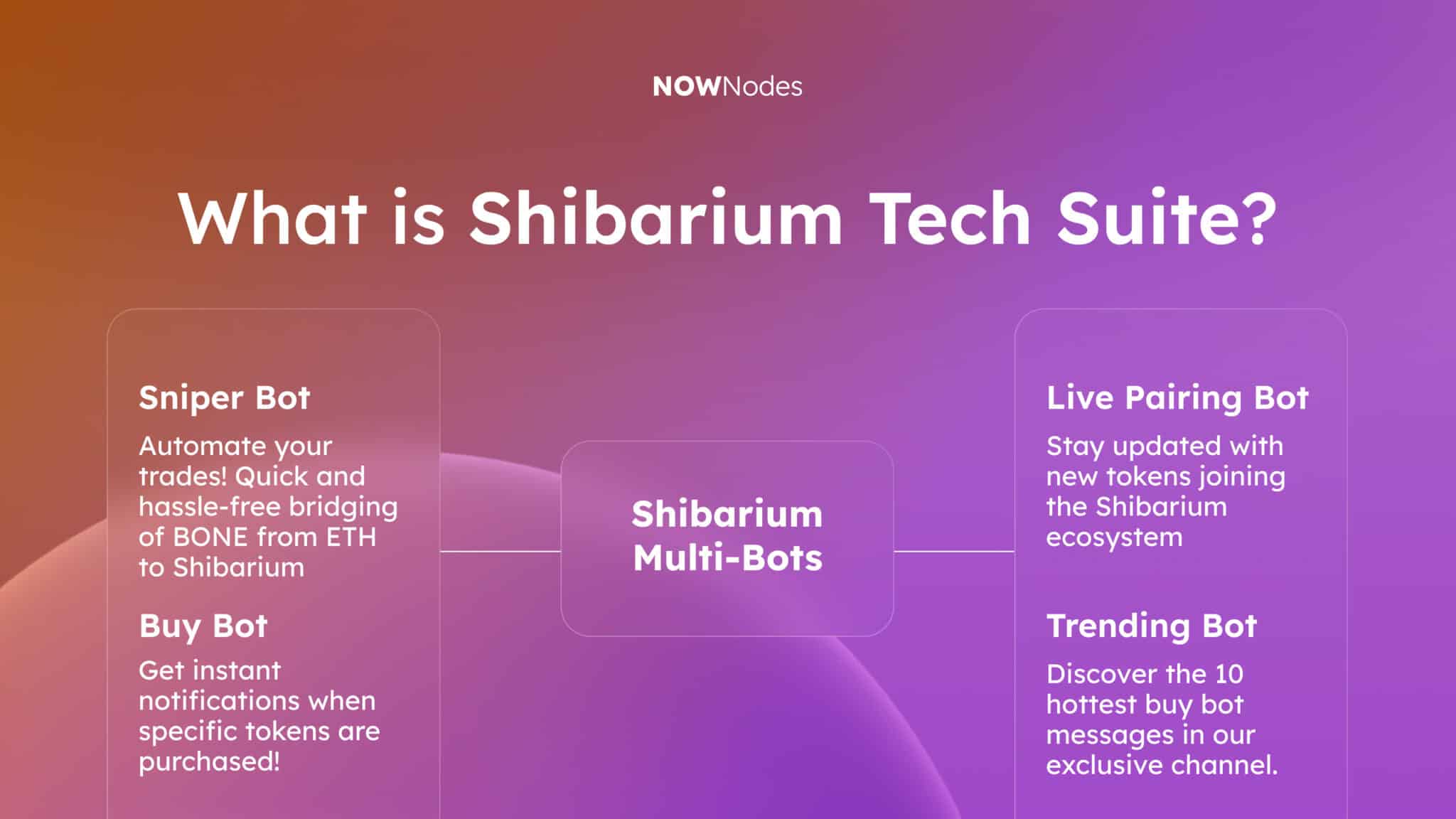 One of the standout features of the suite is the Sniper Bot, which enables users to automate their trades efficiently. NOWNodes stated it facilitates the seamless and hassle-free bridging of BONE tokens from the Ethereum (ETH) blockchain to the Shibarium network. 
Also, Live Pairing Bot is another notable component in the Shibarium Tech Suite. According to the node provider, the tool helps users stay informed about new tokens entering the Shibarium ecosystem. 
The third highlighted SHIBTECH feature was Buy Bot, which enables users to receive instant notifications when specific tokens of interest are purchased. 
In addition, the Shibarium Technology Suite includes the Trending Bot feature. Per the report, the tool provides access to the ten hottest buy bot messages in the exclusive channel.
Ultimately, NOWNodes underscored the working principle of the Shibarium RPC node. It highlighted that it is a crucial bridge connecting ledger data and requests from the Multi-Bots. NOWNodes added that it facilitates essential functions such as the ETH-SHIB Bridge and automated trading.
As part of its ongoing efforts to showcase its infrastructure's capabilities, NOWNodes also introduced a new series called NOWCaseStudy. In this series, it plans to highlight leading DeFi and Web3 projects that leverage NOWNodes' infrastructure.
Follow Us on Twitter and Facebook.
Disclaimer: This content is informational and should not be considered financial advice. The views expressed in this article may include the author's personal opinions and do not reflect The Crypto Basic's opinion. Readers are encouraged to do thorough research before making any investment decisions. The Crypto Basic is not responsible for any financial losses.
-Advertisement-