Expert chartist EGRAG predicts XRP's breakthrough past $0.65 resistance as a prelude to a significant surge, setting sights on $1.10 to $1.40.
In the last 24 hours, XRP broke a pivotal resistance level to trade above $0.65. According to data from market tracking resources, XRP got as high as $0.688. Interestingly, it has been over 90 days since XRP last traded around its current point. 
Now that XRP stands firmly at $0.6733, seasoned market commentators have offered their insights on the prospective price goal for XRP for the coming weeks.
XRP To Land between $1.10 and $1.40
In a recent tweet, renowned chartist EGRAG argued the next target for XRP is above $1. The foundation for EGRAG's conviction in the accuracy of his prior prediction, where he foresaw XRP surpassing the $0.65 mark.
Last month, when XRP traded much lower at $0.54, EGRAG pointed out that XRP was carving out a 'W' formation on the charts. According to him, the pattern often indicates an impending trend reversal with "powerful momentum." As a result, he projected XRP to reach $0.65 in the next month, which has now materialized.
Meanwhile, the analyst likened XRP's resistance level challenges at the time to the historical Berlin Wall. He particularly argued that the resistance level was on the brink of collapsing. Therefore, he set his expectations high, projecting a potential price surge for XRP to land between $1.10 and $1.40. 
Following the accurate prediction of the 'W' chart formation leading XRP to $0.65, EGRAG has now conveyed a strong belief in a more recent update. According to him, the next significant milestone for XRP is breaching what he previously referred to as the "Berlin Wall" of resistance. 
As he has previously detailed, successfully breaking through this resistance barrier would result in XRP trading in the range of $1.10 to $1.40.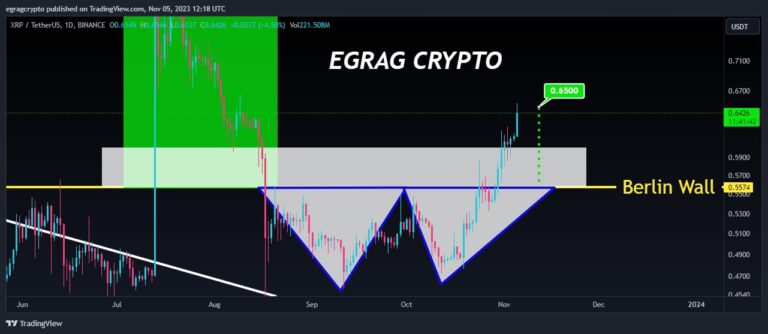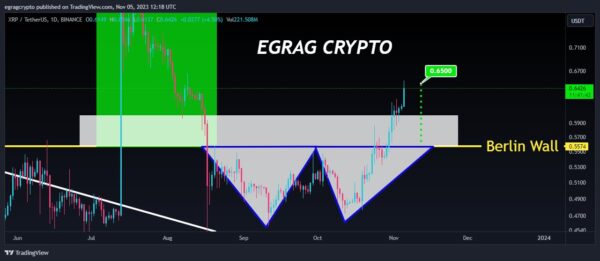 Possible Reversal Before
$1.10, $1.40,
$1.88, and $5.85
Meanwhile, EGRAG disclosed that before the rally above $1, a retest of the range between $0.55 to $0.58 is expected, followed by a rebound. Where the rebound materializes, the analyst argued it would be a confirmation for the price range between $1.10 and $1.40.
Notably, prominent analyst Dark Defender had expressed a sentiment similar to that of EGRAG. In his update, Dark Defender forecasted that XRP would reach $0.66 from $0.55. While he consented to a potential support level of around $0.52, the analyst issued higher targets of $1.88 and $5.85.
Follow Us on Twitter and Facebook.
Disclaimer: This content is informational and should not be considered financial advice. The views expressed in this article may include the author's personal opinions and do not reflect The Crypto Basic's opinion. Readers are encouraged to do thorough research before making any investment decisions. The Crypto Basic is not responsible for any financial losses.
-Advertisement-