XRP has retained its uptrend for over a week, recently retesting the $0.7324 high for the first time since July amid sustained whale accumulation and bullish developments in the XRP and Ripple ecosystems.
XRP's latest bullish momentum took form on Oct. 28 following three days of persistent declines. The asset staged a comeback and has registered impressive gains since then, hitting a three-month high of $0.7324 yesterday amid a 27% seven-day surge.
Though XRP witnessed intense selling pressure at $0.7324 yesterday, it has retained most of the gains from the latest uptick. XRP still maintains a position above $0.6800, with its crucial support of $0.6649 at the Fibonacci level of 2.618. Several developments have helped to retain this uptrend.
An Evolving XRPL Ecosystem 
One such development is the slew of existing and upcoming developments in the evolution of the XRPL ecosystem. Notably, the XRP Ledger recently welcomed Xahau, a sidechain that gives market participants early access to Hooks (smart contracts).
In addition, the network already has features such as Clawback and a native Automated Market Maker (AMM). This is in addition to developing a Bridge protocol, an EVM Sidechain, and a Decentralized Identity.
The possibility of these features contributing to the evolution of the ledger has elicited a bullish response from investors. This is because the evolution of the network will likely introduce more use cases and foster increased demand and adoption.
The Ripple Swell
Scheduled for Nov. 8 to 9, the Ripple Swell conference is a private event organized by Ripple that facilitates a gathering of industry leaders across different spheres. The prospect of favorable disclosures at the event has triggered bullish speculations among investors, leading to immense buying pressure.
As The Crypto Basic recently reported, this year's gathering might feature pivotal announcements from Ripple, including its IPO, CBDC developments, VARA license, or tokenization moves.
XRP Regulatory Clarity and Accumulation Trend
Another possible trigger to the uptick is the recent regulatory approval XRP clinched in the Dubai International Financial Centre (DIFC). The Crypto Basic revealed that the Dubai Financial Services Authority (DFSA) has approved XRP for possible incorporation by licensed platforms within the DIFC. 
In addition, Santiment data confirms that XRP investors have continued accumulating more tokens, driving buying pressure. Notably, amid this accumulation trend, wallets with 100,000 to 1,000,000,000 XRP now hold 45.8% of XRP's supply, their highest cumulative balance this year.
XRP Sustains Run
Amid these developments, XRP currently changes hands at $0.689, up 2.34% over the past 24 hours. XRP's trade volume has skyrocketed 40.88% to $3,360,271,787, taking it to fifth position on the list of assets with the largest volumes in. The last time XRP saw a trade volume above $3 billion was on July 19.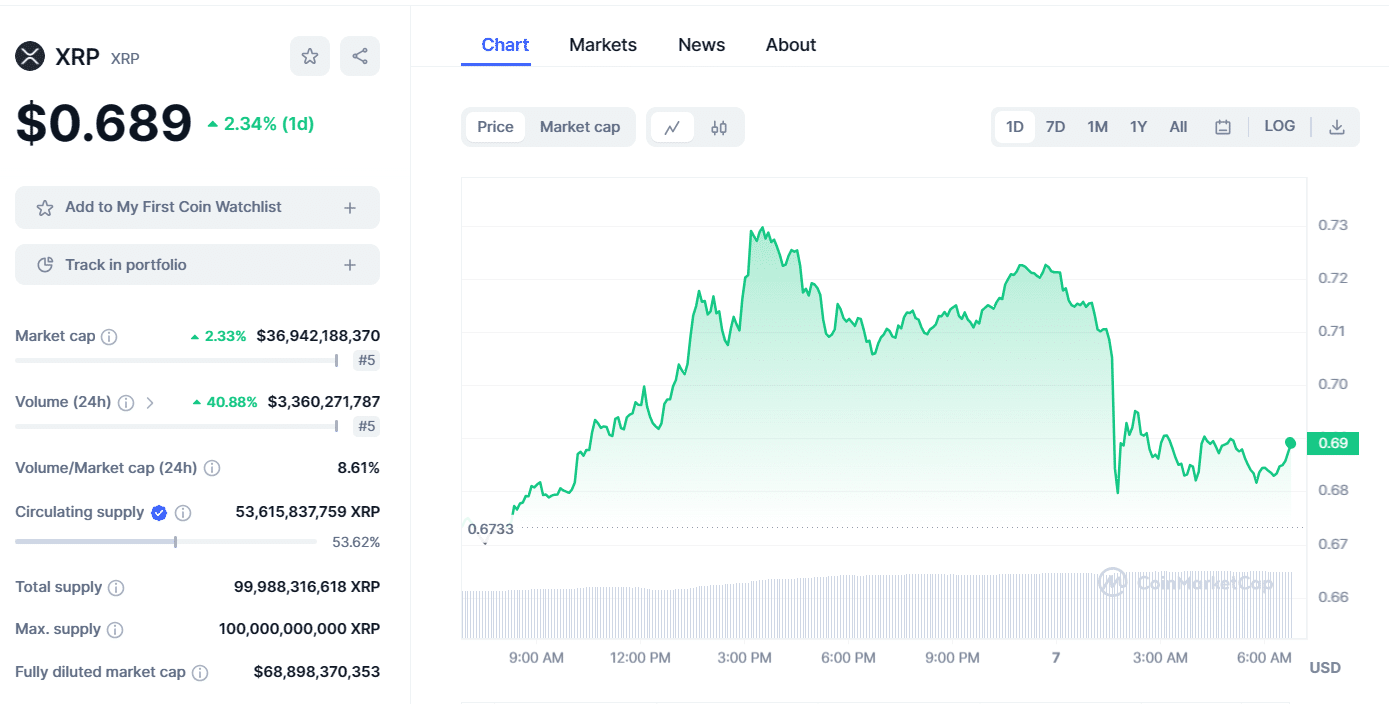 As the uptick lingers, XRP's market cap now inches closer to $37 billion, currently at $36,942,188,370. At its current position, XRP must register a measured move toward the $0.7315 resistance at Fib. 3.615. Should the asset conquer this position, it could witness a run to $0.7721.
Follow Us on Twitter and Facebook.
Disclaimer: This content is informational and should not be considered financial advice. The views expressed in this article may include the author's personal opinions and do not reflect The Crypto Basic's opinion. Readers are encouraged to do thorough research before making any investment decisions. The Crypto Basic is not responsible for any financial losses.
-Advertisement-