Poloniex exchange hacked for millions.
The cryptocurrency industry is licking the wounds of another high-profile security breach. On Friday, Poloniex confirmed that hackers gained authorized access to funds on the platform. On-chain data reveals that the hacker has already siphoned over $120 million worth of cryptocurrencies from Poloniex.
We are investigating the hack incident. #Poloniex maintains healthy financial position and will fully reimburse the affected funds.

We are extending 5% 𝘄𝗵𝗶𝘁𝗲 𝗵𝗮𝘁 𝗯𝗼𝘂𝗻𝘁𝘆 to Poloniex hacker in exchange for the return of the funds to the following ETH/TRX/BTC wallets.

— Poloniex Exchange (@Poloniex) November 10, 2023
While investigations continue, early indications are that the security breach resulted from a compromised private key. The hackers have accessed funds across different networks, including Bitcoin, Ethereum, XRP, and Tron. 
At the time of writing, the hacker's loot is worth an estimated $127 million, aided by a green day across the crypto market. Ether (ETH). Tron (TRX) and Bitcoin (BTC) make up over 80% of the stolen amount, according to data from Arkham Intelligence.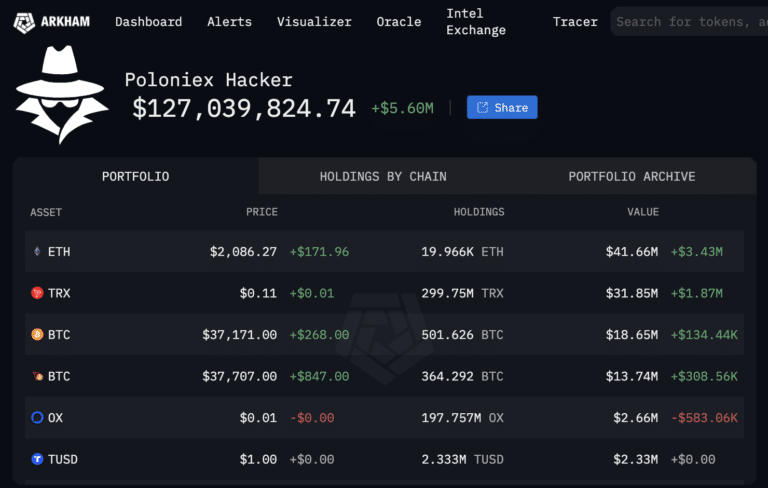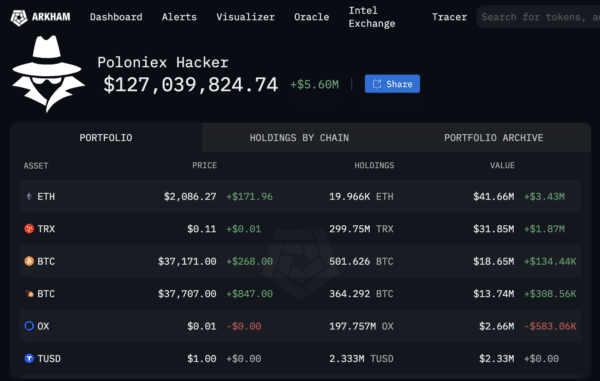 According to XRP forensics, 3.1M XRP have been lost so far.
A Poloniex hot wallet was emptied for 3.1 million XRP about 30 minutes ago. This happened at the same time as the incident on other chains, including ETH, BTC and Tron. We have flagged the accounts involved and are following the money.https://t.co/r9FsO8euLe

— XRP Forensics (XRPLF) (@xrpforensics) November 10, 2023
According to Look on Chain 577 billions Shiba Inu are lost.
Poloniex Hacker stole a total of ~$118M assets on #Ethereum and #Tron 2 hours ago.

Including:
32.7M $USDT
443 $BTC($16.5M)
6,103 $ETH($12.7M)
6.75M $USDC
577B $SHIB($4.74M)
25.5T $ELON($4.15M)
3.65M $USDD
197.7M $OX($2.67M)
… #PoloniexHackerhttps://t.co/I3gBm9XJwQ pic.twitter.com/cFayIJCOOd

— Lookonchain (@lookonchain) November 10, 2023
Poloniex Offers 5% Bounty and Promises Reimbursement
Owned by popular crypto entrepreneur Justin Sun, Poloniex has taken measures to calm affected customers in the aftermath of today's incident. According to an update by Justin Sun, subsequently shared on the official Poloniex handle, the exchange will reimburse affected users.
Additionally, Poloniex is offering a 5% bounty to the hacker if they agree to return the stolen funds. Accepting such a bounty will mean that the hacker gets to keep $6.35 million of the total amount and return the balance to wallet addresses already made public by Poloniex.
We are offering a 5% white hat bounty to the Poloniex hacker. Please return the funds to the following ETH/TRX/BTC wallets. We will give you 7 days to consider this offer before we engage law enforcement.
ETH Wallet: 0x176F3DAb24a159341c0509bB36B833E7fdd0a132 TRX:…

— H.E. Justin Sun 孙宇晨 (@justinsuntron) November 10, 2023
There is no indication that the hacker has taken this offer at the time of writing, as the provided addresses have not received new deposits.
However, as part of diplomatic measures, Poloniex has given the hackers a seven-day ultimatum to return the funds while keeping the bounty. The exchange threatened to involve law enforcement agencies if the hacker refused to oblige. It has already begun collaboration with other crypto exchanges to recover any funds deposited to their platforms.
Meanwhile, Poloniex sought to assure users that it was well capitalized and would reimburse 100% of lost user funds irrespective of the outcome of its investigations. The exchange, which has had over $300 million in trading volume in the past 24 hours, still had user withdrawals halted at the time of writing.
Follow Us on Twitter and Facebook.
Disclaimer: This content is informational and should not be considered financial advice. The views expressed in this article may include the author's personal opinions and do not reflect The Crypto Basic's opinion. Readers are encouraged to do thorough research before making any investment decisions. The Crypto Basic is not responsible for any financial losses.
-Advertisement-