3Commas Review is so in-depth and comprehensive, informative links and videos are gathered with such detail that you even don't have to visit 3commas official website, After reading the review you will just need the 3commas official website to complete the signup and start doing automated crypto trading
As the world of cryptocurrencies continues to mature, more and more services are being offered to a crypto trader to simplify the crypto trading process and make gains
3Commas is a cryptocurrency trading platform that allows users to use automated trading bots and also track and copy the actions of successful crypto trader
Also, Read Binance Exchange Review
By smart trading option of 3commas Users can also manually concurrent take Profit and stop Loss, Sell by multiple targets and take Profit and Stop Loss trailing feature
What is a 3commas crypto trading bot?
3Commas cryptocurrency trading bot is a smart crypto trading platform that uses automated bots to do the trading for its users. You can create your trading strategy or copy other user's trading activity on multiple exchanges.
By 3Commas cryptocurrency trading platform, you can create and then implement automated crypto trading strategies.
3Commas does not charge a commission while trading with 3commas on cryptocurrency exchanges but there is a monthly based starter, Advance and Pro plans that you have to pay on a monthly or annual basis to use 3commas
Also read: How to buy Bitcoin
3Commas also offers a free 3-day trial and they have recently launched a plan that if you create a Binance exchange account with 3Commas, you can trade for free with limited functionalities.
3Commas has over a daily crypto trading volume of $ 60 million, 100,000 registered users and 20 crypto exchanges
Overall 3Commas trading bot is a platform for managing cryptocurrency trading. On 3 commas Crypto trader copy the trading activity of successful trader while others adapt their strategies based on their risk, profit or loses
Below video explain 3 commas trading bot in detail
Source YouTube: 3Сommas
3commas Pricing
In this 3commas review, we will guide you with the pricing of the bot. The 3commas has four basic plans, all are explained below
Starter
Advance
Pro
Binance Exchange Trader
Starter
The started plan is starting from 22 Dollar a month if purchased for a year and the main feature of the started plan are:
Trading terminal
Concurrent Take Profit and Stop Loss
Advance
The advance plan is starting from 37 Dollar a month if purchased for a year and the main feature of the advance plan are:
Simple bots for crypto trading
Short and Long algorithms for crypto trading
View and copy bots of successful crypto trader
Trading terminal
Concurrent Take Profit and Stop Loss
Custom Signals of Trading-view
Pro
The Pro plan is starting from 75 Dollar a month if purchased for a year and the main feature of Pro plan are:
Composite bots for cryptocurrency trading
Bitmex, Binance Futures and ByBit bot for cryptocurrency trading
GRID bot for cryptocurrency trading
Custom Signals of Trading View
Simple bots for crypto trading
Short and Long algorithms
View and copy bots of successful crypto trader
Trading terminal
Concurrent Take Profit and Stop Loss
Other than the paid plans, 3 comma bot also offers three days free trial of pro version, where you can check the all the features of pro version for free for three days
Compare Plans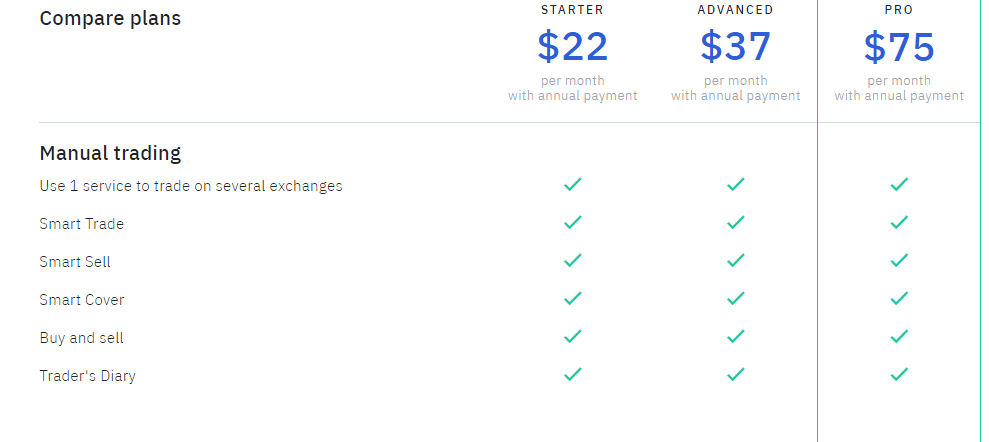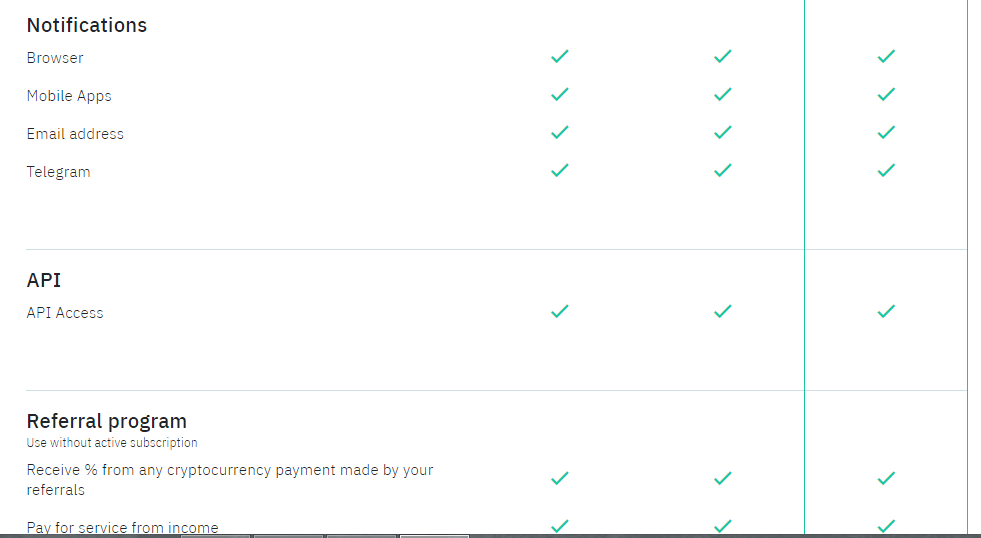 Binance
Exchange

Trader Plan:

By Binance exchange plan you first have to create an account on 3Commas with Binance exchange to trade for free

The main features are
Simple bots for crypto trading
Short and Long algorithms for crypto trading
View and copy bots of successful crypto trader
Composite bots for cryptocurrency trading
Trading terminal
Concurrent Take Profit and Stop Loss
Custom Signals of Trading View
SIGNUP TODAY 
[maxbutton id="3″]
3 Commas Crypto Trading Bot Features
The main attribute and the distinctive quality of the 3commas is the automated trading, the bots trade for you while you sleep, eat, travel or do anything else
3commas  has paper trading feature that lets you test your trading techniques with a demo account before going pro
3commas lets you view Trading View Signals and Charts

You can use Trailing Take Profit and Stop Loss
You can use Concurrent Take Profit and Stop Loss which mean that a trade closes when a indicated price is reached or trade closes when the price falls below the indicated price
20 major supported exchanges, the features of 3commas crypto trading bot change with cryptocurrency exchanges, not every exchange is supported by all features, the detail is shown in the image below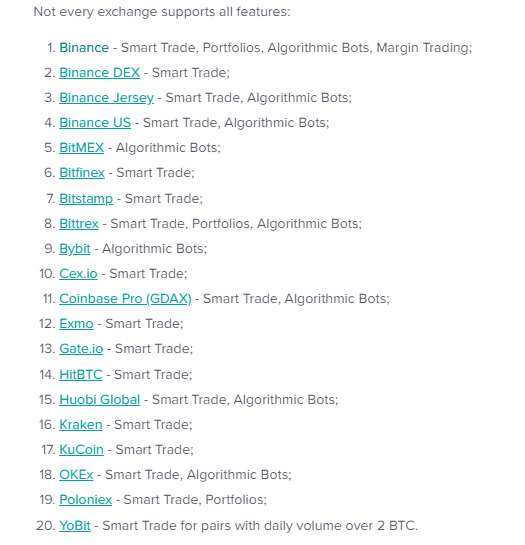 You can do cryptocurrency trading 24 hour a day, the crypto markets and the 3commas bot don't sleep
You can set multiple targets to sell and buy your crypto
3commas trading bot send you important notifications through email, telegram or mobile app
3commas has mobile app on google play and apple store, 3commas is available in English and Russian language and has a fast and responsive team
3 commas provide API functionality
3commas give you simple and composite bot, simple bot can trade one cryptocurrency pair at a time while composite bot can trade on multiples pairs at one time
You can copy the trades of successful traders and earn profits
You can use 3commas long or short algorithms according to your cryptocurrency trading strategy
How to use 3commas cryptocurrency trading bot
This 3commas review will guide you about setting up your bot. It's easy to use 3commas crypto trading bot, we will completely guide you with the help of videos to fully understand how to use 3commas so that you don't have to go anywhere else
Create Account
First, you need to open an account with 3commas, go to 3commas website and click on the "signup" button on the right corner of the screen


A window as shown below will open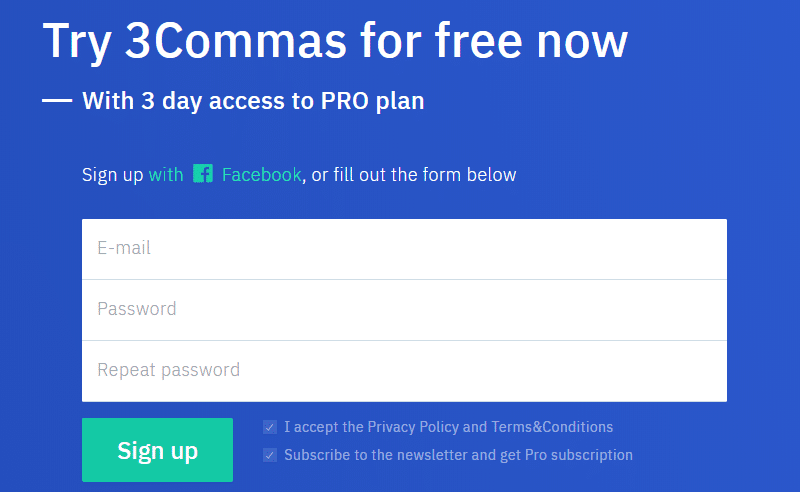 Enter your email and password
Go to email and verify and verify your email
You can also signup with your Facebook account
By signing up you will get access to all pro features for free for three days
Signup today and get all pro features for free for three days
[maxbutton id="3″]
Choose your  Trading Bot
The 3commas has four main types of bots
Simple bot
Composite Bot
DCA Bot or also known as Advance Bot
Grid Bot
Simple bot
A simple bot is a crypto trading bot that can only trade one pair at a time.
A video below explain how to set up a simple short bot
Source YouTube: 3Сommas
Composite bot
A composite bot can trade on multiple pairs, you get your composite bot when you are using a pro plan
A video below explain how to set up a composite bot
Source YouTube: 3Сommas
DCA Bot
DCA bot is the crypto trading bot that uses the dollar-cost averaging strategy (DCA) there are two options in DCA bot
Gordon bot
Gordon bot is simple to set up, choose the crypto exchange and the currency pairs you are interested in trade
Below video fully explain How to set up the Gordon Bot
Source YouTube: 3Сommas
Advance Bot
To set up the advance bot see the video
Source YouTube: 3Сommas
GRID Bot
Creating a Grid bot in the Al mode configure the bot according to the market situation automatically
You can create a Grid bot with just some clicks
Read this article below how to create an Al Grid bot
https://help.3commas.io/en/articles/3583086-create-ai-grid-bot
Connect your CryptoCurrency Exchange
After creating your bot you need to set up your exchange, by the free membership you will only be able to connect to Binance exchange, but if you have subscribed to the starter, Advance or Pro plan you can connect up to 20 exchanges, you can connect your exchange by your API Key of that crypto exchange


select your cryptocurrency exchange, give your API key and click on connect exchange
3commas Bot Settings
The below steps shows the 3commas bot settings
Name your Bot
It is important to give your cryptocurrency trading bot unique names to avoid confusion

Then give the exchange you want to trade and from bot, type select simple or composite as shown above
Select the Trading Pairs
Select the crypto trading pairs you want to trade, BTC/USDT will be shown as recommended trading pair, you can also choose from any other pair you want to trade
The recommended trading pairs are shown in the picture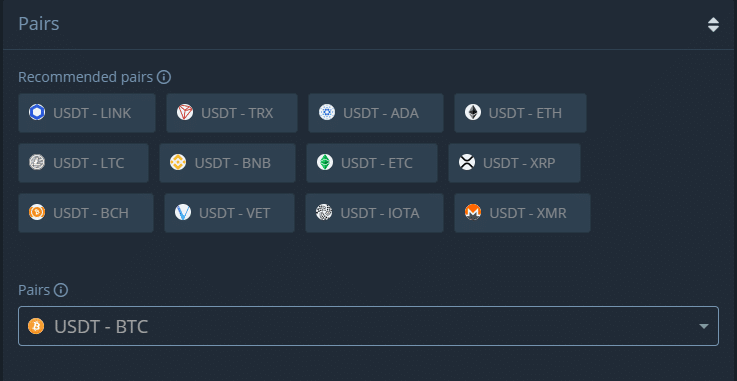 Set Strategy and Base order size
Now select the strategy that you want to apply, whether you want o go long or short on your trades as shown in the image below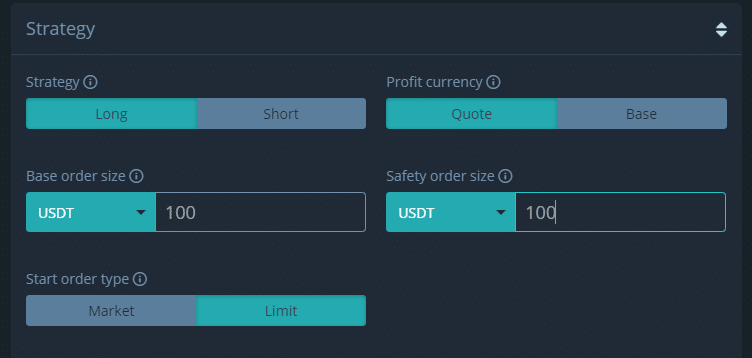 After selecting the strategy to select your base order size, the base order size is the initial amount to start a trade
Then set your safety order size, the safety order size is the size of following averaging order
Then select your order type, market or limit
Set your Deal start condition
Now select your deal start condition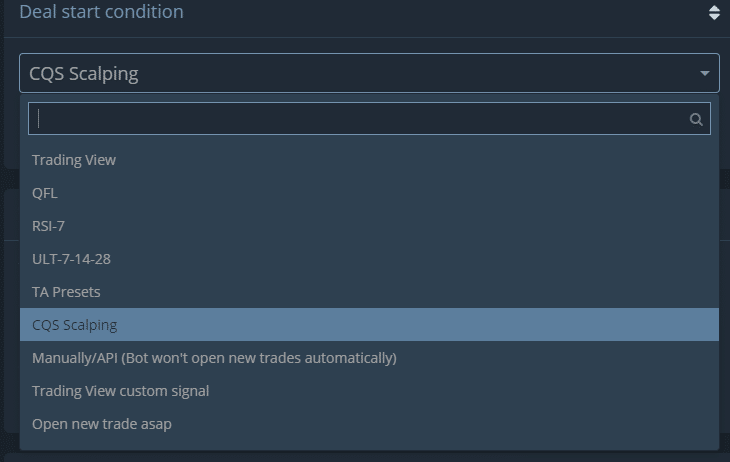 You can select from
Trading view
QLF
RSI-7
ULT-7-14-28
Manually API
Trading view
Custom signal
Open new trade asap
You may select "Open new trade asap" which means open new trade as soon as possible. ASAP mean the 3 commas bot will immediately start a new trade after closing the previous one, trades one after another without a pause. The more trades the more chance of profits
Setup the take profit option
You can set up how much profit you want from a single trade, you can set a percentage of taking profit, it is recommended to set percentage profit to 0.5%, the low the percentage of the profit, the more easily the trades will be completed and the more trades you will get

The exchanges fees will be included automatically in your profit percentage
You can also select your take profit type and you can turn on or off the trailing profit option
Setup your stop loss
If you are interested in a stop loses you can set up your stop losses
From the stop-loss option, you can set the stop loss percentage
From the stop deal option, you can select close deal or close deal and stop bot
You can turn on and off stop-loss time out option
Set Safety orders
Safety orders as the name suggest are the orders that protect you from deep losses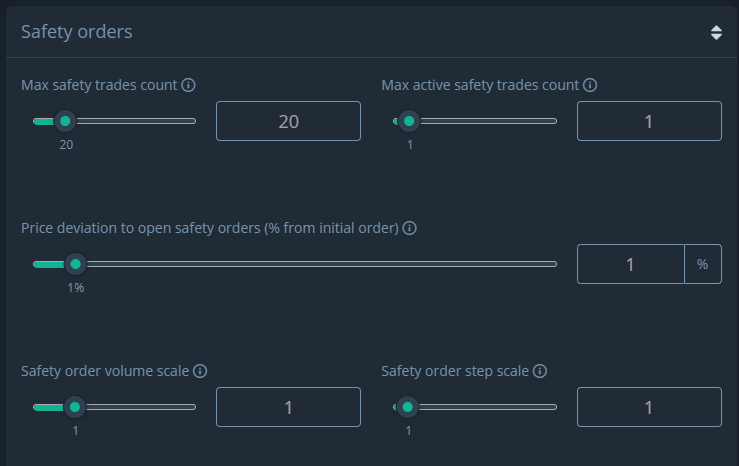 In safety orders, you have five options
Max safety trades count: is the maximum amount of safety orders that a 3commas crypto trading bot can use for one trade
Max active safety trades count: means how many safety order 3commas will keep open on a crypto exchange at the same time
Price deviation to open safety orders: tells the 3 commas trading bot when it can start applying safety trades. Suppose it is set to 1, the 3commas bot will start buying when the price will start falling 1 percent of the initial trading price
Safety order volume scale: tell the bot that the volume of each next safety order will be multiplied to this value that you are going to give it
Safety order step scale: The volume scale will multiply a volume of each new safety order.
If you are not interested in setting up safety orders, you can give zero value to all of the options
For more details of the above terms visit
https://help.3commas.io/en/articles/3108940
Also Read: What is Bitcoin and How Does it Work
Advance setting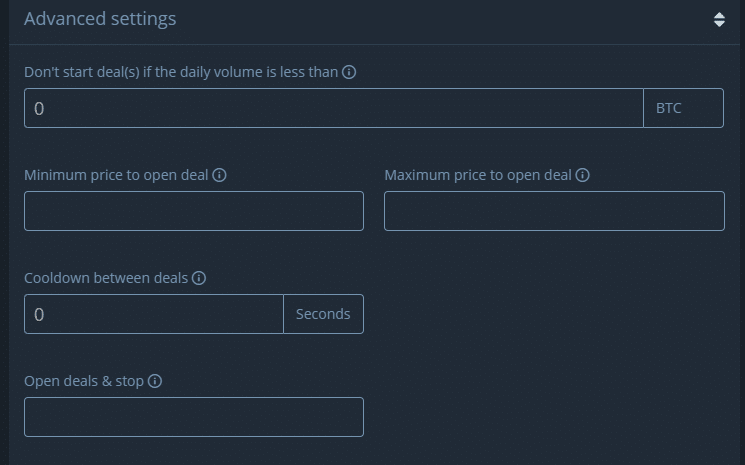 In advance setting, you can
You can instruct 3commas to not start deal if the daily volume is less than a specific amount of Bitcoin
At what minimum price to open a trade
At what maximum price to open a trade
How much time a bot should take to cool down between trades
Open deal and stops shows after how many completing trades the 3commas bot should stop
Your 3commas is all set and ready to use
3 Commas functions
In this 3commas review, we will tell you about the trading features of 3commas
Manual trading with smart trading function
Smart trading is a function that allows the 3commas users to trade on multiple exchanges from one single window
Learn all about smart trading in this video
Source Youtube: 3Сommas
Smart trading allows you to trade with many different options, the main option of the 3commas smart trading that make it unique from trading on crypto exchanges are
Trailing take profits
The Trailing Take Profit in simple is a feature to make maximum profit when the price starts rising
In trailing take profit you set your profit target where trailing will activate and trailing effect will try to increase your profits to maximum possible
But the drawback is that if the price starts reversal you can lose some portion of your profits
To Read in more detail on Trailing Take Profit visit
https://help.3commas.io/en/articles/3108982-trailing-take-profit-catch-the-rise
Learn more about trailing take profits in this video
Source YouTube: 3Сommas
Trailing stop loss
What is a Trailing Stop-Loss?

How a Trailing Stop-Loss Works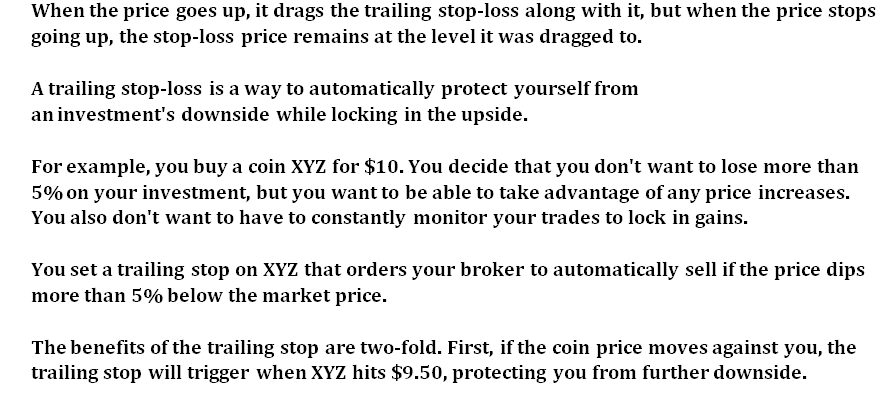 To read more on Trailing stop loss go to
https://help.3commas.io/en/articles/3108980-trailing-stop-loss-follow-the-trend
Stop-loss time out:
How to protect yourself from a stop loss if the price is not actually falling but rather it's just a downside price volatility
Source YouTube: 3Сommas
Trading view charts and signals
You can use the trading view signals and charts to maximum, learn in the below video to how to use trading view
Source Youtube: 3Сommas
Learn more about Smart Trade
Long and short algorithms
3commas crypto trading bot can use long and short algorithms
In a long algorithm, the trading bot will buy low and sell high, for example, it will buy any coin at the price of 5 and sells it on 6
In Short algorithm the trading bot will sell high and buy low, for example, it will sell any coin at the price of 6 and buys it on 5
Copy other bots
3commas cryptocurrency trading bot can copy the performance and setting of any other bot you want on 3commas interface
Learn more about 3commas crypto trading bots
Portfolios
You can create, view, copy and edit portfolios on 3commas
Learn more about 3commas portfolios
3commas Social Sharing Platforms
3commas Crypto Exchanges Trading Bot
Frequently Asked Questions
 What is a crypto trading bot?
A crypto trading bot is a software that is made to examine cryptocurrency trading and place buy or sell orders on behalf of a trader
Cryptocurrency trading bots are based on predefined rules that are programmed and stored in bots. Once you've purchased a bot, you can customize it to suit your cryptocurrency trading requirements
Why cryptocurrency trading bots are useful?
The most important use of Cryptocurrency trading bots is that the bots are not human, so being not a human they remove fear and emotion from the trading and allowing traders to trade based on their strategies
Also, the trading bot allows you to trade 24/7, even if you are a part-time trader or you have other things to do like the job, traveling, daily life routine works, etc the bot will trade on your behalf according to your define strategies without a minute pause
How to choose a crypto trading bot?
There are several factors you must consider before selecting a  bot
Security: What level of security a bot will provide, what security features it has
Profitability: It is useless to use a bot if it does not provide profitability, you must see at what ratio the bot can provide you with profits
Transparency: Check out the bot making team, the reputation of the bot, how the crypto community is taking about that bot
Ease of Use: You must see how much easy it is to set up a bot if it is too difficult, it's not for beginners
Is 3commas safe to use?
3commas cryptocurrency trading bot is safe to use because you do not hold any funds on 3commas, you just connect your 3commas account to your cryptocurrency exchange and trade, 3commas directly cannot withdraw from your crypto exchange account
3commas is connected to your crypto exchange account with API keys, these API key have limited functionalities and does not allow any automated trading bot to withdraw from your account
Even if your account becomes compromised and hackers can take control of your API keys they still cannot withdraw your funds, but what hacker will do is that they will purchase low-value coins from your funds (hackers buy those coin that they have already purchased) and then after increasing the prices of those low-value coins they sell these coin to you leaving your account with those low-value coins
You must follow all the safety guidelines for your API keys to protect your API keys at all cost, you must use two-factor authentication and notifications from exchanges
Is 3commas for beginners?
3commas is generally very easy to set up and it suits beginners, all the help you required is given in the form of detailed videos, blogs, and step by step guides
Different features like setting up bots and connecting exchanges, copying other bots can be done by some clicks, the dashboard is easy to use and you can select your option very easily from the dashboard sidebar
On opening up every window from the dashboard there are help options that can guide you to complete your tasks
How to download 3commas trading bot?
There is no need to download 3commas, after signing in you use 3commas from your browser, all functions are available once you login to your registered account
Conclusion
Most crypto trading bots are difficult to use for new traders 3Commas solved these problems by creating a trading bot that is easy to set up, use and is secure.
3commas has integrated 20 exchanges top cryptocurrency exchanges like Binance, Bitmex, coinbase, and others
The dashboard is easy to navigate and users can choose several options with ease and traders even inexperience traders can trade 24/7 without watching the computer screen for long hours by copying the successful bots and strategies on 3commas
Visit 3commas
[maxbutton id="3″]
Follow Us on Twitter and Facebook.
Disclaimer: This content is informational and should not be considered financial advice. The views expressed in this article may include the author's personal opinions and do not reflect The Crypto Basic's opinion. Readers are encouraged to do thorough research before making any investment decisions. The Crypto Basic is not responsible for any financial losses.
-Advertisement-