The XRP price broke out of a symmetrical triangle on Tuesday and could lead to the beginning of a trend reversal.
You can recognize a symmetrical triangle formation by the two trend lines. The upper trend line is inclined downwards, and the lower trend line upwards. 
As a result, both trend lines converge at the top of the formation and form the typical triangular shape. It is essential that both trend lines should touch the candles at least twice and that the price within the formation has at least four touching points. 
The volume is usually highest at the beginning of the formation and then steadily decreases. Only when there is an upward or downward breakout, then an increase in volume be recognized again.
XRP price could fall as low as $ 0.30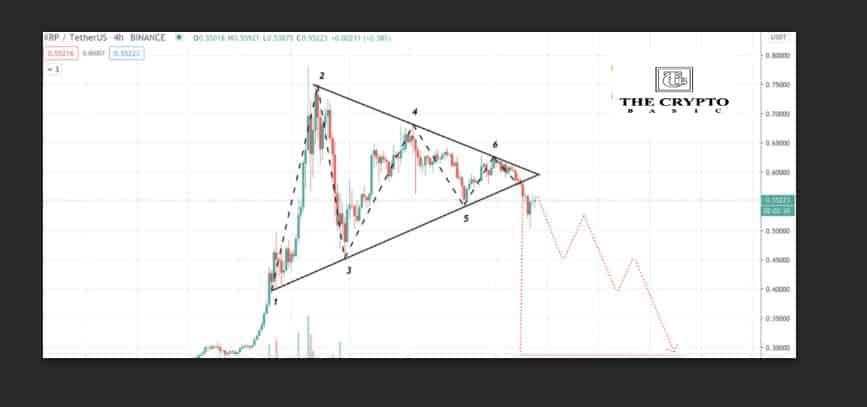 In the event of a trend reversal, the measurement rule for determining the minimum exchange rate is different from that for a continuation of the previous trend. To calculate the XRP price, we have to choose the difference between the high point and the low point within the formation and then project it down to the breakout point. 
This results in a minimum target price of just under $ 0.30. Around 50% below, this target is well below the current price of Ripple.
Achievement of the target on breakouts in the opposite direction is less reliable if the previous trend is continued. In trend reversal, the minimum price target is only achieved in 57-62 percent of cases.
Currently, the XRP price found support at $ 0.55. Additional Weekly support lines can be found at around $ 0.47 and just under $ 0.40.
Follow Us on Twitter and Facebook.
Disclaimer: This content is informational and should not be considered financial advice. The views expressed in this article may include the author's personal opinions and do not reflect The Crypto Basic's opinion. Readers are encouraged to do thorough research before making any investment decisions. The Crypto Basic is not responsible for any financial losses.
-Advertisement-