This article will guide you on Binance Savings and how to use Binance savings.
While the savings rates on bank balance are declining rapidly, many investors who don't want to trade are looking for alternatives to provide them with the most considerable profits.
The average bank savings account today yields about 0.02% annual interest. It indicates that the 1,000 Dollars you submit on 1 January will have delivered no less than 20 Dollars on 31 December. Nobody is happy with such savings unless you have a tremendous amount of money to put in the bank and earn some decent returns.
Banks also put various constraints on your balance. You cannot withdraw your balance until some specific date; there are maturity periods and other restrictions, while in Binance savings, there are no confinements.
Do you think trading in crypto might be a little baffling and unpredictable? Then consider crypto Savings at Binance.
What is Binance Savings?
Binance Crypto Savings is the lending of cryptocurrency to Binance. In plain words
you give your crypto to Binance, and Binance gives you rewards for that while you do nothing.
Binance saving works like banks. You transfer money to banks, and they invest your money in various projects or whatever they like but deliver you some percentage of profits. The same is the case with Binance savings, You give your digital cash to Binance, and they pay returns on that; more often, these returns are more excellent than bank interest rates.
Interest is calculated for borrowing and lending money. When you borrow money, you pay interest. And when you lend money, you receive interest. So the theory is not so complex to understand.
You're lending your crypto to Binance. For that, you gain a certain fee, and that fee is your interest.
The drawback is that the return may not be as high as you could earn from trading crypto, but the benefit is that you face considerably lower risks than trading cryptocurrencies.
The term Binance Savings should not be confused with Binance Margin.
Savings are where you lend crypto to Binance. There is a different way where you can borrow crypto from Binance, and that is Binance Margin.
With the aid of the Binance margin, you can trade crypto with borrowed money from Binance.
But Binance Savings is the exception where you lend your crypto to Binance and obtain a fee for it.
Binance currently had two live versions of Binance Savings.
They are Flexible Savings and Locked Savings. We'll explain both kinds of Binance Savings.
[maxbutton id="1″ ]
Flexible Saving
The term flexible saving speaks for itself. With flexible savings, you have your crypto at your disposal.
You can withdraw your funds, or you can trade with your flexible savings funds.
By flexible saving, you can make profits by lending your crypto to Binance.
Binance flexible saving interest is calculated daily. If you try to pull out your funds before daily interest payment, you will get nothing. Make sure to withdraw or trade with your flexible savings funds after the time of interest payments.
It is possible to lend more than forty different types of crypto on Binance flexible savings.

How To Use Binance Flexible Saving?
I will lead you all together on how to earn with Binance flexible savings.
Binance Flexible Deposits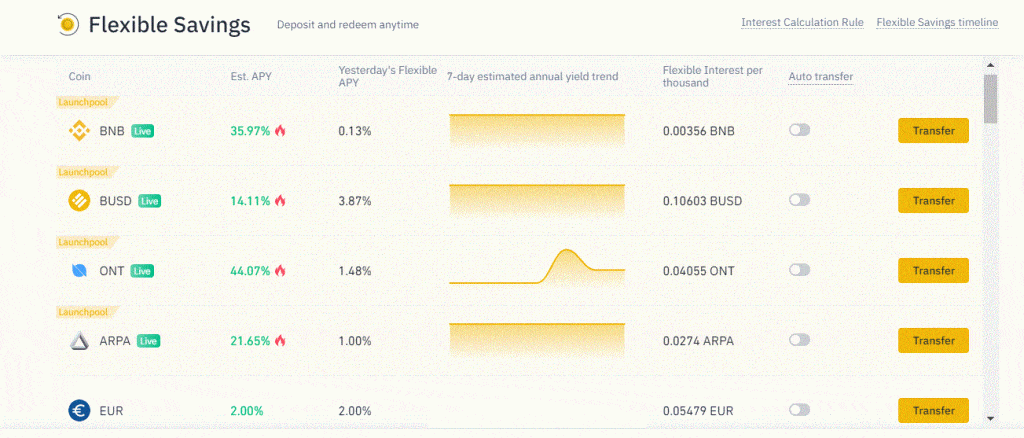 As you can see in the picture, the annual interest rate (APY) varies per coin.
Depending on your interest, you can pick the coin you want to lend to Binance and start.
Keep in mind that every coin has its daily quota. Therefore, it is not permissible to deposit 100 Bitcoin on one day, but you will find a limit on every coin on Binance Savings (flexible).
You can see how much space there is left to lend any crypto. If there is an opening, you can invest in your wanted cryptocurrency.
Now I will guide you on options you have when you decide to lend your crypto to Binance for a flexible period.
First of all, choose from the coins available. For example, we want to lend Binance USD coin (BUSD) to Binance.
Click the yellow button "Transfer" OR "subscribe" behind the coin BUSD.
A new window will open.
Enter the number of BUSD you want to lend to Binance savings, agree to the Terms & Conditions, and click on "Transfer."
Your amount is assigned to Binance flexible savings, and you will commence earning fees as rewards.
How Do You Get Your Crypto Out Of The Flexible Savings?
You can take your crypto out of the flexible savings every day between 00:10:00 and 11: 50 (UTC).
In the other 20 minutes, the interest calculation and award distribution will take place.
You have two distinct ways of getting your crypto out of the savings funds. You do this by clicking on "Redeem" in the asset tab; there are two steps of redemptions.
Standard Redemption
With the Standard redemption choice, you prefer to finish the current day and get the crypto paid at the end of that day. By doing so, you earn interest on the present day.
Fast redemption
With the Fast redemption option, you choose not to finish the current day and immediately terminate your savings. Any accrued interest on that day is not paid. You will take the crypto back to your account in 30 minutes.
Binance Locked Savings
The counterpart of the flexible savings is the Locked Savings. Here you lend your crypto to Binance for a fixed term. The fixed Binance savings has advantages (compared to the flexible savings) for both parties.
Advantages of Locked Savings
You recognize precisely how much interest you get paid.

You know exactly when you'll get your crypto back.

Binance identifies that they have access to your crypto for this particular period.

Binance is not at risk of the crypto removed from its portfolio in the meantime.
As you lock your crypto for a particular time, the interest you earn over your crypto is also more engaging.
This makes it appealing to give up your crypto to Binance fixed savings.
It is currently possible to lend more than fifteen different cryptos to Binance for a fixed time.
Again, the interest rate diversifies from one coin to another, but it also depends on the number of days you are prepared to lock up your assets.
Commonly speaking, the longer you lend it, the bigger the interest rate.
A period of 30 days of one coin yields more interest than a lock up period of 14 days.
How To Use Binance Locked Savings?
Unlike the Flexible Savings, you can't fill the Locked Savings 24 hours a day.
Binance opens a circumstantial timeframe for locked savings, in which investors can elect to lock down their crypto for a longer period.
The more extended period is the choice between 7, 14, 30,60, or 90 days.
As the cryptocurrency markets are rapid in price movements, the principal drawback of Binance locked savings is that numerous changes can come at the prices of coins even in the least requirement of 7 days period.
It might make you less satisfied when you see the prices of crypto going down, and you can't touch your holdings of coins because they are currently fixed for a few percent return.
So it is solely up to you whether you want the fixed savings or prefers flexible savings.
If you desire to go for the fixed savings, that's how you do it.
How do you lend crypto on Binance Fixed Savings?
Binance reveals particular coins for locked savings. When the subscriptions of these coins open, you need to avail of these subscriptions before it closes.
When the subscriptions open, there are comprehensive details on interest rates and lock-up time.
Other than subscriptions, there are coins open that you can subscribe to at any time. You don't need to wait for any opening period for depositing these coins.
But prominent names like BTC, ETH, BNB locked saving are subscription-based and are not open daily.
To avail, Binance locked savings go to "Finance" at the top of the page and click "Savings."

From the "Savings" Page, go to Locked savings.

You will notice a listing of coins that are open for Locked savings.

Select your coin and click "Transfer."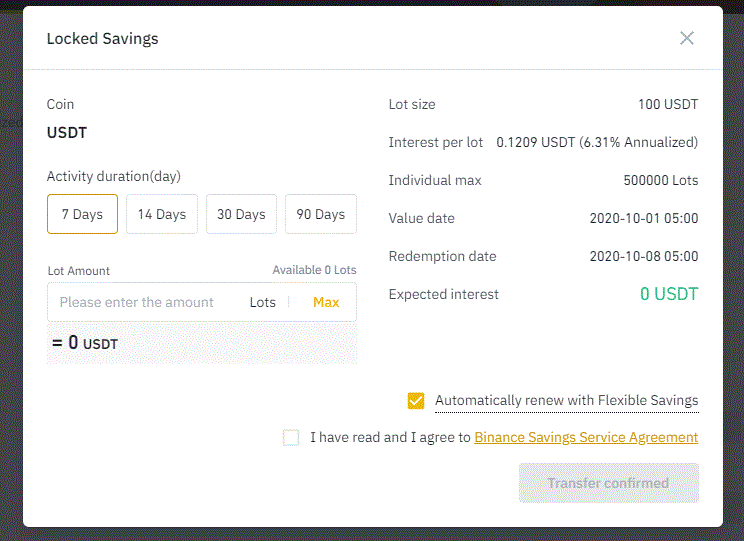 A window, as shown above, will open.
Pick the number of days for locked savings.

Enter the lot size. For USDT, one lot is equal to 100 USDT.

Conform to the terms and conditions and click "Transfer Confirmed."

That's it, Your crypto will lock for a specific period, and you will begin earning interest.
Main Terms In Binance Locked Savings
Subscription: the time window in which you can decide to join your desired coin.
Lot Size: The number of coins considered to be one lot.
Individual Max: Maximum number of lots you can register.
Coupon by Lot: The interest you receive after the full maturity by 'lot.'
Value date: The date your fixed savings is starting.
Redemption Date: The day on which the funds and interest are paid out.
Expected interest: How much interest you are expected to earn.

Which Crypto Coins are Available On Binance Savings?
It is possible to join many coins in Binance Savings. Of course, the nobler coins are practically covered, but smaller coins are also present for savings.
Available Crypto For Flexible Savings
It is likely to lend different types of crypto on Binance for a flexible period.
The list keeps on growing with time as more and more coins are added frequently. Current coins ready for crypto savings are:
BNB

BUSD

ONT

ARPA

EUR

USDT

DAI

USDC

ADA

ATOM

BAL

BAT

BCH

BTC

COTI

DASH

EOS

ETC

ETH

IOST

IOTA

KNC

KAVA

LEND

LINK

LTC

NEO

TRX

UNI

VET

XLM

XMR

XRP

XTZ

ZEC

ZIL
Available crypto for Locked savings
Locked saving is often subscription-based. Top coins that keep on coming for Binance Locked savings are:
BUSD

ADA

BNB

BTC

USDT

DASH

EOS

ERD

ETC

ETH

Link

LTC

MATIC

USDC

XMR

XRP

ZEC
Conclusion
Binance is working to produce many innovations in crypto markets. They have a separate division of research and investment where Binance is continuously trying to make advancements in cryptocurrencies. Binance is not merely a cryptocurrency exchange, but they are more than that. They are invariably bringing new techniques to earn from cryptocurrencies. Binance savings are only part of Binance investment opportunities for users.
Binance offers a Binance launchpad, Binance pool, Liquid Swap, Binance staking, Binance Launchpool, and many other investment techniques, where users can gain generous rewards without trading cryptocurrencies.
When investing in Binance savings, the only risk is that price of cryptocurrencies may fall. At the same time, your assets are locked for a fixed period, the rewards you gain may not be notable enough to cover the losses of price falls; in such case, users who don't want any risk exposure should stake stable coins USDT, BUSD.
By doing so, there will be no uncertainty of unfavorable price changes. The rewards earned on stable coins are less than other cryptocurrencies, but it is more satisfying to make something while doing nothing with your crypto.
Binance savings is worth trying, You have nothing to loose in Binance savings, you will get decent profits on your cryptocurrencies.
[maxbutton id="1″ ]
Frequently Asked Questions
How To Manage Your Crypto During The Savings Period?
During the savings period, you can see your cryptocurrencies in the "Assets" tab. It will furnish you with a summary of your current deposits.
You can see the total amount submitted, the amount available for withdrawing, the cumulative quantity of interest you have made so far, and the interest rate for each coin.
What Happens After Binance Savings period Expire?
After the Binance savings period expires, you can withdraw your principal amount along with the interest you earned with a single click.
Can I get Staking Rewards In Addition to Binance Savings Interest?
No, when you put your crypto funds in savings, you can't get Staking rewards. It's either one or the other.
How To Lend Crypto On Binance?
Binance lending is now with the name of Binance savings. This article guides you thoroughly on how to lend crypto in Binance flexible savings and fixed savings.
Read More Articles
How To Withdraw From Binance To Coinbase Or Any Other Exchange
What is Vechain-How To Buy Vechain-Beginner Guide
How To Set A Stop Loss On Binance Futures
What is Yearn Finance (YFI) and Yearn Finance 2 (YFII)-How To Earn YFI And YFII
What is Curve Finance (CRV)-How To Earn CRV By Providing Liquidity
1inch Exchange Review And Tutorial
Uniswap Review-Complete Guide & Tutorial on Swapping & Pools
Binance Funding in Top 6 Defi Tokens-Complete Details
Best 9 Upcoming Defi Tokens Backed By Top Investors
What is Uptrennd Coin (1UP)-What Makes Uptrennd Special?
How To Set A Stop Loss On Binance And OCO Orders
Phemex Review-Exchange With Ten Times Fast Trading Engines And Zero Spot Trading Fees
7 Best Alternative To Coinbase For Trading Cryptocurrencies
How To Trade Cryptocurrency-Best Cryptocurrency Trading Strategies
what are the Top 9 Best Cryptocurrency To Invest In 2020
Best 12 Profitable Staking coins List and Exchanges
Are Trading Bots Legal? Why Use Trading Bots? Are They Profitable?
Gunbot Review-A Bot Especially Designed To Trade BTC Pairs
34 Most Recent Vechain Partnerships
Buy Bitcoin With Walmart Gift Card-How And Where?
3Commas Review-Best Crypto Trading Bot
Dogecoin Cloud Mining And Dogecoin Mining-How To Do Them Properly
Cryptohopper Trading Bot Review
What is cryptocurrency staking
What Is Cryptocurrency Mining?
What is Ethereum-How Does it Work
What is Bitcoin and How Does it Work?
How to Buy Bitcoin Cryptocurrency?
Key Points when selecting cryptocurrency exchanges