Bitcoin fell sharply over the weekend and large investors in particular took advantage of this opportunity to buy BTC. At the same time, many miners kept their hands still and didn't sell Bitcoin.
After Bitcoin and many other altcoins fell sharply last Sunday, investors have seized the opportunity and aggressively bought back. Within the last 48 hours, the Bitcoin price rose sharply and crossed 50k mark, making new all time high. On-chain data indicates that we remain in a strong upward trend.
Bitcoin Miners Holding Bitcoin
In the past, BTC miners have repeatedly provided BTC corrections by selling their Bitcoin's. But, now it appears that they have almost stopped selling. Currently, the level of miner sales is at a similar level before Bitcoin price rise at the end of 2020.
This trend is clear when you look at the data from CryptoQuant. Miner BTC selling's  are currently at a multi-month low and in recent weeks, only few miners have sold Bitcoin on the market.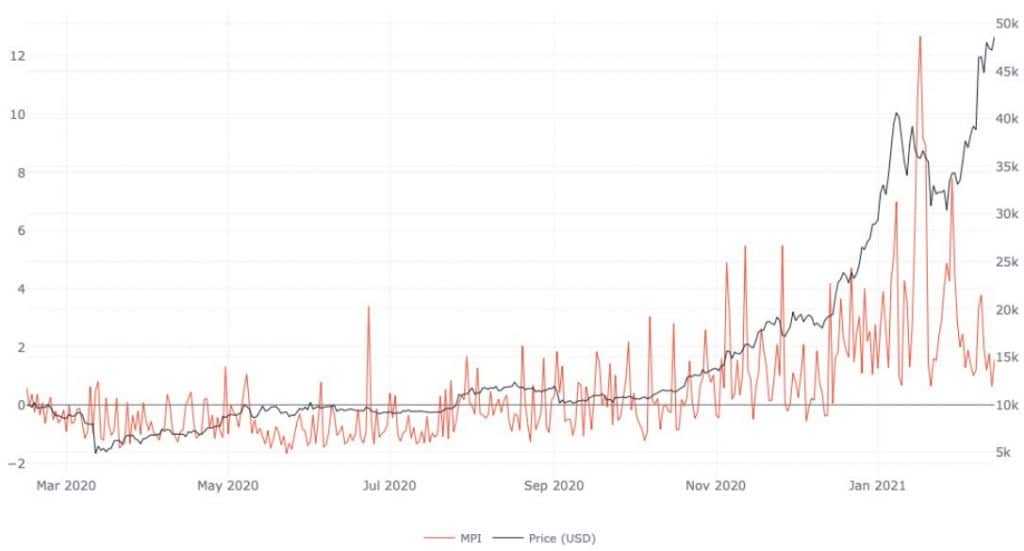 Bitcoin Whales Fill Their Pockets
Major investors have taken advantage of the decline in prices in recent days and aggressively bought Bitcoin. Data from Whalemap shows that the Bitcoin is developing a strong support zone between the price points of $46,600 and $48,500. It is precisely this price level that Bitcoin whales have used in recent days to further expand their BTC holdings. Currently, price is above this region, which means there is a high likelihood of a major upward movement.
BTC Upward Momentum
According to Ki Young Ju, CEO of crypto analytics company CryptoQuant, there are enough stable coins on the crypto exchanges to fuel another price rally. In the crypto market, capital is often stored in stable coins instead of cash or in the bank account, because it is much easier and faster to buy on crypto exchanges. Yu believes that currently is the ideal time for long-term investors to buy Bitcoin.
If you're a long-term investor, now is the time to buy $BTC.

Not sure how many corrections would be along the way, but the on-chain indicator says there are enough stablecoins in exchanges compared to Bitcoins to get another leg up.

Chart 👉 https://t.co/N4DKyQqQqa pic.twitter.com/K4Ex3hk59l

— Ki Young Ju 주기영 (@ki_young_ju) February 15, 2021
Moreover, the narrative around Bitcoin acceptance by companies and institutions has never been as strong as it is today. Coupled with the combination of the rapid recovery of the past few days, the declining sales by miners and the extremely high stable coin reserves, there seems to be little in the way of further price growth of Bitcoin at the moment.