If you are looking to start with cryptohopper, you must first read our detailed Cryptohopper Review, the review covers the advantages and disadvantages of cryptohopper, cryptohopper settings, cryptohopper pricing, cryptohopper forums, cryptohopper profits, types of cryptohopper bots, cryptohopper Main features, Trading features, cryptohopper market places and much more.
Crypto trading bots are very popular these days. Whether the crypto trader is amateur or a professional, they came across crypto trading bot.
This is because a person cannot stay awake all day and night and can never control its emotions while trading cryptocurrency but the cryptocurrency market is active all the seven days of the week so crypto trading bot are becoming popular as they perform cryptocurrency trading without emotions and 24 hours a day.
One of the most popular trading bots used in automated crypto trading is the cryptohopper. In this review, all the important aspects of cryptohopper will be covered.
What is the Cryptohopper trading bot?
Cryptohopper is a crypto trading bot designed to simplify the cryptocurrency trading process and provide support to a crypto trader to help them maximize their profits and reduce the risk of losses.
Cryptohopper is a programmed software. It takes a certain amount of human input to function properly. Crypto trader sets up this cryptocurrency trading bot by giving the bot proper instruction to generate profits.
Cryptohopper Trading Bot is a cryptocurrency trading platform whose domain was registered in July 2017.
Two brothers from the Netherlands created cryptohopper trading bot, one was a trader and the other was a web developer, the two have brought their ideas, skills, and experience together and developed Cryptohopper.
Other than that not much information is provided online about the team behind the project. However, the cryptocurrency trading platform is owned by Cryptohopper BV based in Amsterdam the Netherlands.
Cryptohopper provides a crypto trader with an automated crypto trading platform that removes the human factor of emotions from crypto trading by providing them well-programmed trading techniques.
Users can also subscribe to external signals. The cryptohopper team has announced that they have over 180,000 registered users, 75 cryptocurrencies, and 11 major exchanges including Binance exchange, Binance Us, Coinbase Pro, and others.
[maxbutton id="4″ ]
Cryptohopper pricing
In this Cryptohopper Review the pricing plans are described in detail.
Cryptohopper has four basic pricing plans, you can pay on a monthly basis or you can pay annually but you must remember that cryptohopper does not offer a refund so you must fully check cryptohopper by a pioneering plan that offers a free trial for seven days before buying any paid plans.


Cryptohopper pricing plans are as under:
Pioneer: Free trial starter package
Pioneer offers a free trial for seven days, the main features of pioneer are:
Technical analysis with 10 min interval
1 Simulated Crypto Trading Bot
80 positions maximum
Maximum 15 selected crypto coins
Maximum 2 triggers
Explorer: Starter package
The explorer plan starts from 16.58$/month, the main features of the Explorer plan are:
Technical analysis with 10 min interval
1 Simulated Crypto Trading Bot
80 positions maximum
Maximum 15 selected crypto coins
Maximum 2 triggers
Adventure: Trader plus Package
The Adventure plan starts from 41.58$/month, the main features of the Adventure plan are:
Technical analysis with a 5-minute interval
1 Simulated Crypto Trading Bot
200 positions maximum
Maximum 50 selected crypto coins
Maximum 5 triggers
Crypto Exchange arbitrage
Hero: Pro Trader Package
The Hero plan starts from 83.25$/month, the main feature of the Hero plan are:
Technical analysis with a 2-minute interval
3 Simulated Crypto Trading Bot
500 positions maximum
Maximum 75 selected crypto coins
Maximum 10 triggers
Signals for all coins
Premium indicators for all coins
Market Arbitrage
Market Making
The pricing may keep changing with time, you may see the official cryptohopper pricing page for frequent updates.
https://www.cryptohopper.com/pricing
[maxbutton id="4″ ]
Cryptohopper Features
Detail features are shown in this Cryptohopper Trading Bot Review:
Data-Driven automated crypto trading: Emotions can affect your trade for the worse in many ways like Panic selling or greedy buying. Cryptohopper uses pure analysis to make its crypto trading decisions and you can apply more than 130 technical indicators.
Easy integration: Cryptohopper trading bot is for every crypto trader whether a professional or a beginner, you don't need any coding experience to set your bot, you just need five minutes to set up a crypto trading bot.
Advanced Tracking Technology: you can track the performance of 75 coins and scan them against your profits and preferences.
24/7 Active Trading: Automated crypto trading of cryptohopper buys, tracks, and sells your cryptocurrencies while you sleep and allows you to trade 24/7 a day.
Global Crypto Exchanges: Cryptohopper allows you to connect your favorite exchanges like Binance exchange, Binance US, Coin base Pro, OKex, Kucoin, Bitvavo, Huobi, Poloniex, Kraken, Bittrex, and Bitfinex.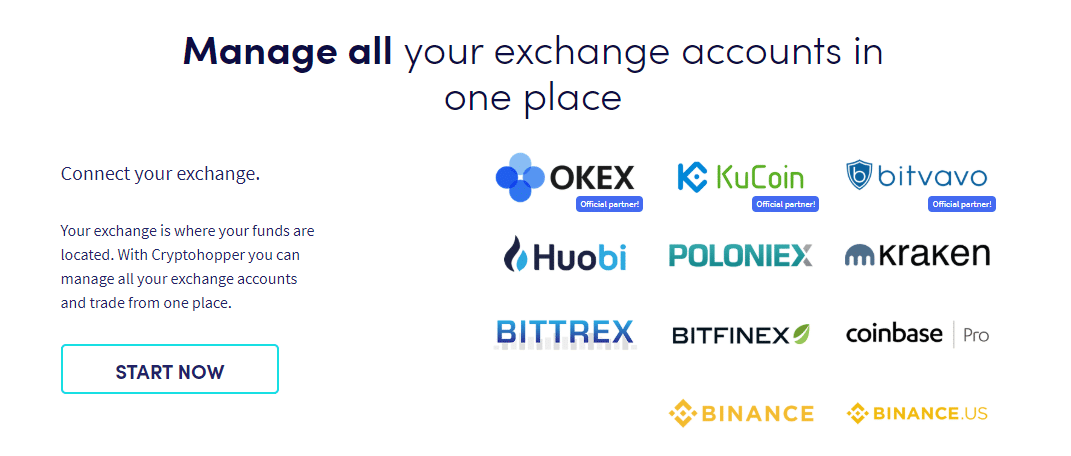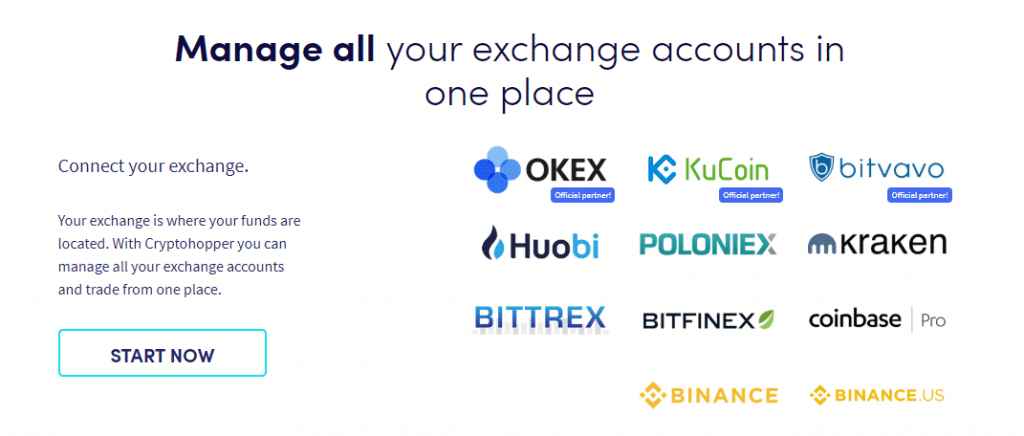 Zero Trading Fees: Cryptohopper does not charge any kind of trading fees while you trade on cryptohopper, cryptohopper only charges monthly based on the cryptohopper pricing plan you are using.
Safe and Secure: Cryptohopper is connected to your crypto exchange with API so cryptohopper has no control over your funds. API connectivity automatically gives limited functionality to cryptohopper to just trade on cryptocurrency exchange on your behalf and cannot withdraw any kind of funds.
Copying Top Traders: Professional crypto trader can apply to become cryptohopper signalers or sellers. Cryptohopper screened each applicant by their knowledge and experience before approving them to provide the marketplace with the best signalers to be copied.
Crypto Signals: When third party technical analysts spot a promising investment, they share their knowledge to those who have subscribed to Signals on Cryptohopper.
Cryptohopper Advanced Strategies: Cryptohopper Advanced Strategies are made up of the combination of specific indicators and technical analysis. Advanced Strategies are indicator cheat sheets they are designed and approved from professional traders and made it easy for you to buy and sell.
Cryptohopper Configuration Template: As the Indicators are coin specific so not all indicators can be set up for every market condition so the template Configuration offers templates that users can easily use with strategies to make sure that the cryptohopper perform 24/7.
Cryptohopper Performance Reports: You can evaluate the real-time performance reports for crypto signals then you can easily pick the top-performing cryptocurrency signaler for your cryptohopper trading bot.
No Experience No Worries: You can easily set up your Cryptohopper trading bot account, connect your exchange, copy signals of a successful cryptocurrency trader and start automated crypto trading, there is no experience required.
Cryptohopper apps: Cryptohopper trading bot has a mobile app for android and iOS.
Read: How to Buy Bitcoin Cryptocurrency
How to use Cryptohopper Trading Bot
We have tried to guide you on, how to use the bot in this Cryptohopper Trading Bot Review.
Using Cryptohopper trading bot is an easy task and can be done in some steps, first you need to open an account with cryptohopper.
Go to cryptohopper website and click on "Start Free Trial" on the above right corner of the screen:


A window will open as shown below: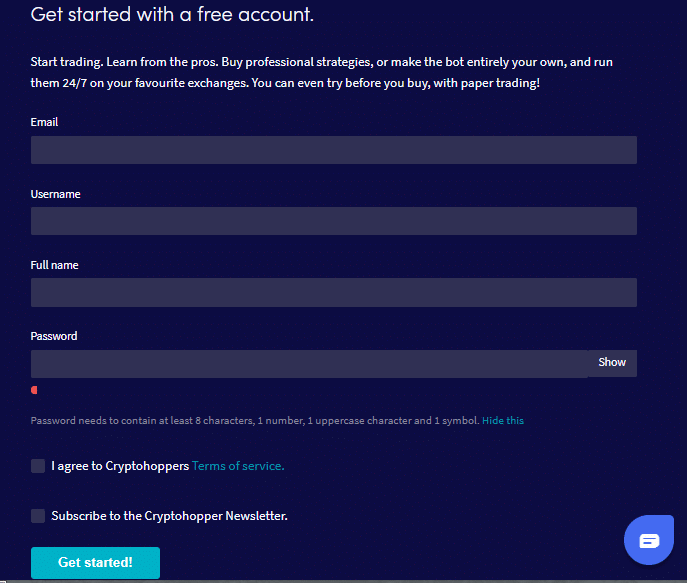 Enter your email, username, full name, and password.
Agree to the terms and services of cryptohopper.
Click on "Get Started".
Cryptohopper will send you a verification email on the email address you entered above, go to your email account and verify your email account.
That's it you have created an account with cryptohopper, by signing up you will be given a 7-day free trial to check features of the cryptohopper trading bot.
Depositing Funds into Cryptohopper trading bot
To buy a plan Cryptohopper accepts payments through 70 cryptocurrencies Visa, Master Card, or Wire Transfer.
Cryptohopper Settings
Cryptohopper Settings can be done by going to the dashboard after signing up and logging in to your account.
the dashboard will look like: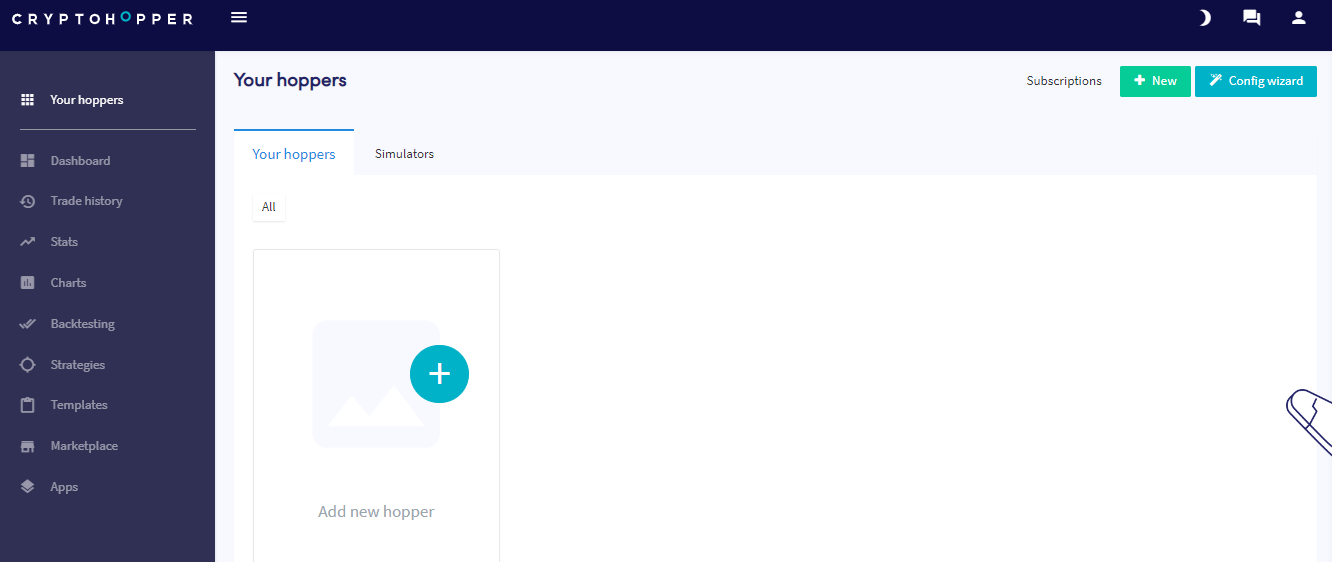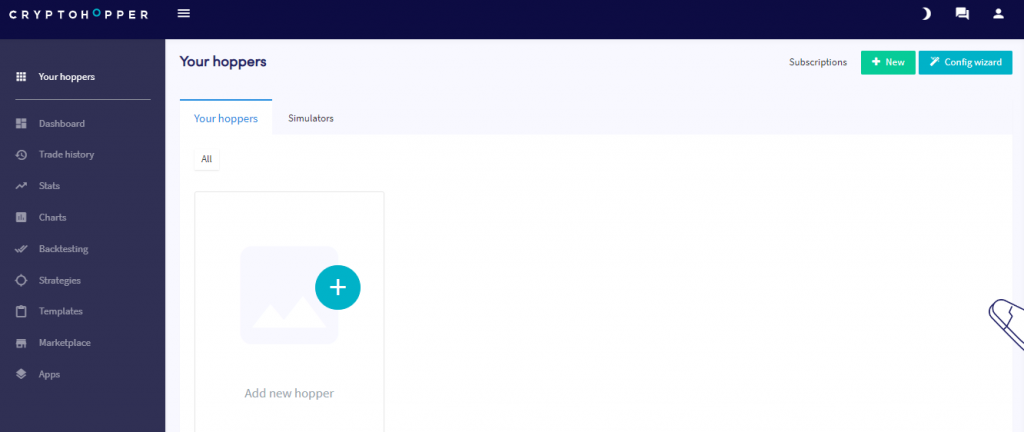 Click on the plus sign as shown above and a window will open showing trading bots you want to set up.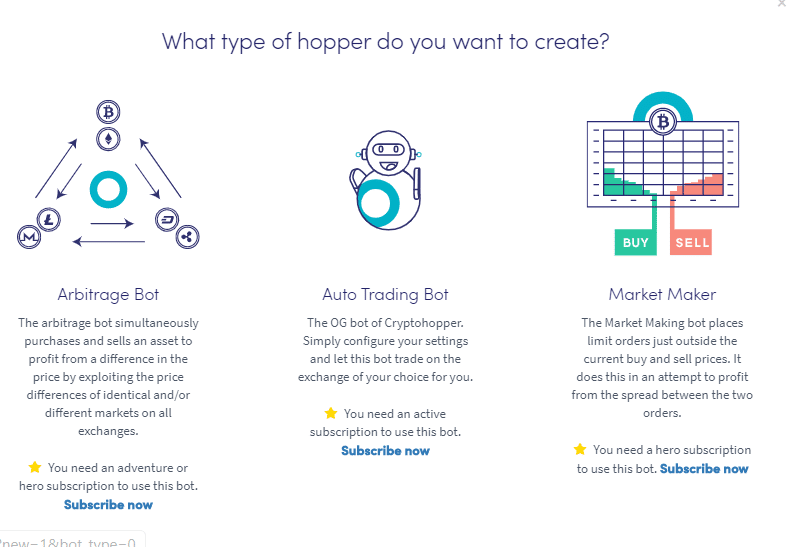 Cryptohopper has three types of the crypto trading bot:
Arbitrage Bot
Auto trading bot
Market maker Bot
Arbitrage Bot
The arbitrage crypto trading bot profit from a price difference on crypto exchanges by simultaneously purchasing and selling any cryptocurrency.
To use this crypto trading bot you need to have an adventure or hero subscription.
Auto Trading Bot
Auto trading bot trade on your behalf on cryptocurrency exchanges. You configure your bot, provide your settings, and the bot trade on your behalf.
You can use this crypto trading bot by any active subscription.
Market Making Bot
The Market Making crypto trading bot places limit orders outside the buy and sell prices to profit from the spread between the two orders.
To use this crypto trading bot you need a hero subscription.
Connect your CryptoCurrency Exchange
After selecting the cryptohopper bot you can select the crypto exchange you want to trade-in.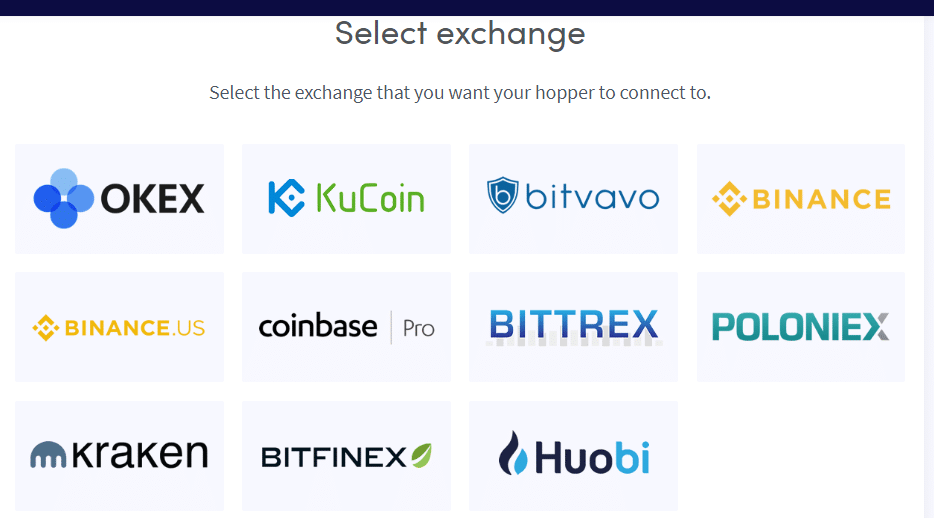 You can select from
Binance exchange
Binance US
Coin base Pro
OKex
Kucoin
Bitvavo
Huobi
Poloniex
Kraken
Bittrex
Bitfinex
After selecting an exchange, connect your CryptoCurrency Exchange to the cryptohopper account by giving your API and API secret of that exchange.
Here you can also turn the feature of paper trading if you just want to check your trading strategies with cryptohopper trading bot.
Crypohopper Mirror Trading
Join the cryptohopper market place and trade like a professional trader, cryptohopper market place or in other words Crypohopper Mirror Trading is a place where you can purchase templates, trading strategies or market signals or you can get them for free and copy these strategies from professionals to do successful crypto trading.
Crypohopper Mirror trading or market place has three different categories
Templates
Strategies
Signals
Templates
As the Indicators are coin specific so not all indicators can be set up for every market condition so the template Configuration offers templates that users can easily use with strategies to make sure that the cryptohopper performs 24/7.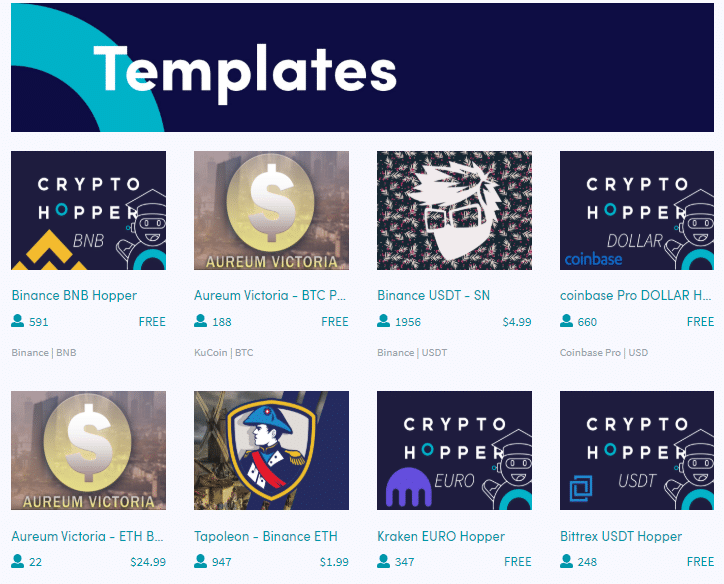 As the cryptocurrency market is constantly developing, the strategies you configure cannot always meet market requirements.
You need different strategies for different market conditions. For this reason, Cryptohopper offers the possibility to create templates with which the markets can be easily identified and the conditions combined with the various strategies that you can configure for each type.
The templates are free and paid as well, you can go to the market place and see the variety of templates, All you have to do is upload the template and the crypto trading bot will start trading according to the strategies configured in the template.
Visit cryptohopper Template Market Place
https://www.cryptohopper.com/marketplace/templates
Strategies
You can purchase strategies from the cryptohopper marketplace, or you can create your trading strategies.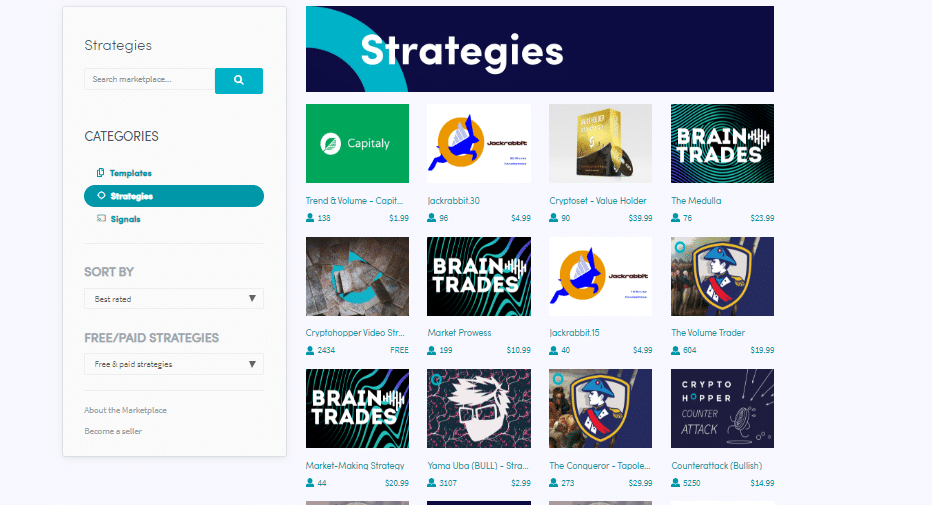 By going to the strategy market place you can see the prices of the strategy being sold, the number of reviews it has, and the number of users that are currently using that strategy.
You can sort the strategies by:
Best rated
Most sales
Newest
Recently updated
You can also sort strategies by:
Free strategies
Paid Strategies
After buying the strategy you can embed that trading strategy with your crypto trading bot.
Visit cryptohopper Strategy Market Place
https://www.cryptohopper.com/marketplace/strategies
Signals
With Cryptohopper trading bot, users can purchase or use free professional external signals.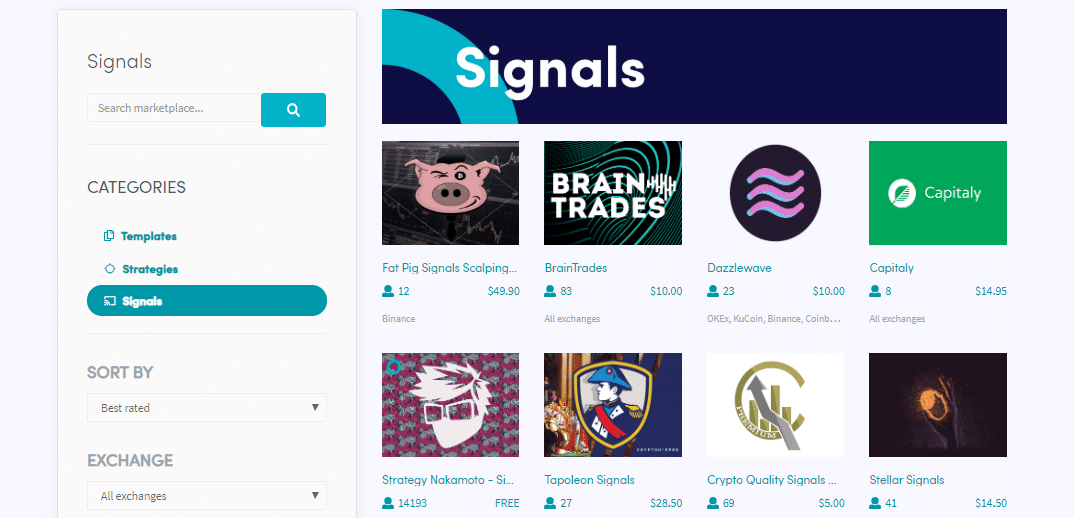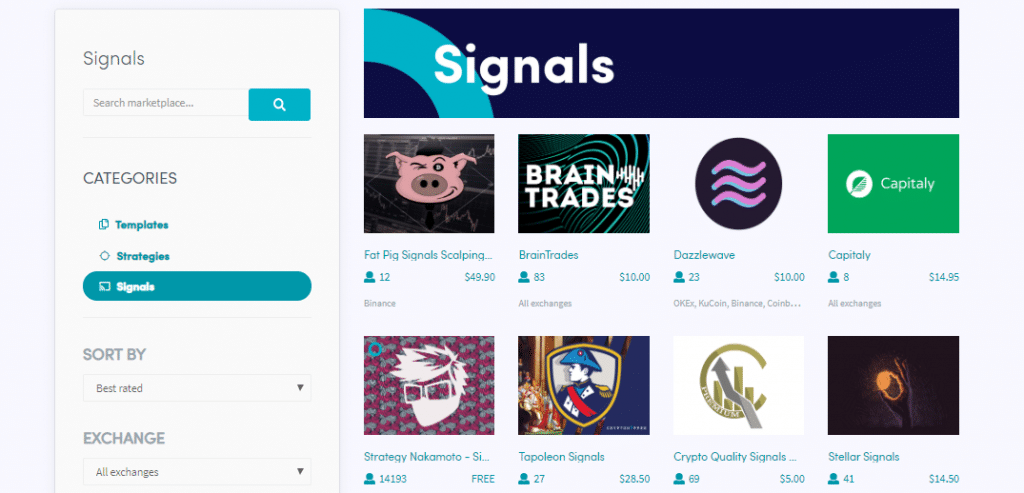 Experienced traders looking for positive signs in the crypto markets give the signaling service and are first approved and permitted by the cryptohopper team.
Both free and paid subscriptions are available, and crypto trading bots can be configured to follow signalers with just a few clicks.
On cryptohopper trading bot, it is possible to combine buy signals and technical analysis indicators at the same time and to set stop limits and trailing stops.
By going to the signals market place you can see the prices of the signals being sold, the number of reviews a signal provider have and the number of users that are currently using those signals.
You can sort the signals by
Best rated
Most subscribers
Newest
You can also sort signals by
Free Signals
Paid Signals
Cryptohopper Trading Features
Technical Indicators and Candle Patterns: you can very easily use more than 30 technical indicators and more than 90 candle patterns to read the market conditions and give instruction to your crypto trading bot.
Paper trading: if you have a new strategy for crypto trading then before applying it for real-time you can very easily backtest your trading strategy before applying it for real-time with paper trading option.
Dollar-Cost Averaging: By using the option of Dollar-Cost Averaging you can double or triple your investment that went high.
Shorting Your coin: Short sell your cryptocurrency coins if they drop suddenly and keep tracking your coins and when they show signs of recovery only then buy them back to earn maximum profits.
Market Triggers: Respond to the rise and fall of crypto markets and respond to early signs of markets moves by notifications to ensure your portfolio is safe.
Trailing Stop-Buy: Whether a crypto coin is going up or not, use cryptohopper smart trailing stop buy option to determine a strong buy trend.
Trailing Stop-Loss: Cryptohopper trading bot has a popular feature of trailing stop loss, it can track the price of any cryptocurrency coin when it goes up and only sells when it starts to come down.
Trailing Stop-Short: When any cryptocurrency you shorted start showing a sign of recovery use trailing stop short option that tells your cryptohopper trading bot to buy back your shorted coins.
Back Testing: By Backtesting you can check your trading strategies by running them against the numbers in the past and then checking the results, You can see how your crypto trading strategy would have performed by viewing exactly, when your cryptohopper trading bot would have bought and when your cryptohopper trading bot would have sold and how much profit you would have made from that strategy.
Cryptohopper Social Sharing Platform
Cryptohopper Trading bot Useful Resources
Disadvantages of Cryptohopper
With the various advantages, there are some disadvantages. With the unique features of the Cryptohopper trading bot, you should be aware of drawbacks as this is a matter of funds.
There is a detailed story on the official website that tells the beginning of the process but there is no information about the creators of the cryptohopper bot.
There are many testimonials available on the Cryptohopper trading bot website but none of them seem to have been written by a real user and all of them are not in detail, they do not cover the topics thoroughly, the YouTube videos are also not explanatory.
A free trial of cryptohopper trading bot is available but the features of the free trial are quite limited. To unlock the full potential of the crypto trading bot, you'll need to pay $ 99 a month which is too high.
[maxbutton id="4″ ]
Frequently Asked Questions
Is Cryptohopper bot Safe for trading?
The Cryptohopper bot has limited information available about who is behind the project but on the website, it is mentioned that it's registered as Cryptohopper BV in the Netherlands.
The cryptohopper is active on social media, you can check social media before using cryptohopper.
Also, the crypto trading bot is connected with the cryptocurrency exchanges by API keys these keys allow the trading bots to have limited access to the exchange account.
The crypto trading bot is not granted withdrawal rights and in case of any hacks on the exchange, the hackers cannot directly withdraw from your crypto funds.
Users can also set up two-factor authentication 2FA to further secure their accounts on cryptohopper.
Is Cryptohopper trading bot for beginners?
Cryptohopper trading bot offers features that can help the beginners so set up their accounts, they have an active community, video library, Discord, and telegram groups that can very help full for the new crypto traders.
In this way, a new cryptocurrency trader can chat and learn from more professional users from all over the world.
Cryptohopper trading bot also provides backtesting and paper trading so that beginners can check their settings and strategies of trading bots before applying them in real-time.
The cryptohopper trading platform does not require programming skills or any technical knowledge to set up trading bots, all can be done easily with few clicks.
How to download Cryptohopper trading bot?
There is no need to download cryptohopper trading bot, after signing in to your account all functions are available on your dashboard, you simply sign in and start using your cryptohopper bot.
What are Cryptohopper profits?
The crypto trading bot team claims to get the daily profit of almost 20% but it depends upon the strategies and configuration of your trading bots, the crypto trader and signals you are following, and other factors, a properly configure trading bot can generate you good profits.
How much time does it take to withdraw profits from Cryptohopper?
You don't have any funds with cryptohopper, cryptohopper trades on your behalf on your desired crypto exchanges through API Keys, all profits you made will be shown in your cryptocurrency exchange wallets.
Other than those funds on cryptohopper for a monthly subscription or for buying strategies, a template or signals can be withdrawn from cryptohopper by submitting a withdrawal request.
What are your views about this cryptohopper review? please let us know in the comments.
Follow Us on Twitter and Facebook.
Disclaimer: This content is informational and should not be considered financial advice. The views expressed in this article may include the author's personal opinions and do not reflect The Crypto Basic's opinion. Readers are encouraged to do thorough research before making any investment decisions. The Crypto Basic is not responsible for any financial losses.
-Advertisement-