Papa Murphy's a take-and-bake pizza company in Fresno, California, now accepts Bitcoin (BTC) and other cryptos, including Litecoin (LTC), Ethereum (ETH), Dogecoin (DOGE) and Cardano (ADA).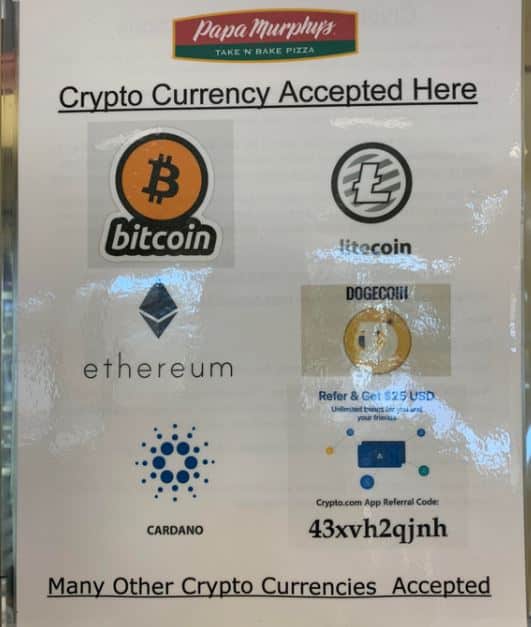 However, there are not clear direction that whether the listed cryptocurrencies are acceptable at all Papa Murphy outlets in other states, especially in Washington, DC, where Papa Murphy's headquarters is located.
About Papa Murphy's Pizza Company
Papa Murphy's is a pizza company, with head office in Vancouver, Washington. It started in 1995 with the merger of two local takeaway pizza companies, Papa Aldo's Pizza and Murphy's Pizza.
The pizza company own more than 1,300 outlets in the United States and Canada. The company is recognized as the fifth largest pizza chain in the United States, and its estimated revenue is about $810 million.
Crypto Adoption
Crypto adoption is getting serious. Every business now seems to be accepting crypto. They want to be paid in crypto and also want to hold these crypto payments. Big names like Telsa, Microstrategy are confident enough to show crypto holdings on their balance sheets. Government and banks start to develop their Central Bank Digital Currencies (CBDC). Such mass adoption of crypto cannot be overlooked.