As Bitcoin consolidates, altcoins like Cardano may also enter a consolidation phase soon. A break of nearly 20% pushed the ADA price towards $1.64, but after some corrections it was trading again at $1.50.
Cadano may continue to trade at this level for a while, but the market is becoming bearish.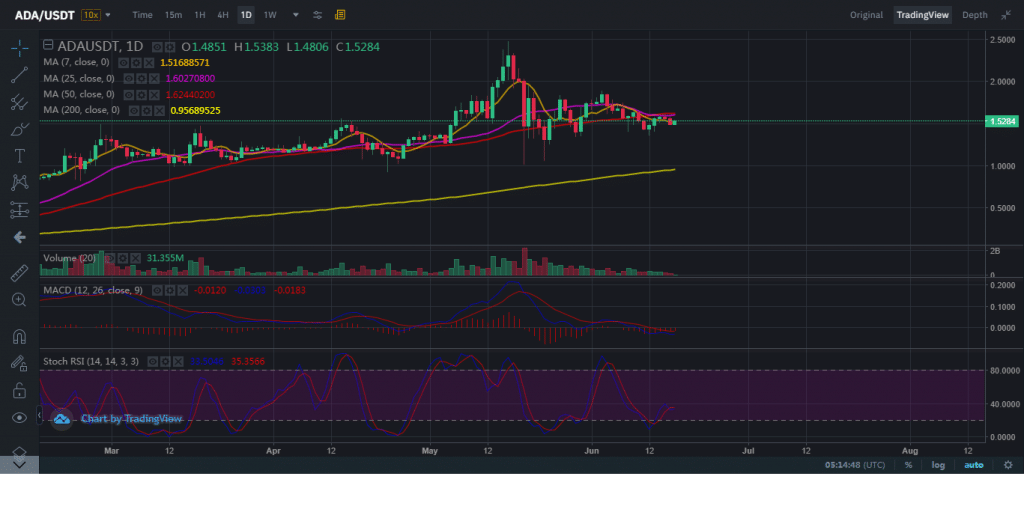 When the ADA price climbed to $1.64, local resistance did not allow the price to break this level. As trading remained limited between $1.50 and $1.64, most of the traders were keen to sell until the next fall.
Read: Nasdaq Admire Cardano As "By The People, For The People" Type Of Currency
There is an ongoing trend reversal in Cradano Market. The Stochastic RSI blue line is crossing the red signal line, which mean that selling pressure on ADA is increasing. Once the crossover is confirmed, the price could be lowered to $1.38.
Read: How Cardano Blockchain Is Changing Everyday Life
Meanwhile, the MACD indicator showed that the ADA is at the end of a bearish trend in early June. Currently MACD indicates that buyers are trying to hold the price and $1.50 support, to start a consolidation phase.
Read: Cardano Marketcap Ahead of Coinbase And Roblox, Behind Vodafone Only by $0.9B
The 25 and 50 day moving averages are above the daily price candles, giving strong resistance to ADA price. If these moving averages continue to act as resistance and more buyers don't come in soon, the price could drop to $1.39.