The bitcoin outflow from the centralized exchanges in July reached the highest level since November 2020. According to GlassNode, the bitcoins outflow from the centralized exchange in July exceeded 100,000 BTC. Over the past seven days, about 40,000 BTC have been taken out from crypto exchanges.
Read: On 3rd August Miami Becomes The First US City To Launch Their Crypto, Miami Coin (MIA) to Fund City Initiatives, And Rewards Users In BTC
According to GlassNode, only 13.2% of BTC in circulation are now on centralized exchanges, which has become a new minimum for 2021.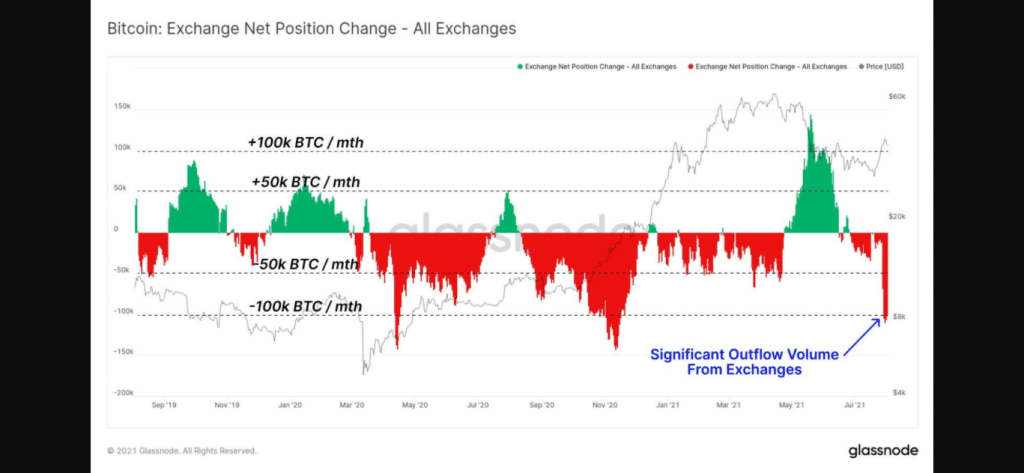 Exchange Flow Binance And CoinBase
The report also noted an interesting interplay between Coinbase and Binance, the two largest exchanges by balance. Coinbase saw significant outflows throughout most of 2021, whilst Binance was the largest recipient.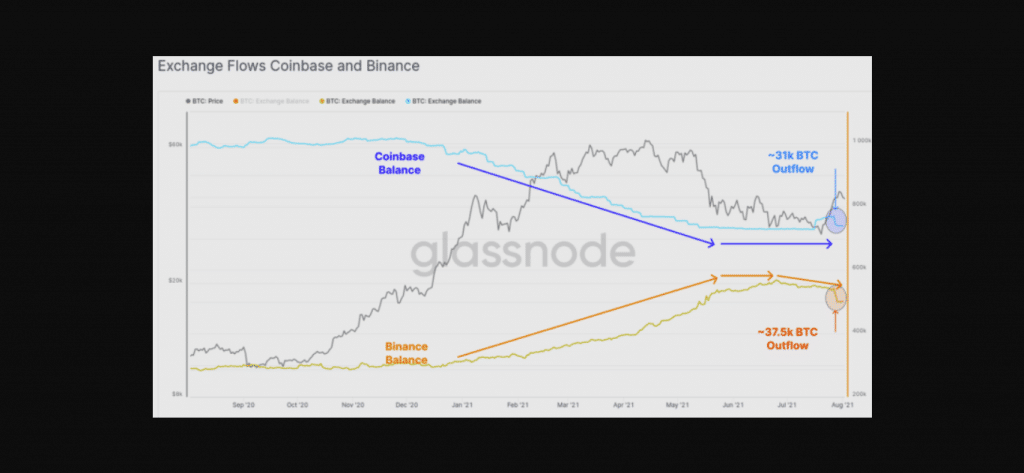 According to the chart, the trend for Binance appears to have stalled and started to reverse, with a total outflow of approximately 37.5k BTC this week. Coinbase balances increased in July, with a large deposit of around 30k BTC in mid-July, and this week an outflow of 31k BTC. This has largely unwound all inflows since mid-May. Overall, this may well be the start of another era of net exchange outflows and is a trend to watch.




The GlassNode report also showed that lot of crypto investors took advantage of the recent spike in bitcoin and booked profits worth $2.09 billion last week.
The report also noted that transaction volumes are spiking higher, up 94% from the lows of $4.7B/day, to around $9.1B/day this week. This indicates that there is increased demand for Bitcoin and this trend is likely to continue if there are not significant regulatory news to change investor sentiment.