Based on Bank of America research findings, crypto is expected to expand significantly in the coming 30 years.
Read: According To Bank Of America Recent Research Report Crypto Is "Too Large To Ignore"

Bank of America has released a 140-page document on the digital asset market which includes NFT, DeFi as well as institutional investments, and crypto expansion. The crypto sector is still in its infancy and has a lot of potential for growth in the future, as per the study.
Based on the research, today 14 percent of the US population own cryptocurrency. This figure suggests that 21 million Americans use cryptocurrency as payments instruments, financial holding, etc.
Read: Arab Bank Switzerland Selects Tezos As Partner For Digital Financial Products
The report forecasts that 27 percent of the US population will be using cryptocurrencies in 2022.
According to the study, the average owner of crypto is a Caucasian male, 38 years young, and makes approximately 111,000 dollars per year.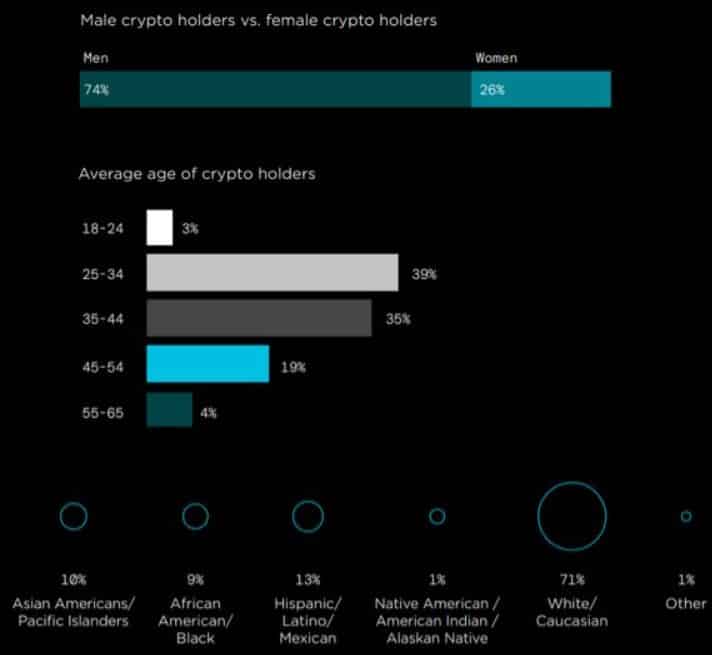 Source: Bank Of America Research
The report shows that in the USA, 74% of crypto holders are men while female holders are only 26%.
Although this industry is regarded as "modern", the youngest participants with the age group of 18-21 in the industry are very few with 3% average holders.
Read: Hedge Fund Billionaire Ken Griffin Sees Crypto-Mania As 'Jihadist Call' Against Dollar
Most crypto holders belong to the 25-34 and 35-44 age groups with 39 and 35 percent average holders respectively.
The report also shows that 10% of crypto holders are Asian Americans, 9% are African American/Black, 13% are Hispanic/Mexican, 1% are Native American, and 71% White/caucasian.