Fears about inflation, not the excitement of the first Bitcoin futures ETF, is driving Bitcoin to new price highs.
The opinion is shared by JPMorgan analysts, Bloomberg reports.

On October 19, the Bitcoin Strategy ETF from ProShares started trading on the New York Stock Exchange. This is the first time the SEC has approved an exchange-traded fund based on bitcoin futures.
The fund's trading turnover under the ticker BITO on the day of its debut reached almost $1 billion. Bitcoin ETF took second place among all ETFs in terms of the trading volume.
On October 20, the price of the leading cryptocurrency renewed its all-time highs, exceeding $67,000.
JPMorgan strategists, led by Nikolaos Panigirtzoglu, does not believe that BTC ETF is the cause of Bitcoin rise:
"By itself, the launch of BITO is unlikely to trigger a new phase of significantly more fresh capital entering Bitcoin, Instead, we believe the perception of Bitcoin as a better inflation hedge than gold is the main reason for the current upswing, triggering a shift away from gold ETFs into Bitcoin funds since September."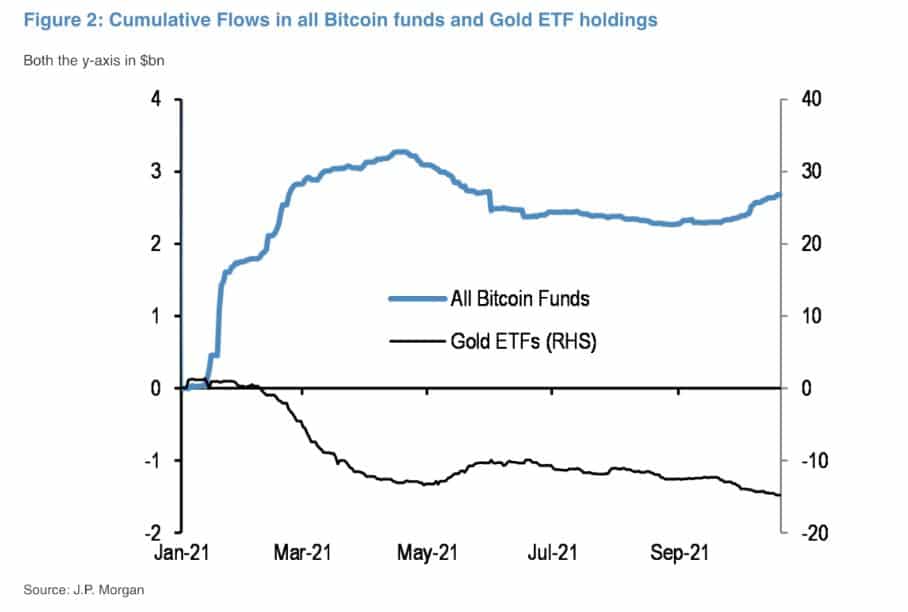 Regarding the enthusiasm of market participants for BITO, analysts cited the example of the first Bitcoin exchange-traded fund in Canada. Launched in February 2021, the product from Purpose Investments under the ticker BTCC received a warm welcome, but then over time, the interest cooled.
"The initial excitement around BITO may disappear in a week," JP Morgan experts suggested.
On October 21, SEC approved applications for the launch of two more bitcoin futures ETFs – VanEck and Valkyrie Investments.
Earlier, the founder of the hedge fund Tudor Investment Paul Tudor Jones called the first cryptocurrency insurance against inflation. The billionaire expressed his opinion in an interview with CNBC, noting that at this stage, Bitcoin is clearly winning the race against gold.
Read: Forbes Editor, Avik Roy: Bitcoin Is Rarer, Profitable, Secure And Better Form Of Sound Money Than Gold
"Clearly there is a place for #crypto and clearly it's winning the race against #gold at the moment," says @ptj_official on #bitcoin. "I would think that would also be a very good #inflation hedge. It would be my preferred one over gold at the moment." pic.twitter.com/CWbcSM8Sab

— Squawk Box (@SquawkCNBC) October 20, 2021