- Advertisement -

Over the past week, bitcoin has come under severe pressure and has faced strong resistance at $60,000. At the time of writing, bitcoin is still trading below $57000 with a market cap of $1,075 trillion.

Although bitcoin remains under pressure, its fundamental indicators on the chart indicate the presence of great strength and accumulation. According to data provided by Glassnode, the number of Bitcoin addresses with a non-zero balance has reached a new all-time high, 38.76 million addresses. The previous high of 38.7 million was set seven months ago on April 23 and it took 213 days to make a new all-time high.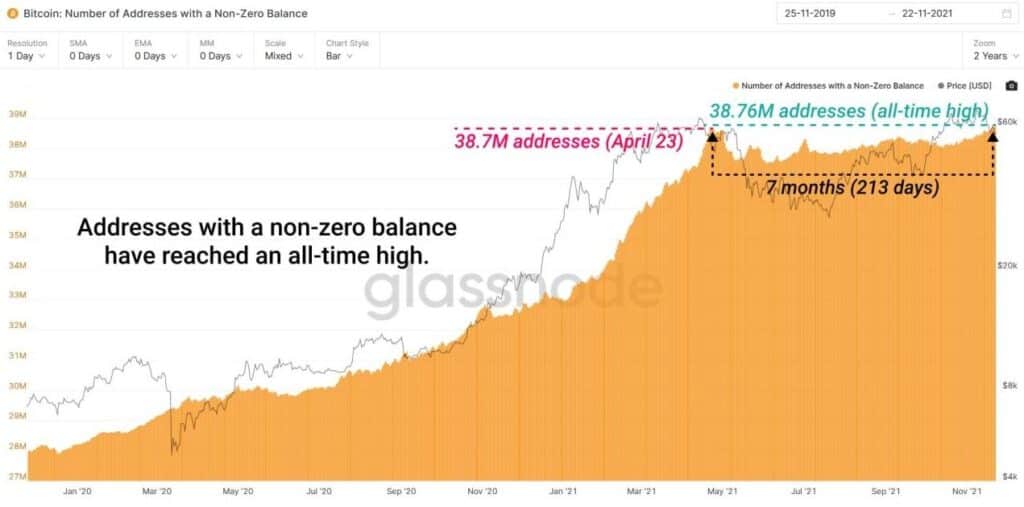 Santiment reports that despite tough trading pressure, the supply of bitcoin is moving out of exchanges, reducing the risk of a significant sell-off. In addition, the supply of USDT on the exchanges is increasing, showing strong buying is coming.
📉 #Bitcoin has sunk -5.5% in the past 24 hours and is on the verge of dropping below $56k once again. Despite this, $BTC's supply continues moving away from exchanges, lowering selloff risk. $USDT also remains high on exchanges, indicating high buy power. https://t.co/wWHIdYxzNs pic.twitter.com/4dkr086zqM

— Santiment (@santimentfeed) November 22, 2021
During the recent price correction, short-term bitcoin holders sold most of their holdings as short-term holders are the most sensitive to price actions.
Glassnoe writes:
"Short-term holders (STH) are most responsive to price action due to a combination of having a higher relative cost-basis, a higher time preference, and potentially a lower degree of conviction in the asset. This week's price action was no exception, as STHs played a role in setting both the highs and the lows."
On the other hand, bitcoin funding rates on Binance were in positive territory. According to Santiment, this usually results in a strong rebound.
📊 When #Bitcoin was well above $60k from mid-October to mid-November, #Binance's funding rates for most assets were well in positive territory. This is indicative of trader over-confidence, and prices often overcorrect. Now, things look far more neutral. https://t.co/8xUDv6k7YF pic.twitter.com/kLoABe6MhL

— Santiment (@santimentfeed) November 22, 2021
All indicators indicate that the price of BTC is ready for the next rally. So, experts are hinting that now could be a good buying opportunity.
Readd More Glassnode Analysis: