- Advertisement -

A cryptocurrency that cost just $1.99 saw its price soar with Coinbase's listing.
Considered the largest cryptocurrency exchange in the United States and one of the oldest, it has a rigorous listing of new coins. Coinbase was the first cryptocurrency exchange to be listed on a Nasdaq stock exchange in the U.S.
Stacks (STX) skyrocketed after being listed on Coinbase. The coin soared when Coinbase announced that it would list the asset on its platform. As a result, Stacks rose to $2.53, currently trading $2.27, 14% up in the last 24 hours, while Bitcoin is down 1.6% in the previous 24 hours.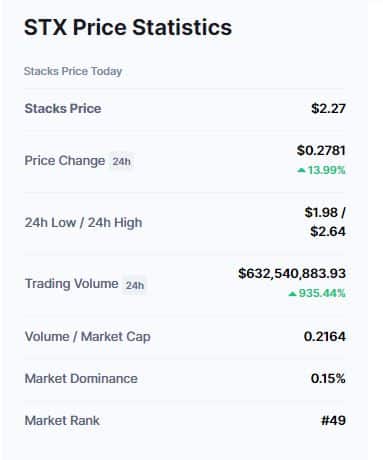 Stacks trading on Coinbase will occur in three trading pairs, against Euro, Dollar, and USDT.
Inbound transfers for Stacks (STX) are now available on @Coinbase and @CoinbaseExch in the regions where trading is supported. Trading is not enabled at this time. Trading will begin on or after 9AM PT on Wednesday January 19, if liquidity conditions are met. pic.twitter.com/Ya4sH5x1f4

— Coinbase Assets (@CoinbaseAssets) January 18, 2022
The Stacks network is one of the most promising to create smart contracts for the Bitcoin community. Linked to Bitcoin, this network caught the attention of city mayors around the U.S., who started their City Coins.
One of the cities to do this was Miami, which created MiamiCoin and inspired other cities to do the same: New York with NYCCoin and Austin with AustinCoin. Last week, the mayor of Rio de Janeiro, Eduardo Paes, confirmed that he will create Rio Crypto, although it is not yet clear if it will be on Stacks.
In any case, this network draws attention by allowing the creation of NFTs, City Coins, and DeFi in the Bitcoin ecosystem, something sought by many in the community.