Tether (USDT) Prints Over $1 Billion in Fours Days, Suggesting Increased Traders' Appetite.

Traders' confidence has continued to grow recently across major cryptocurrency exchanges, as the number of user activities has skyrocketed on these platforms. 
With the level of buying and selling on cryptocurrency exchanges surging among crypto traders, the popular stable coin Tether (USDT) has been on a roller coaster in recent times. 
Tether Embarks on a USDT Minting Spree
The popular stablecoin issuer has been on a minting spree for the USDT coin to match the growing appetite of cryptocurrency enthusiasts, who have sought to convert the gains in their cryptocurrency holdings recorded so far to stablecoins to avoid suffering another significant loss for the year. 
Stablecoin printer reports that since the beginning of this month, Tether has been minting large volumes of USDT to match cryptocurrency traders' conversion demands, with over $1.1 billion minted between March 24, 2022, and March 29, 2022.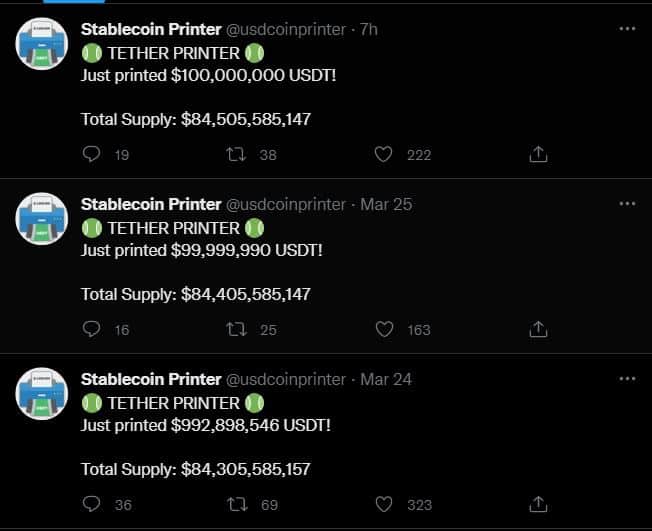 Overall, Tether has minted above $1.8B USDT in March.
USDT Market Capitalization Surges
The increased activity for the stablecoin also led to a boost in the coin's market capitalization. USDT, which had a valuation of $80.99 billion on March 25, 2022, has gained $430 million in less than three days, putting its total valuation at around $81.42 billion.
With the current market capitalization of USDT pegged around $81.42 billion, it implies that there are around 81.4 billion USDT coins in circulation since one unit of the stablecoin is pegged at $1. 
The market cap is of Tether jumps more than $1 Billion from March 26th to 27th, according to coinmarketcap.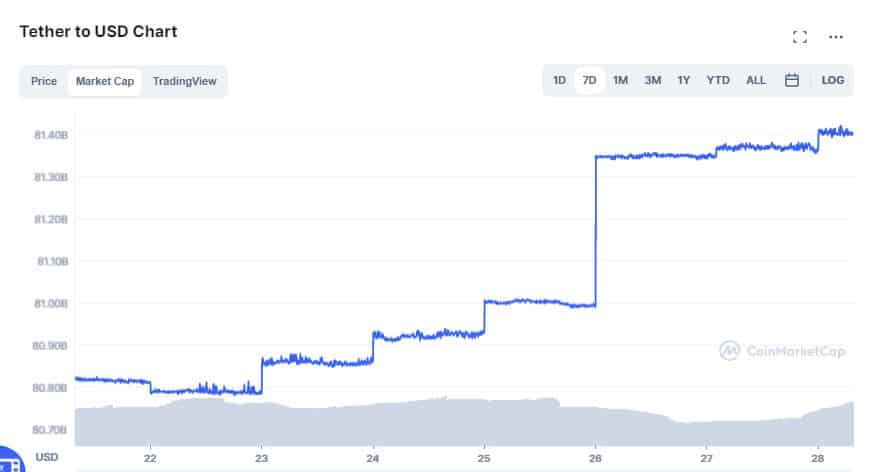 Interestingly, Tether's current market capitalization comfortably puts the cryptocurrency in the third position in the global crypto rankings, according to CoinMarketCap data. 
USDT is leading the fourth cryptocurrency in the ranking, Binance Coin (BNB), with a difference of over $10 billion. The next stablecoin USD Coin in the ranking is trailing tether by nearly $30 billion.  
Crypto Market Valuation Increases 
The ratio of Tether stablecoins on exchanges is also rising. This increasing printing of Tether and growing exchange supply indicate a rising level of buying power accumulating on exchanges.
The result shows that the total cryptocurrency market has been up by 4.8% in the last 24 hours, with all eyes fixed on Bitcoin (BTC). 
BTC, which was trading around $44,000 yesterday, added $3,000, a move that pushed its price above $47,000 in the early hours of today. 
At the time of writing, Bitcoin is changing hands at $46,912. while Ethereum is trading above $3300, up 5.18%, BNB at $433 up 3.85%, XRP at $0.86, up 3.22%, ADA at $1.18 up 3.32%, SOL, LUNA and AVAX are all up 5% in 24 hours.
Follow Us on Twitter and Facebook.
Disclaimer: This content is informational and should not be considered financial advice. The views expressed in this article may include the author's personal opinions and do not reflect The Crypto Basic's opinion. Readers are encouraged to do thorough research before making any investment decisions. The Crypto Basic is not responsible for any financial losses.
-Advertisement-