- Advertisement -

$120 Million Liquidation Hits Crypto Market as BTC, ETH Fall Over 2.5%.

The crypto market experienced a major correction in April, mainly influenced by a period in Bitcoin's cycle known as the mid-halving event, which happened on 11 April. There has been a relief rally where some cryptocurrencies like Shiba Inu went up close to 20% in 24 hours.
Following the relief rally, another dip has hit the market, dragging prices down as much as 10% for some cryptocurrencies. BTC and ETH have gone down more than 2.5% within the last 24 hours of writing this report. This has caused Bitcoin to drop below $39,000 for the first time since March 15 and ETH under $3,000 for the first time since March 22. 
Capitulation due to "Miner Surrender"
At the same time, the correction was ongoing; a liquidation of over $120 million happened within one hour. While many factors contributed to this, the immediate cause was long liquidations which accounted for 95% of the liquidations, according to data from Coinglass.
This is usually the case when in a halving cycle, miners give up mining due to the high cost of mining that makes it unprofitable as difficulty skyrockets. This results in liquidations such as we are witnessing. In other words, there was a capitulation, a situation in which traders decide to close long trades at a loss to avoid further losses as the market correction eats up gains. 
⚡️ Miner Surrender Form

In every Bitcoin halving cycle, there is a period where the difficulty of mining increases to a maximum value. Mining becomes unprofitable, the consequence is capitulation, and it starts to sell aggressively in the market pic.twitter.com/EAKKANsdLr

— Alice Pokina (@AmamosPicon) April 16, 2022
Further capitulation is expected as Bitcoin is likely to go to lower levels. This does not come as a surprise, as according to analyst Jesse Olson, the Bitcoin cycle in the past shows that a drop of the RSI below 50 usually leads to capitulation. When writing this piece, Bitcoin's RSI is at 36.72, which means a further decline can be on the horizon.
The monthly RSI reading on #bitcoin is 53 & is lower than January 2022 close was.

Previous cycles, once monthly RSI went below 50, there was a capitulation event. Mapped this out more than 3 months ago. 🦾
Chart 1 – RSI before the LH confirmed
Chart 2 & 3 progression & today pic.twitter.com/A50jQE0257

— Jesse Olson (@JesseOlson) April 11, 2022
Recently TheCryptoBasic published a detailed analysis on how higher hash prices are affecting weak miners and causing them to unplug.
Bitcoin could drop to $30k
Looking at Bitcoin's history, the RSI dropping to 36 opens the door to many unpleasant possibilities, one of which is that the price may drop to as low as $30,000. Another analyst, Roman, says more capitulation is underway, and the $30k level should be anticipated.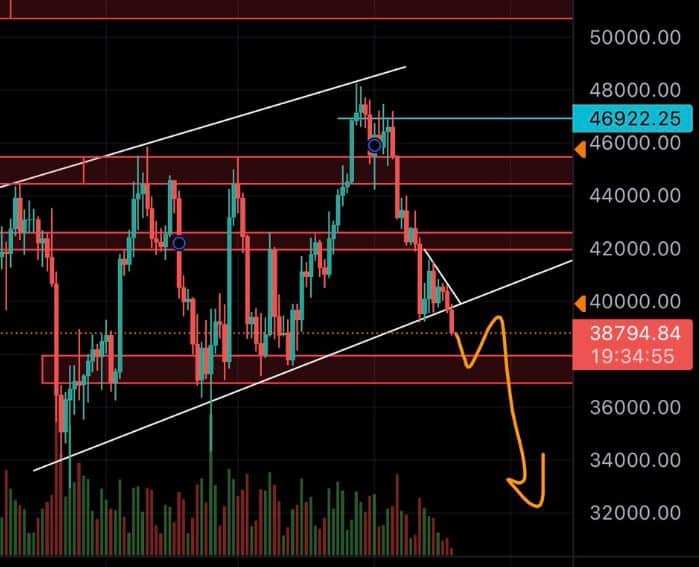 Image source: Twitter
"Our bear flag has broken. We've been discussing bearish PA, weekly death cross, and much more, so this is no surprise. Ultimately I have said capitulation is coming. The level to watch is 30k. Things are getting ugly," he wrote on Twitter.