- Advertisement -

We found some interesting findings of a mysterious wallet that is silently gathering Shiba Inu after the Robinhood listing.

5th biggest ETH Whale named "BlueWhale007" is continuously seen transferring its Shiba Inu (SHIB) assets to one Mysterious Wallet.
As per the recent report from WhaleStats, "BlueWhale0073" has made her 5th biggest transaction today. Through this transaction, she accumulated 50,296,290,794 (50.29B) SHIB, worth $1,269,981 ($1.26M).
Upon investigation, TheCryptoBasic found that the "BlueWhale0073" has transferred above purchased Shiba Inu to the new mysterious wallet address (0x2efb50e952580f4ff32d8d2122853432bbf2e204) through one transaction, as per etherscan.io data.
The wallet mentioned above holds 5.6T Shiba Inu worth $136M.

Interestingly, this is not the first time the 5th biggest ETH Whale wallet has transferred SHIB assets to this mysterious address.
"BlueWhale0073" wallet became active soon after news that Shib is now available on Robinhood. Since then, the whale has made five significant separate transactions, including the one performed a few hours ago. Through these transactions, the whale has accumulated a whopping total of 1.40 Trillion SHIB, worth $36,932,864 ($36.93M).
Out of this 1.40 Trillion SHIB, she has transferred 1.395 Trillion popular dog-themed tokens worth $36,370,867 ($36.37M) to the mysterious wallet address.

At the time of writing, "BlueWhale0073" only holds 480,007,118 (480M) SHIB, worth $12,129.
The mysterious address looks like some whale accumulating SHIB strategically and suspiciously. So far, the wallet has accumulated whopping total of 5,461,576,943,143 (5.46T) SHIB, worth $137,959,433 ($136.95M) within 14 days of its inception (Since April 5, 2022).
Besides the 5th biggest ETH Whale, the mysterious wallet is also seen interacting with a few Binance Exchange wallets and keeps on accumulating SHIB from time to time.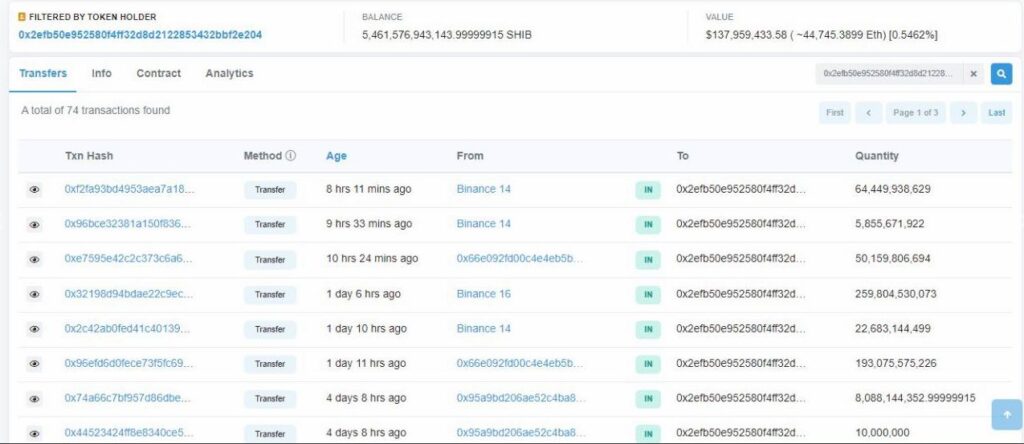 Such mysterious behavior and continuous buying of Shib after the Robinhood listing undoubtedly demonstrate that the "Mysterious wallet" has some insidious information that constantly makes her accumulate Shib in the hope of some big announcement or upcoming event.
Also, note that this wallet is only gathering Shiba Inu and not selling or transferring a single coin.
It seems that the wallet in question is betting everything on Shiba Inu; $136M is an enormous amount; no one can gamble such a massive amount on a single coin unless you know something peculiar that might be coming soon.
One can also say that this wallet belongs to Elon Musk, Vitalik Buterin, or Shytoshi Kusama. Still, these are all guesses, and no one can precisely say who is accumulating such an enormous amount of Shiba Inu.