- Advertisement -

Top Ethereum Whale Accumulates 86.74 Billion Shiba Inu (SHIB), worth $1.01 Million in Past 24 Hours.

Ethereum's key stakeholder adds 86.74 Billion Shiba Inu (SHIB), worth $1.01 Million to her wallet as the dog-themed cryptocurrency recovers slightly from its current support level located at $0.00001125 on the 4 hours chart.
As per WhaleStats' recent report, the 291st biggest ETH Whale named "BlueWhale0073" has just gobbled up a whopping total of 86,740,251,500 (86.74B) SHIB, worth $1,015,728 ($1.015M) in one significant transaction.
🐳 ETH whale "BlueWhale0073" just bought 86,740,251,500 $shib ($1,015,728 USD).

Ranked #291 on WhaleStats: https://t.co/RBupemZyZX

Transaction: https://t.co/a57CD9ASGg#SHIB #ShibArmy

— WhaleStats – BabyWhale ($BBW) (@WhaleStats) May 24, 2022
Etherscan.io reveals some interesting information, Within 9 minutes of the purchase, the Whale made one "OUT" transaction and transferred a total of 88,363,976,794 (88.36B), worth $1,036,563 ($1.03M) to one of the mysterious SHIB whales,  leaving her total SHIB balance with 1,033,438,545 (1.03B) SHIB, worth $11,946, Etherscan.io reports.

This is not the first time BlueWhale0073 has sent this much SHIB to the mysterious wallet. On Friday (20th May), the whale accumulated 50,928,118,781 (50.92B) SHIB, worth $592,699 through one significant transaction, and then transferred 51,995,656,824 (51.99B) of SHIB, worth $605,123 to the aforementioned mysterious wallet address.
This mysterious activity from the Top ETH Whale has continued since Robinhood listed SHIB. Since then, she has transferred a whopping total of 4.68 trillion SHIB, worth $54.14 million (as of current price), to the mysterious wallet.
Shiba Inu Recovers From Current Support Level:
Following the widespread selloff in the global crypto market that began on May 9th, Shiba Inu's price finally undergoes a really tight consolidation phase on May 14th. Since then, the price is seen trading in a range of $0.00001125 and $0.00001306.
In the last 24 hours, the popular canine-themed token has retested its current support level at $0.00001125 (4-hour chart) for the third time and experienced a slight recovery.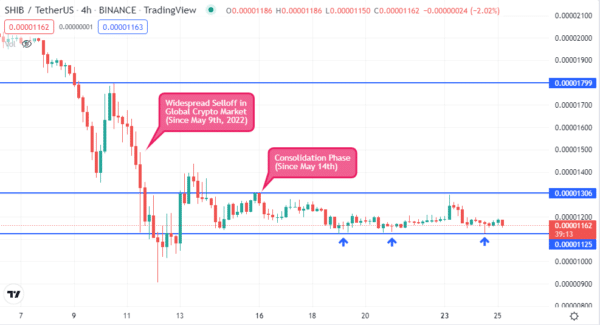 At the time of writing, Shiba Inu is trading at the price of $0.00001163, down -1.62% over the last day, with a 24-hour trading volume of $322,708,394.28 ($322.70M).