In the eyes of many beginners and people outside the industry, crypto trading may seem like a way to make an easy passive income. Further supporting this erroneous view, many trading bots are now available for users to automatize a portion of their crypto workload. Unfortunately, the sad reality is that most of such bots are actually scams – after placing the $250 deposit, you'll never hear from the filthy con artists again.
The truth about the Crypto Superstar bot is not pleasant – this is yet another in the long line of crypto trading bot scams aimed at newbies, who haven't taken the time to learn how to make money with Bitcoin. Our investigation has unearthed plenty of red flags that leave no room for doubt. Here's what we learned.
1)   Multiple Fraudulent Websites
To begin with, a quick Google search reveals this crypto trading bot to have at least three dedicated official websites. This raises suspicion right off the bat, as we know that having more than one website is counterproductive for legitimate products.
As the Crypto Superstar review over on Scammerwatch (a specialized website) reveals, this is common with fake bots. The explanation is that the scammers are working with myriad ready-made websites, which they can easily modify once it's time to move on to the next fraud.
We find evidence that this is true when we compare the design of Crypto Superstar's websites to those of another known trading bot scam – Ethereum Code. Namely, they're nearly identical! Evidently, the same scammers are simultaneously running multiple trading bot frauds. Shame on them.
2)   Ludicrous Promises
Examining the actual content of Crypto Superstar websites, we discover a number of ridiculous claims.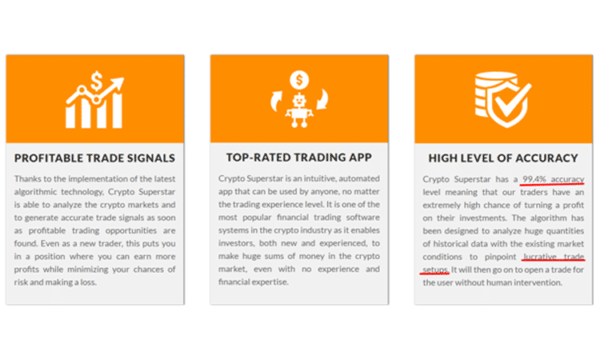 For instance, scammers claim that their product predicts price fluctuations with a 99.7% accuracy. Unless they've invented a time travel machine and returned to the present with future tech and info, this is obviously impossible. Otherwise, we'd all be using Crypto Superstar and spending our millions drinking pina coladas in Bora Bora.
To further support our time travel theory, Crypto Superstar allegedly works with a time leap of 0.01 seconds, apart from simply analyzing historical data. To quote the website, the bot "knows in which direction the price of a crypto asset will move even before it makes its move". Yeah, right.
There's also talk of state-of-the-art security measures, but no details at all on which these security protocols are. The same goes for, supposedly reliable, brokers, as they don't mention whether they're regulated. Needless to say, working with regulated brokers is very important when investing (in crypto or otherwise).
3)   Fake Testimonials and User Reviews
Of course, the lies don't stop there. We next took a look at user testimonials – all fake. By using the Google Lens feature with the pictures of the supposed happy customers, we discovered the same images elsewhere online, only the names of the people associated were all different. No doubt, the same images are used in a number of scams.
Next, we visited Trustpilot to check out user reviews. Plenty of positive reviews, all completely lacking in nuance and detail. They all boil down to: "this is the best product ever, it will completely transform your life, stop everything you're doing and sign-up NOW".
But upon further inspection, we find that, in most cases, this was their only review posted on Trustpilot. If they had another, it was similar praise for other fake bots. Busted.
Final Words
Given the vast number of cryptocurrency trading bot scams out there, we feel it's necessary to warn the readers to be very careful when choosing an automated trading solution. There's plenty more at Scammer Watch; consulting with that site and our own will keep you protected. Legitimate crypto trading bots, such as Cryptohopper and Trailty, do exist, but it's getting increasingly hard to find them.
It's also worth noting that most of these telltale signs of fraud wouldn't necessarily constitute proof on their own. However, with so many of them, you'd have to be mad to place your trust and funds in the hands of Crypto Superstar. This is a blatant scam – avoid it like the plague.