- Advertisement -

Bitcoin might be getting ready for a breakout, according to Michaël van de Poppe, as BVOL sees a drop below the 25 mark.
Bitcoin (BTC) has been trading sideways for months as the community witnesses an extensive period of consolidation for the firstborn crypto. The lack of interesting movements might serve as a disappointment for market watchers expecting a major breakout. While it serves as a relief for others, as the asset can hold against some major support levels.
As a top analyst, Michaël van de Poppe forecasts a looming rally, and Bitcoin's current consolidation trend might end. Van de Poppe's prediction is influenced by the recent movement of the Bitcoin Historical Volatility Index (BVOL).
"A very big move is on the horizon for Bitcoin, as BVOL drops sub 25," van de Poppe said in a tweet Monday.
He highlighted three historically significant events prompted by the drop below 25 for BVOL.
These events include the BTC crash to $3k in 2018, the breakout from $4k to $14k in 2019, and the surge above $10k in 2020 that started the bull run.
A very big move is on the horizon for #Bitcoin, as $BVOL drops sub 25.

Historically, that's a guaranteed recipe for massive volatility.

1; crash to $3K in 2018.
2; break above $4K to $14K in 2019.
3; break above $10K in 2020 (kickstart bull 2021).

C/ @krugermacro pic.twitter.com/QvKXT9Ql28

— Michaël van de Poppe (@CryptoMichNL) October 10, 2022
As witnessed on the chart of van de Poppe, a drop below 25 for BVOL has historically marked an end to sustained consolidation. BVOL saw a dip below 25 in late-2018 when BTC was consolidating at the $6k level. Following the BVOL drop, BTC crashed to $3k a few months after, dropping to $3,200 in December 2018.
Furthermore, after trading sideways between $3k and $4k from December 2018 to April 2019, BTC staged another rally when BVOL plummeted below 25 in April 2019, gaining over 240%.
The last time the index saw levels below 25 was in mid-2020. This contributed to the rally that led to the ATH above $68k in November of 2021. BVOL has seen another dip below 25, with a current value of 23.41 as of press time, per data from a TradingView chart.
The Bitcoin Historical Volatility Index tracks the volatility rate of Bitcoin and is efficient in determining the rate of market fluctuations for BTC. With the recent dip, van de Poppe is predicting a looming end to the current consolidation, but that breakout move can be on either side, so investors need to be careful.
Van de Poppe's conviction of a breakout is further influenced by indications from Bitcoin's Market Value to Realized Value (MVRV) ratio. The MVRV ratio of an asset is crucial in determining whether its current price is overvalued or undervalued.
An MVRV ratio below 1 indicates that the asset is undervalued and is useful in predicting price bottoms. According to a CryptoQuant chart, the Bitcoin MVRV ratio is currently 0.9, showing that the asset is undervalued. Van de Poppe also highlighted this metric, as it had been previously noticed in the bottoms of Q4 2011, 2015, November 2018 to April 2019, and the COVID-19 crash.
"The MVRV ratio for Bitcoin is at its lowest point. It means the current traded price per Bitcoin is far beneath the fair value. 
Previous times of these levels;
– Q4 2011
– 2015
– 2018 November-April 2019
– COVID-19 crash
We are bottoming on Bitcoin, accumulate,"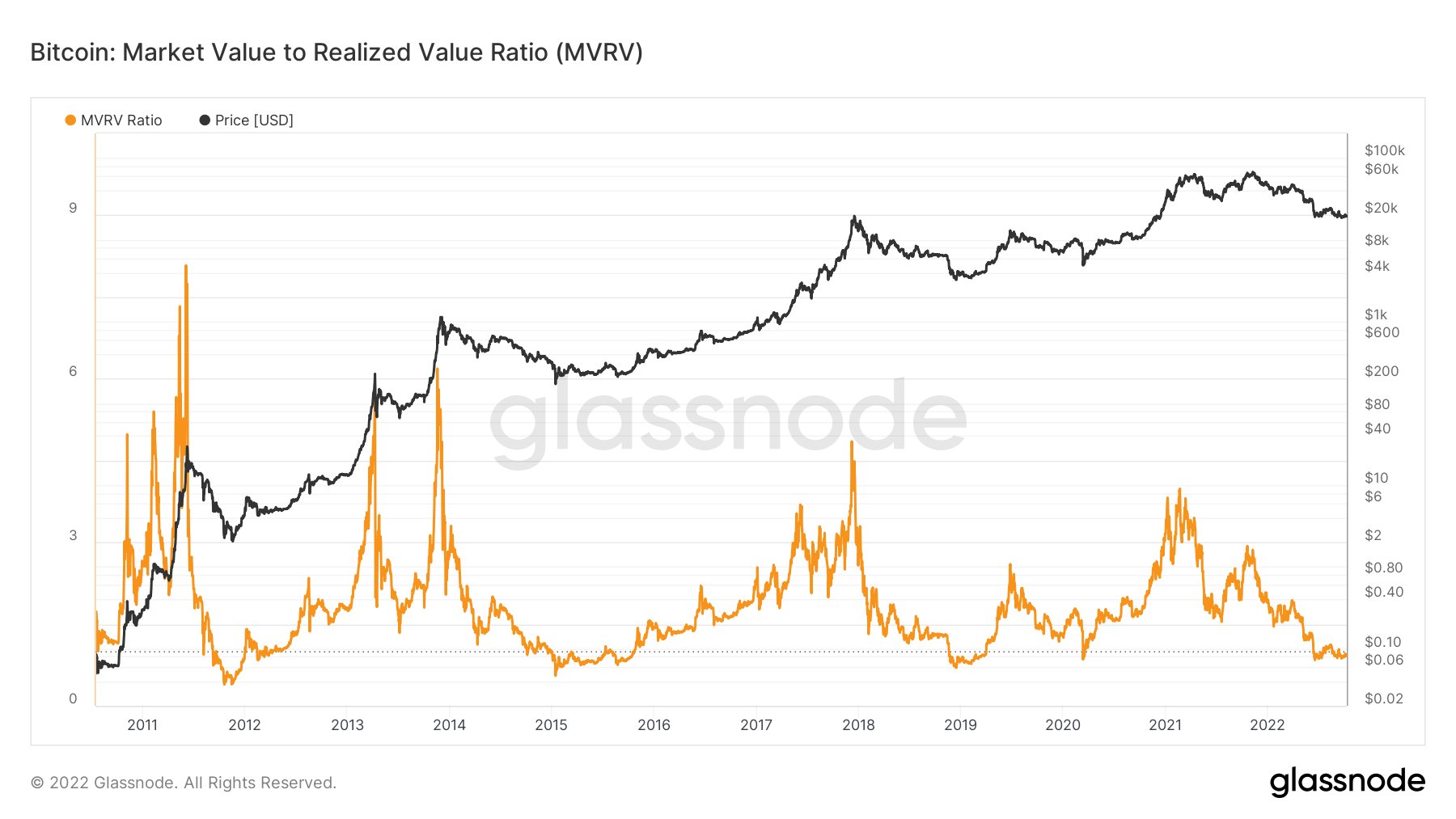 Meanwhile, Bitcoin's consolidation persists at the reporting time, as the asset has seen a slight dip of 0.76% in the past 24 hours. BTC is changing hands above the $19k support, at $19,343, down 0.34% in the past seven days as of press time.