- Advertisement -

Shiba Inu Burns continues at a rapid pace.

Shiba Inu's burn rate skyrockets by 590.44% as the mysterious wallet burned 116.47 Million coins while 132.06 Million SHIB were burned via 14 separate transactions in 24 hours.
According to the report, the mysterious wallet has sent a staggering 61,526,340 (61.52M) SHIB to the "inferno" addresses in two nonstop transactions executed about an hour ago.
In the past hour, there have been a total of 61,526,340 $SHIB tokens burned and 2 transactions. #shibarmy

— Shibburn (@shibburn) October 14, 2022
According to Etherscan.io, the anonymous wallet burned the same amount, i.e., 30,763,170 (30.76M) of Shiba Inu tokens in each of the two transactions.

Before executing these two burn transactions, the same wallet incinerated 54,946,535 (54.94M) SHIB in one significant transaction about 10 hours ago.
🔥 54,946,535 $SHIB -> transferred to dead wallet. https://t.co/4IgbEtn5SS

— Shibburn (@shibburn) October 13, 2022
In total, the wallet burned 116.47M coins alone.
As a result, the Shiba Inu burn rate skyrockets by 590.44%, while the total number of 24 hours burns stands at 132,068,912 (132.06M) SHIB.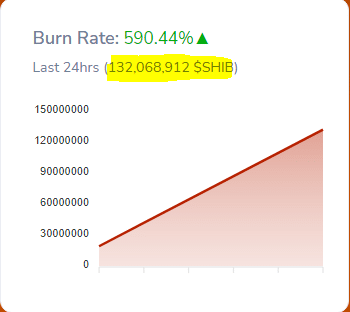 As earlier reported by The Crypto Basic, the two biggest Shiba Inu Whales scooped up a whopping 256.98 Billion Shiba Inu, worth $2.71 Million in the past 24 hours.
The reduction in supply and the growth in demand pushed the Shiba Inu prices higher by 7.15% over the last day. At press time, Shiba Inu is trading at the price of $0.00001042 with a 24-hour trading volume of $424,450,690 ($424.45M).