- Advertisement -

Shiba Inu (SHIB) to release the exclusive Shiba Eternity Players Guide.

Shiba Inu's team recently announced the official and exclusive Players Guide for Shiba Inu Collectible Card Game (CCG) in the form of over 1000 pages booklet on November 2nd, 2022.
The official & exclusive #ShibaEternity Players Guide will be released November 2nd, on Día de los Muertos. This massive 1000+ page booklet details Shib's CCG game, original lore and incredible art! Stay tuned #ShibArmy!

Game download links pinned to our @Shibtoken profile. pic.twitter.com/DejZTplJuu

— Shib (@Shibtoken) November 1, 2022
NOV 2nd marks a special occasion of Día de Los Muertos (Day of the Dead) – the event that is traditionally celebrated on November 1st and 2nd. The event is largely observed in Mexico and involves family and friends gathering to pay tribute to their departed friends and family members in a humorous tone.
Following the tweet, the lead developer of Shiba Inu, Shytoshi Kusama, took to his Twitter handle and shared further details about the upcoming Shiba Eternity Players Guide. He confirmed that the Players Guide will be in the form of a booklet and would be approximately 1100 pages. The booklet will cover all the essential details about Shib's CCG game, including hundreds of hilarious cards, cutting-edge artwork, and deep sci-fi lore.
Further, he said that his "focus now turns to Shibarium," and he will soon publish his next blog post to give detailed updates about the much-awaited Shibarium –Layer 2 Solution.
The tweet reads:
"The ShibaEternity Player's Guide came in at 1100 pages with hundreds of hilarious cards, cutting-edge artwork, and deep sci-fi lore. In my next blog, I'll explain what's happening behind the scenes and why my focus now turns to #Shibarium and other TREATs for the ShibArmy."
Besides this, the Shiba Inu team also hints at the expansion of the Shiba Inu Ecosystem by launching another token named "TREAT." This can be justified by the fact that the official SHIB tweet consists of an image of a dog wrapped up with modern technology, and the word "Treat" is embedded on the left side of the picture. In the same way, Shytoshi Kusama hinted at the launch of "TREAT" by using the phrase "other TREATs for the #ShibArmy" in his tweet.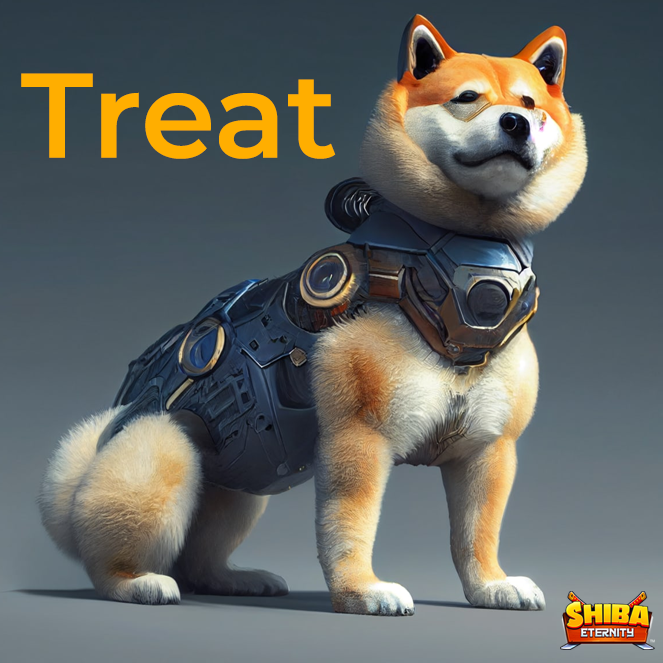 The new token "TREAT" is a part of Shiba Inu's roadmap and is said to be a ShibaSwap reward token replacing Bone ShibaSwap (BONE). The new reward token is also rumored to be affiliated with Shiba Eternity Play 2 Earn (P2E) Version. The Shiba Eternity P2E version is reported to be a blockchain version of the game and will be released later. However, no more details about the token are known yet.
As reported earlier by TheCryptoBasic, while replying to one of the Shiba Inu Community members, Shytoshi confirmed that the potential launch of Shibarium is very close.