Over 111.22 Million Shiba Inu (SHIB) burned in the past 24 hours, 108.47 Million in a single transaction.
According to stats, the burn rate of Shiba Inu skyrocketed by 764.25% today.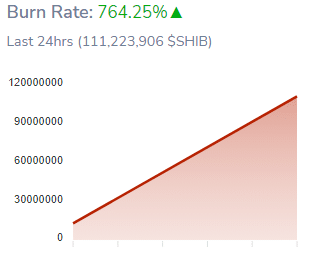 The increase in Shiba Inu's burn rate comes after the Community-led SHIB Burn projects incinerated a staggering 111,223,906 (111.22M) SHIB via seven separate transactions in the past 24 hours.
In the past 24 hours, there have been a total of 111,223,906 $SHIB tokens burned and 7 transactions. Visit https://t.co/t0eRMnyZel to view the overall total of #SHIB tokens burned, circulating supply, and more. #shibarmy

— Shibburn (@shibburn) January 25, 2023
Anonymous Wallet
As reported earlier by The Crypto Basic, an unknown wallet has taken out a significant amount of Shiba Inu from circulation permanently in the last 24 hours. The mysterious wallet unstaked a whopping 108,476,685 (108.47M) SHIB from Shiba Inu's DEX ShibaSwap and send it to the "inferno" address in a single transaction. The transaction occurred about 21 hours ago from press time.
Nansen Report
On the other hand, Data from Nansen suggests that a large number of new and first-time cryptocurrency investors love to purchase and hold Shiba Inu. According to a recent report by Nansen, Shiba Inu is the most popular digital asset among newly funded crypto wallets in the past seven days. The firm recorded that over $56 million worth of SHIB tokens were transferred into around 12,000 new wallets in a week. Additionally, Nansen found that the SIHB was the most common cryptocurrency apart from stablecoins in these newly funded wallets.