Anonymous wallet burns millions of Shiba Inu.
The mysterious wallet unstaked 108.47 Million Shiba Inu (SHIB) from Shiba Inu DEX Kwon as ShibaSwap and send to the "Null Address" permanently removing them from circulation.
Shibburn.com recently reported a massive burn transaction from a mysterious wallet. As per the report, the unknown wallet removed a staggering 108,476,685 (108.47M) SHIB from circulation forever in one significant transaction in the past hour.
🔥🔥 108,476,685 $SHIB -> transferred to dead wallet. https://t.co/eroZfgPNaN

— Shibburn (@shibburn) January 24, 2023
According to data from Etherscan.io, the large burn occurred after an unknown wallet unstaked 108,476,685 (108.47M) SHIB from the ShibaSwap DEX in a single transaction. This transaction was performed about 18 hours prior to the time of press.
After unstaking, the unknown wallet performed a massive burn one hour ago.

This wallet purchased these SHIB tokens on January 10th from a Coinbase wallet, labeled "Coinbase 10," on the same day the mysterious wallet staked them on the ShibaSwap DEX and today burned them all.
This massive burn transaction caused the overall SHIB burn rate to jump by 294.81% over the last day.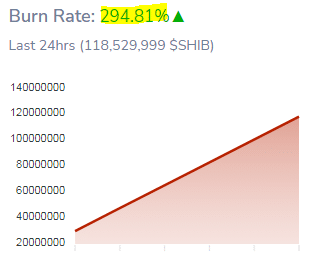 However, this transaction did not appear to have any immediate effect on the price of Shiba Inu. At the time of press, the price of Shiba Inu was $0.000012, a decrease of -0.75% compared to the previous day, with a 24-hour trading volume of $238,094,482 ($238.09M).