According to Brandt, the leading digital asset must quickly reach the predicted price target.
Veteran trader Peter Brandt has spotted a rare price bottom pattern on the Bitcoin charts called the "double-walled fulcrum."
Revealing this in a tweet today, the analyst asserted that the price target is in the mid $25k range.
The bottom in $BTC is a double walled fulcrum pattern. Extremely rare. The 2X target is mid 25's. pic.twitter.com/NfffzbniO5

— Peter Brandt (@PeterLBrandt) January 29, 2023
Notably, the analyst went into more detail in a TradingView post. Here, Brandt cautions that Bitcoin needs to clinch the set price target of $25,500 quickly or risk a test of the fulcrum, which is around the $15k price point.
For context, a fulcrum is a reversal pattern similar to a double top or double bottom chart pattern that occurs when the price, after a push upwards or downwards, fails to break the previous swing high or low. Consequently, it represents a potential turning point as it indicates exhaustion. Notably, fulcrums are observed on point-and-figure (P&F) charts. These charts do not record price action with respect to time but a set amount of price movements.
The analyst's tweet today has received mixed responses, including some who have opted to mock the naming of the chart pattern. The latter prompted Brandt to cite Matthew 7:6, asserting they would likely lose their money by trading against him.
Notably, Matthew 7:6, per the NIV translation, reads:
"Do not give dogs what is sacred; do not throw your pearls to pigs. If you do, they may trample them under their feet, and turn and tear you to pieces."
It is not the first time that Brandt has spotted a potential fulcrum pattern on the Bitcoin charts. In September 2018, the analyst disclosed that Bitcoin could form a compound fulcrum bottom. However, the chart pattern was invalidated, leading to a price plummet from about $6k to $3k.
It is worth noting that Bitcoin enjoyed an impressive run over the weekend, breaking the $22,688 to $23,261 price range, at some point trading as high as $23,960. Bitcoin bulls will want the asset to find support above the top of the range and continue to push upward. It is trading at the $23,704.40 price point at press time, up 2.10% in the last 24 hours.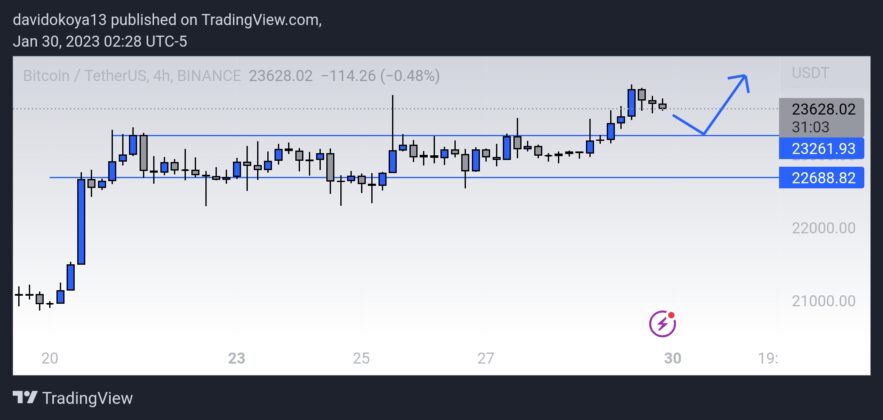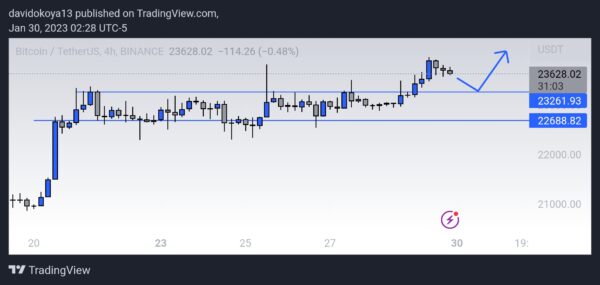 Two weeks ago, Brandt shared a bullish analysis of Bitcoin's price movements, predicting an imminent run to $25k.
Follow Us on Twitter and Facebook.
Disclaimer: This content is informational and should not be considered financial advice. The views expressed in this article may include the author's personal opinions and do not reflect The Crypto Basic's opinion. Readers are encouraged to do thorough research before making any investment decisions. The Crypto Basic is not responsible for any financial losses.
-Advertisement-