Kusama tests Twitter algorithm for Shibaswap blog in anticipation of Shibarium launch.
Shiba Inu lead developer Shytoshi Kusama has dropped another teaser hinting at an imminent Shibarium launch.
Several Shiba Inu influencers who were fast enough to catch it before the developer deleted it took to Twitter to share screenshots today. Notably, the developer had shared a tweet with the caption "Test," attached to a Shibaswap blog page titled "TEST." Per the screenshot of the blog post, Kusama intended to test Twitter's algorithm for the website in preparation for the Shibarium launch.
"This post is simply to test Twitter's algorithm for this website in preparation for Shibarium release," the developer wrote.
Another tease from @ShytoshiKusama
… link was posted and erased… #Shibarium docs coming… WEN pic.twitter.com/3HsVXCrDT9

— Lucie ➹ ➹ ➹ (@LucieSHIB) February 1, 2023
It is the latest in a long line of teasers from the developer. As reported on Monday, the developer sent a Telegram message urging the community to keep their popcorn ready. In addition to that, the developer recently changed his Twitter location tag to the "Situation Room." Notably, this describes a room where people in authority, usually in government, receive new information about serious events and decide on the next steps.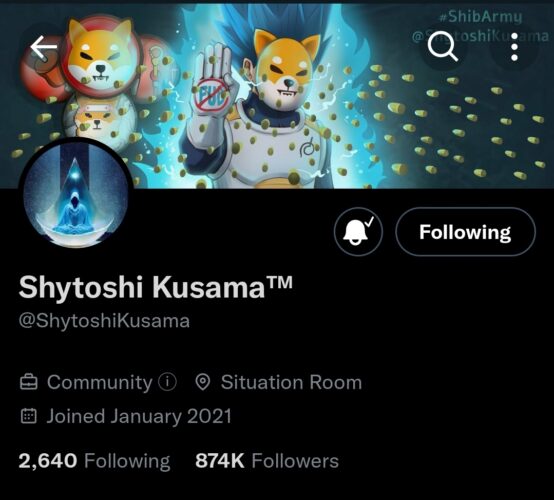 Meanwhile, before that, the developer had changed his Twitter bio, indicating that developers were ready to release the long-anticipated Layer 2 solution. "Quickly learning to play the flute before putting Shibarium in a heart-shaped box with a bow," Kusama wrote in the now-deleted bio. Notably, it stoked speculation of developers releasing the project on valentine's day. 
Developers so far have refused to give a launch date for the launch of the Layer 2 protocol but continue to tease a near launch of the beta version. Notably, the community has been waiting for over a year and is split in two over recent promotions. Some remain excited, hoping for a near launch, while others have grown tired of the endless hype with little to show.
New details highlight that the network will burn SHIB with every transaction. It has already received support from Atomic wallet and Ledger and multiple projects within the ecosystem.