The asset has garnered over 25,000 holders since the beginning of this year.
Shiba Inu (SHIB) just crossed the 1.3 million mark in the total number of holders after adding 25,813 holders since January 1. The growing number of token holders highlights the increasing attention SHIB is attracting as investors flock to the canine-themed asset in search of an attractive investment opportunity. This has recently been supported by the hype surrounding Shibarium.
Data from highly-referenced price-tracking platform CoinMarketCap (CMC) shows that the total number of Shiba Inu holders currently sits at a whopping 1,300,815 at the time of reporting, with 14,645 addresses active in the past 24 hours.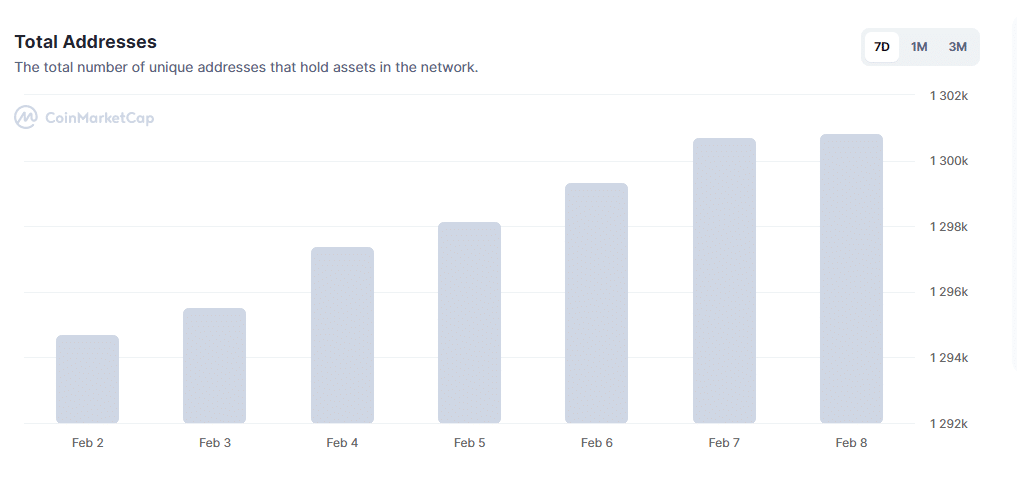 CMC also reveals that the 10 largest addresses hold 60% of the asset's total supply, with the top 100 addresses currently holding over 80% of the total supply. Notwithstanding, it bears mentioning that these figures include the dead address dedicated to token burns which currently holds 41% of the total supply.
The Shiba Inu holders' chart on CoinMarketCap shows a progressive increase in total holders since the decline to 1,249,790 on November 29 last year. Total holders have so far increased steadily since then, with this progress spilling into the new year. From January 1, SHIB has witnessed 25,813 new holders added, leading to the current peak of over 1.3 million.
Among these holders, data from market analytics resource IntoTheBlock shows that 64% have held their SHIB tokens for at least one year. Moreover, 32% of these holders have held their tokens for a period between 1 month and 12 months. The other 4% have only held their assets for less than a month. The large concentration of 1 year+ holders underscores the confidence of the majority of token holders.
Furthermore, stats suggest that 54% of these holders are currently registering losses at Shiba Inu's current price, with 45% of them currently in profit. 1% are at a breakeven point.
Notwithstanding, Santiment believes that this metric might be bullish for the asset, as it shows that SHIB, along with other assets, is currently undervalued. This means that the asset is trading below its fair value, and holders can expect price appreciations to make up for 2022 losses.
📊 According to MVRV Z-Score, which identifies overvalued and undervalued assets based on short & long term returns, top caps are in the following categories:

🤔 Overvalued: $BNB
😏 Undervalued: $BTC, $ETH, $XRP, $ADA, $DOGE, $MATIC, $SHIB, $UNI, $LINKhttps://t.co/52bMDRyqqn pic.twitter.com/hBURjNZOLV

— Santiment (@santimentfeed) January 20, 2023
Santiment also highlighted a spike in SHIB whale activity, as the most whale transactions above $100K since January 17 were recently recorded. Meanwhile, SHIB is currently trading for $0.0000142 as of press time, up 1.1% in the past 24 hours.
🐳 Three of the more polarizing assets in #crypto, #Cardano, #ShibaInu, and #Hex, are seeing big spikes in large whale transactions. When $100k+ transactions spike on a network, it historically is associated with upcoming price shifts. Monitor closely. 👀 https://t.co/KG0mTWH11y pic.twitter.com/PHI9NOaxbn

— Santiment (@santimentfeed) February 5, 2023
Massive SHIB Accumulation Among Whales
The surge in token holders comes without surprise, as massive whale activity has been observed with Shiba Inu in recent times, leading to an accumulation trend. The top 5,000 ETH whales were recently reported to be holding over 52T SHIB worth $733M. With the exclusion of stablecoins, these whales hold more SHIB than any other asset.
Shibarium
The excitement surrounding Shibarium picks up among community members, as Shiba Inu's lead developer keeps on sending cryptic messages suggesting that the Shibarium Beta launch could happen very soon.