Crypto.com Holding Over $685M Worth of SHIB.
As per recent data from CoinMarketCap.com, Shiba Inu (SHIB) has overtaken USD-pegged Circle and Coinbase stablecoin USDC to become the third-largest asset in Crypto.com's reserve of digital assets.
Crypto.com currently holds $3,794,018,184 ($3.79B) worth of digital assets as financial reserves, out of which SHIB accounts for over 18%, or $677,065,343.84 ($677M), compared to USD Coin (USDC) holdings worth $453,595,504 (453.59M).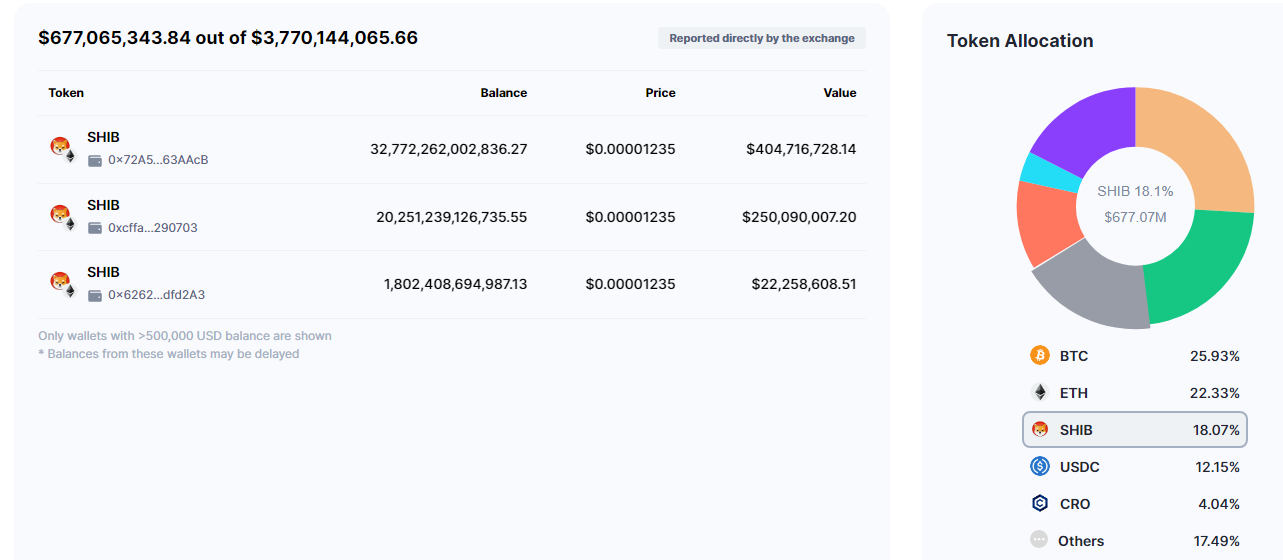 Meanwhile, Bitcoin (BTC) still maintains its top spot on Crypto.com with $976,441,463 ($976.44M), followed by Ethereum with Crypto.com's ETH holdings worth $809,605,959 ($809.60M).
Yesterday the 119th largest ETH Whale, tagged "BlueWhale0068," purchased an enormous amount of 91,956,507,830 (91.95B) Shiba Inu tokens worth $1,162,330 ($1.16M).
Furthermore, in the midst of recent developments, Shiba Inu has achieved significant recognition by being included in the top 10 largest cryptocurrencies in the world based on market capitalization, excluding stablecoins. At the same time, a study conducted by Cryptomeister, a digital asset education resource, has disclosed that Shiba Inu (SHIB) has claimed the fourth spot among the most frequently searched cryptocurrencies in the United States.