Shiba Inu Open Interest started witnessing a gradual uptick following a decline to $18 million on March 13.
Shiba Inu has begun capturing investors' attention of late, as its Futures Open Interest (OI) recently skyrocketed to 2.4 trillion tokens ($27.51 million) amid a gradual uptick that started a month ago. This rising pattern suggests a renewal of interest, eliciting anticipations of a price surge.
Futures open interest refers to the total number of outstanding futures contracts that have not been settled or closed out by an offsetting trade. Essentially, it represents the number of contracts that are still active and held by market participants. 
When an asset's open interest increases exponentially, it generally suggests that a significant amount of new money flows into the market and that traders are taking positions in anticipation of price movements.
Per data from Coinglass, a futures trading intelligence platform, Shiba Inu's Open Interest has increased by over 52% from the low of $18.05 million witnessed on March 13 to the current value of $27.51 million worth of SHIB tokens (2.4 trillion). 
SHIB's OI Moves Alongside its Price
The OI chart reveals a correlation between SHIB's Open Interest and its price action, as the asset's price often registers an uptick when its OI increases. OI increased to 3.2 trillion tokens ($47.3 million) on Feb. 5. This was accompanied by a surge in SHIB's price to $0.00001527 on that day, the asset's highest value this year.
However, SHIB's OI started declining after Feb. 5, and the asset's price also began registering dips. Following a decline to the low on March 13, the Open Interest is again witnessing a surge in value. Investors are expecting the asset's price to follow suit.
Renewed demand for SHIB has also been noticed in trade volume on Binance. Since dropping to 1.58 trillion SHIB on April 8, Shiba Inu's volume on Binance has steadily increased daily in the past four days. Volume for today currently stands at 2.44 trillion tokens.
Despite its current underperformance, SHIB is looking to break above an ascending triangle it is currently stuck in amid the extended consolidation period. The asset is currently trading for $0.000011, down 0.97% in the past 24 hours but up 0.8% in the past 1 hour. A break above the triangle could see SHIB target the February highs of $0.000015.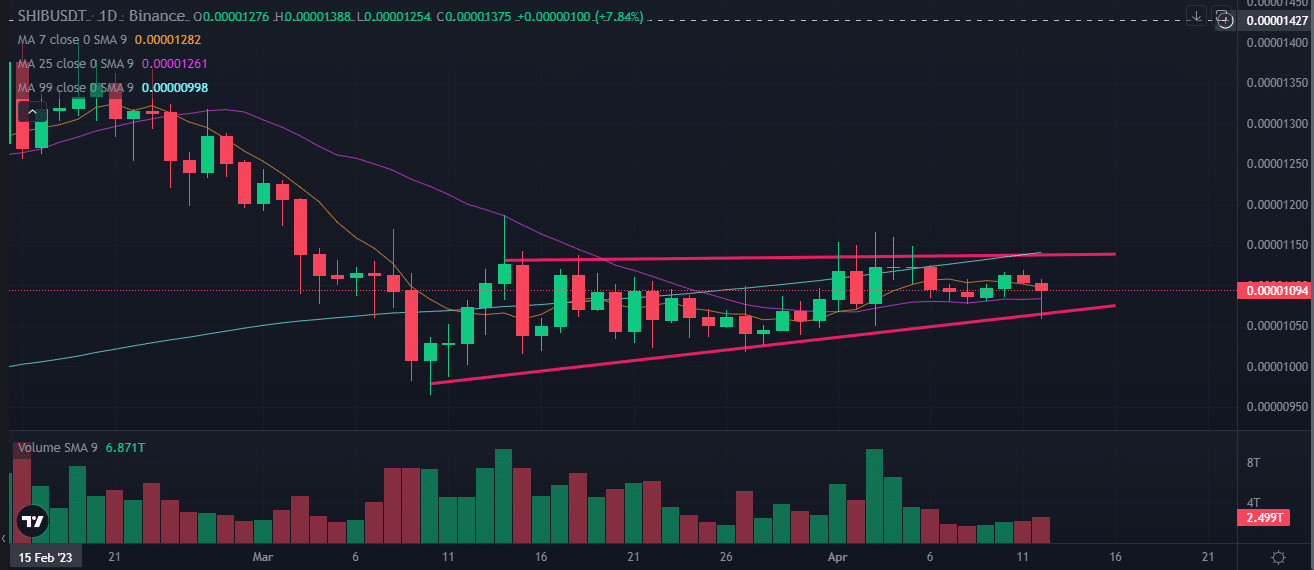 Recent trends suggest that the asset has become a favorite among market participants, and an increase in demand could support its goals. CoinMarketCap's Q1 2023 report disclosed that SHIB was among the top 3 most viewed assets across all continents.
The Shiba Inu community also recently teased an iconic partnership with legendary musician Scott Page, as well as an NFT collaboration with top American celebrity sculptor Jack Storms which would see Storms accept SHIB on his official store.
Follow Us on Twitter and Facebook.
Disclaimer: This content is informational and should not be considered financial advice. The views expressed in this article may include the author's personal opinions and do not reflect The Crypto Basic's opinion. Readers are encouraged to do thorough research before making any investment decisions. The Crypto Basic is not responsible for any financial losses.
-Advertisement-