Shiba Inu's popularity soars among CoinMarketCap users.
It is common knowledge that Shiba Inu is among the most popular crypto in the world, with investors keeping a close watch on the token's price movements. CoinMarketCap (CMC), a leading cryptocurrency aggregator platform, has shared new data to support this claim in its Q1 report.
According to CMC, Shiba Inu ranks among the most watched cryptocurrencies on its platform. Investors across all continents are keeping a close watch on the 15th-largest cryptocurrency's price movements.
Shiba Inu More Popular in North America Than Europe
Per the data, Shiba Inu is viewed as a popular crypto in different continents such as Oceania, South America, North America, Africa, Asia, and Europe. 
The leading canine-themed cryptocurrency asset has over 12.5% views among residents in different regions, such as Africa, Asia, North America, Oceania, and South America. However, Shiba Inu has lower popularity in Europe, with a record of only 11.56% views.
In contrast, North America is a popular hub for Shiba Inu after the asset class recorded 20.39% views among investors in the continent.
Bitcoin dominated the ranking as the most-watched crypto asset in the world. Bitcoin's lowest score was in South America, where the top asset class recorded 36.98% views.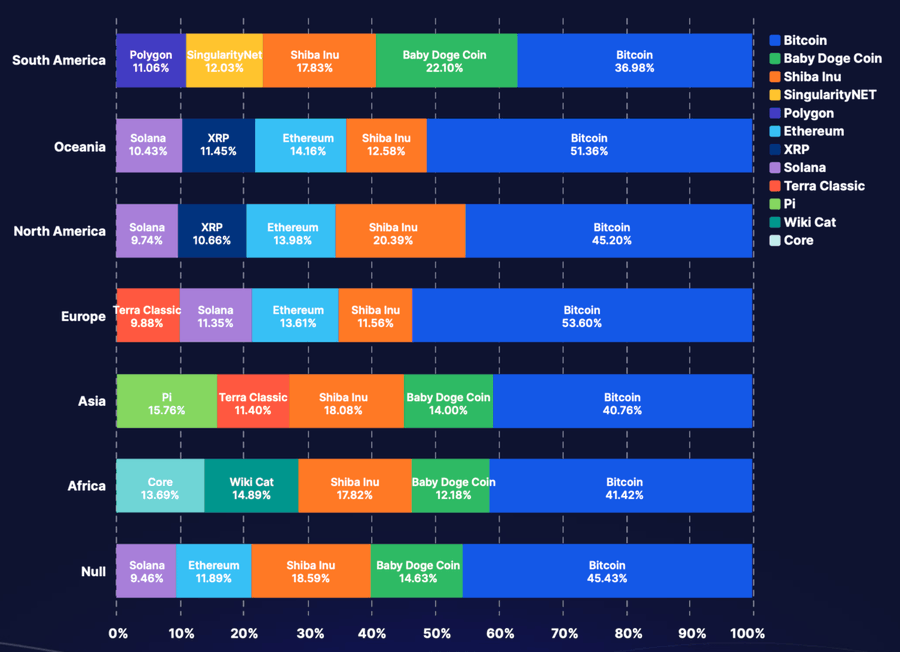 Shiba Inu on Over 1.84M CMC Users' Watchlist
Interestingly, the number of CMC users with Shiba Inu on their watchlists has also gained momentum recently. According to data from CMC, over 1.84 million CoinMarketCap users currently have Shiba Inu on their watchlist. This tool helps inventors track the price movement of the nascent digital currency. 
As reported in December, only 1,809,792 CMC users had Shiba Inu on their watchlist. Now, the number has spiked to 1,847,081. 
Meanwhile, Shiba Inu has maintained a vibrant community despite its price falling below 86.82% from its record high of $0.00008616. 
Many enthusiasts will not be surprised to see Shiba Inu rank among the most watched crypto assets on CoinMarketCap. Shiba Inu has been in the news recently for the right reasons, especially its recent surge in network activities. 
Yesterday, the canine-themed coin set a new record regarding the number of daily active addresses interacting on the network. According to data from seasoned analyst Ali Martinez, Shiba Inu's daily active addresses reached almost 36K. 
In a similar development, Puppynet, the testnet of Shiba Inu's layer-2 network Shibarium, has seen widespread adoption since it went live last month. As of March 31, the testnet registered over 200K wallets and a record of more than 1 million transactions.
The rapid surge in Shiba Inu's network activities is vital to the asset's recent price surge. At press time, Shiba Inu is changing hands at $0.00001137, up 6% in the past 24 hours.
Follow Us on Twitter and Facebook.
Disclaimer: This content is informational and should not be considered financial advice. The views expressed in this article may include the author's personal opinions and do not reflect The Crypto Basic's opinion. Readers are encouraged to do thorough research before making any investment decisions. The Crypto Basic is not responsible for any financial losses.
-Advertisement-