Shiba Inu Puppynet is going more than a rapid pace.
Shibarium's Beta Testnet, Puppynet Exceeds Expectations: Registers More Than 350K Wallet Addresses and Processes Over 2M Transactions in Just Three Weeks.
Shibarium's beta testnet, Puppynet, has enjoyed a meteoric rise in popularity just three weeks after its debut, with over 350,000 wallet addresses and more than 2 million transactions processed, according to Puppyscan data.
At the time of writing, Puppynet has registered 365,282 addresses, representing a 77% increase from what was recorded on March 31st.
In addition, the L2 network has processed 2,255,398 (2.23M) transactions in 324,129 blocks, with an average block time of 5.0 seconds.
On April 10th, Puppynet achieved its highest transaction count to date, processing 481,151 transactions in a single day.
According to top influencer Lucie, Shibarium already has 71 tokens built on it.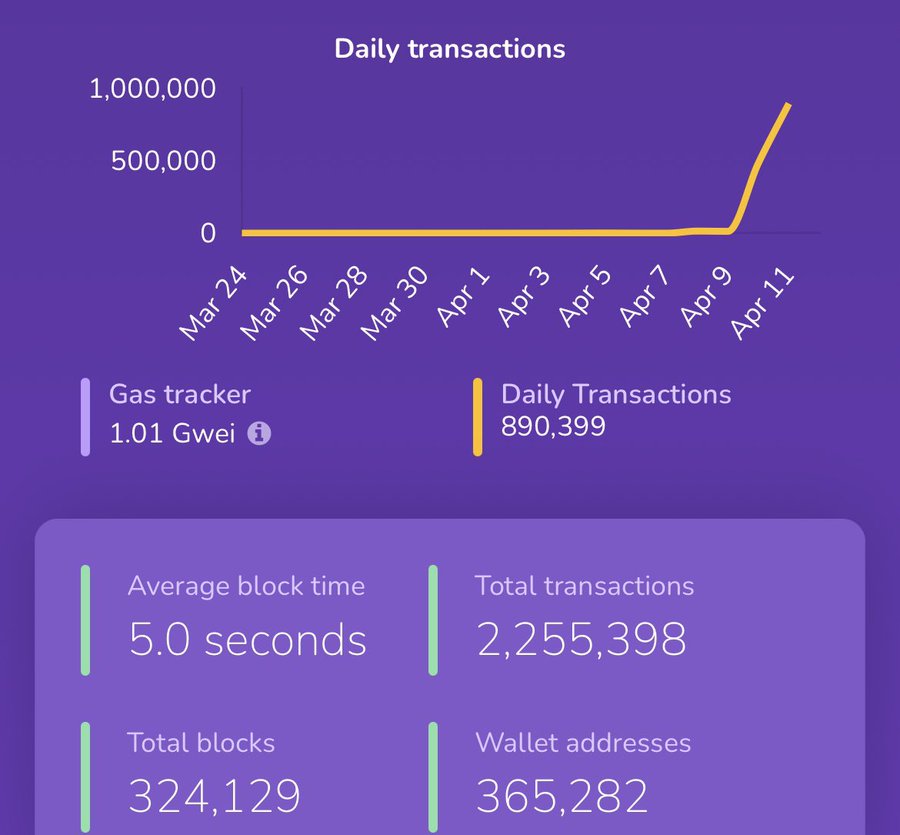 The network's success has also been reflected in the increased social activity on the Shibarium Discord server, with over 100,000 messages sent since its launch. The server now boasts almost 7,000 members in just two weeks.
As Shibarium continues to gain traction, Enkrypt, a popular web3 wallet created by MyEtherWallet, has announced its intention to integrate the Shibarium protocol on its platform.
Enkrypt now joins other major industry players supporting the SHIB L2 network, including Atomic Wallet, Exodus, and CoinRabbit.
Soon™️ 👀#SHIBARIUM #SHIBARMY #ShibariumBeta #ShibaInu @Shibtoken https://t.co/W5Zjoy2DZk

— Enkrypt (@enkrypt) April 4, 2023
In another exciting development, renowned glass sculptor Jack Storms recently announced his plans to integrate Shiba Inu as a payment option for his exquisite glass sculptures once his collection comes to Shibarium.
Follow Us on Twitter and Facebook.
Disclaimer: This content is informational and should not be considered financial advice. The views expressed in this article may include the author's personal opinions and do not reflect The Crypto Basic's opinion. Readers are encouraged to do thorough research before making any investment decisions. The Crypto Basic is not responsible for any financial losses.
-Advertisement-