Post Updated on: (April 13, 2023, @ 09:08:30 UTC.) Shibarium beta blockchain explorer, commonly known as Puppynet, was down for 14 hours but is now back up.
Puppyscan, the dedicated blockchain explorer for Shibarium beta Puppynet, experienced downtime for 14 hours. Reports of the situation surfaced following a recent tweet from Shytoshi Kusama, Shiba Inu project lead, wherein he hinted at engaging in development work while listening to classical music.
Kusama disclosed yesterday on Twitter that he was moving "a few chess pieces" while constantly listening to Pianistec's rendition of the classical song "Duel of the Fates."
Currently on repeat as I move a few chess pieces… Duel of Fates x Like a Dog chasing cars. #epicmusic https://t.co/8lYcnJwavF

— Shytoshi Kusama™ (@ShytoshiKusama) April 12, 2023
Notably, Kusama tends to tease his undertakings to the community via tweets and revisions to his Twitter bio. His latest remarks have elicited speculations that the Shiba Inu lead was hinting at development work, with some suggesting that such work could pertain to upgrades or fixes on Puppynet, as Kusama's tweet coincided with the recent Puppyscan downtime. 
During upgrades or fixes, a network can experience downtime as the modifications being implemented may disturb the usual functioning of the network if it is operational, resulting in glitches or inconsistencies that hinder its smooth operation.
Reports of the recent Puppyscan downtime first emerged in the community-driven Shibarium Telegram group shortly after Kusama's tweet. Several users noted that the blockchain explorer was displaying a 504 error.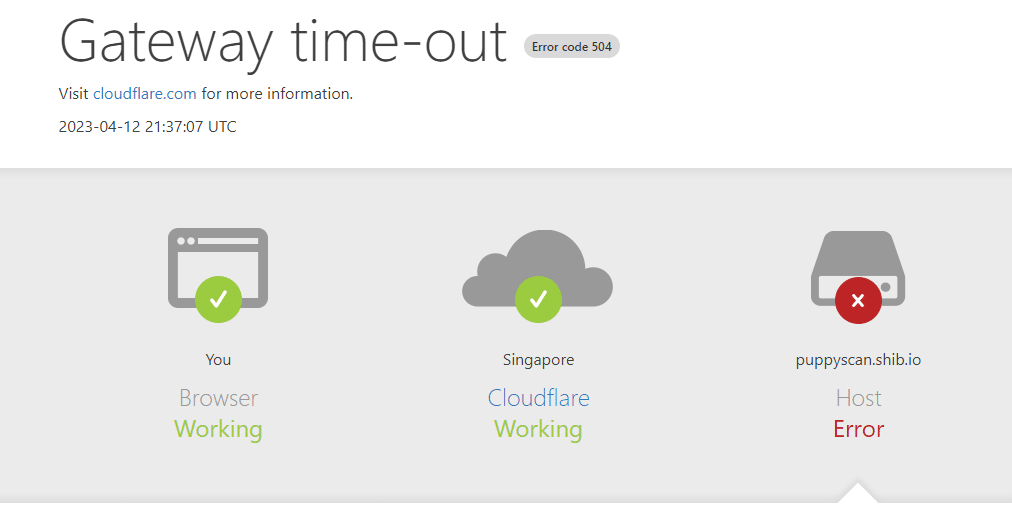 There have been no official statements on the cause of the downtime. However, the explorer is back up as of press time, with 97% of blocks currently indexed. A note disclosed that the indexing process is not yet complete, and some counts may be inaccurate.

Puppynet Exceeds Expectations
Meanwhile, as observed on the explorer, Puppynet has so far exceeded the community's expectations, constantly hitting unprecedented milestones as widespread adoption increases. Notably, just six days after relaunched with a new Chain ID, the Shibarium beta network welcomed over 100K wallets, having processed more than 194K transactions.
Barely two weeks after it achieved this feat, Puppynet recorded an astronomical 1,095% in transaction count, with transactions surging to a massive 2.25 million on April 12 with 2.7 million in total transactions.
These metrics emphasize the mounting attention that the Shibarium beta network has been attracting, offering a glimpse into the extensive adoption that Shibarium is expected to encounter upon its launch on the mainnet.
Follow Us on Twitter and Facebook.
Disclaimer: This content is informational and should not be considered financial advice. The views expressed in this article may include the author's personal opinions and do not reflect The Crypto Basic's opinion. Readers are encouraged to do thorough research before making any investment decisions. The Crypto Basic is not responsible for any financial losses.
-Advertisement-