The pseudonymous Shiba Inu developer highlights some significant advantages that make SHIB a better token than Dogecoin.
For years, crypto community members have considered Shiba Inu (SHIB) and Dogecoin (DOGE) to be the same in terms of their functionalities. Both tokens are classified as meme-based digital currencies on leading cryptocurrency aggregate platforms, including CoinGecko and CoinMarketCap.
Shiba Inu's Advantages Over Dogecoin
However, Shibarium1, a pseudonymous member of the Shibarium development team and a Shibarium Discord admin, highlighted the major advantage Shiba Inu has over Dogecoin.
During CertiK's AMA (Ask Me Anything) for Shiba Inu, a Discord user asked the developer to mention the major advantages Shiba Inu has over similar tokens, especially Dogecoin.
According to Shibarium1, the major factor that puts Shiba Inu ahead of Dogecoin is the strong community behind SHIB. The pseudonymous developer appreciated Shiba Inu community members' unwavering support for the canine-themed project.
Shibarium1 noted that Shiba Inu, which surpassed Dogecoin in the previous bull run, will achieve the same feat in the future. However, he promised that the Shiba Inu development team would have a higher aim in the future than just surpassing Dogecoin's market capitalization.
"Thank you [SHIBArmy] for sticking with us until now! We flipped DOGE before, and we will again in the future, and our aim will always be higher than that," said Shibarium1.
Furthermore, the pseudonymous developer highlighted Shiba Inu's burning mechanism as a major advantage the cryptocurrency has over Dogecoin. Per Shibarium1, while Shiba Inu is constantly reducing its total supply via burns, Dogecoin has continued to mint more tokens in addition to its massive supply.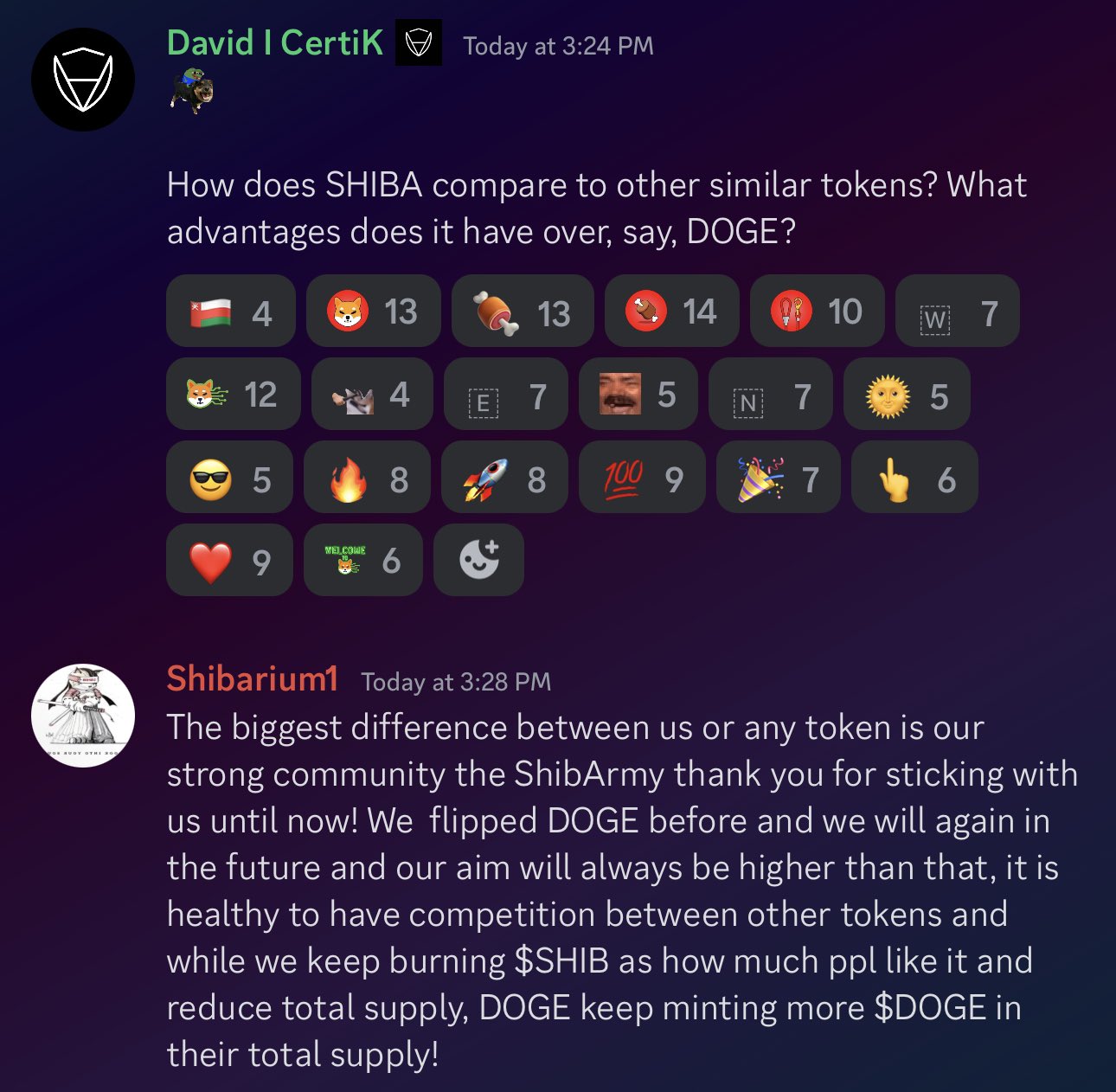 Notably, on-chain data suggests that up to 10,000 DOGE is mined every minute as the Dogecoin network processes new blocks. This essentially translates to about 14 million DOGE tokens being pumped into circulation daily, increasing the supply by an estimated of 5 billion DOGE every year.
The Shiba Inu – Dogecoin Rivalry
The Shiba Inu community sees Dogecoin as its closest rival. Launched in August 2020, Shiba Inu has gained prominence in the crypto community, with many touting it as a "DOGE Killer." In October 2021, Shiba Inu overtook Dogecoin to become the ninth-biggest cryptocurrency, with a market cap of $33 billion.
Although initially inspired by Dogecoin, the team behind Shiba Inu has unveiled several utilities for the token. Shiba Inu is now accepted as a payment method in different businesses globally, directly or through intermediaries.
Shiba Inu has its own decentralized exchange ShibaSwap, non-fungible tokens SHIBOSHIS, and a Metaverse project. The Shiba Inu development team is also making significant efforts to launch Shibarium, a Layer-2 scaling solution tailored for the SHIB ecosystem. Shiba Inu also boasts a vibrant community, with 3.7 million Twitter followers and 1.3 million holders.
At press time, Dogecoin is ranked the ninth-largest cryptocurrency, with a market cap of $9.95 billion. In contrast, Shiba Inu retains the sixteenth position of largest assets by market cap, with a valuation of $5.12 billion.
Follow Us on Twitter and Facebook.
Disclaimer: This content is informational and should not be considered financial advice. The views expressed in this article may include the author's personal opinions and do not reflect The Crypto Basic's opinion. Readers are encouraged to do thorough research before making any investment decisions. The Crypto Basic is not responsible for any financial losses.
-Advertisement-