XRP whale addresses continue to increase amid signs of a rally, with wallets holding at least $3.3 million worth of XRP rising to 473 in recent times.
Recent statistics suggest an interesting distribution of XRP to the over 4.7 million addresses holding the asset. Notably, addresses holding at least $3.3 million worth of XRP have increased to 473. This is according to data from Rich List, a platform dedicated to tracking addresses holding XRP.
Information suggests that these 473 addresses hold at least 6.76 million XRP, currently valued at $3.31 million. These wallets represent 0.01% of the total addresses holding XRP, placing them at the apex. Interestingly, data further confirms that up to 4,727 addresses hold at least 463,912 XRP, worth $226.9K.
In addition, the number of addresses holding at least 3,379 XRP, valued at $1.6K, has dramatically increased to 472,705. Impressively, these addresses make up a whopping 10% of the total XRP wallets. The fact that up to 10% of holders have over $1.6K worth of XRP in their bags indicates growing confidence in the asset.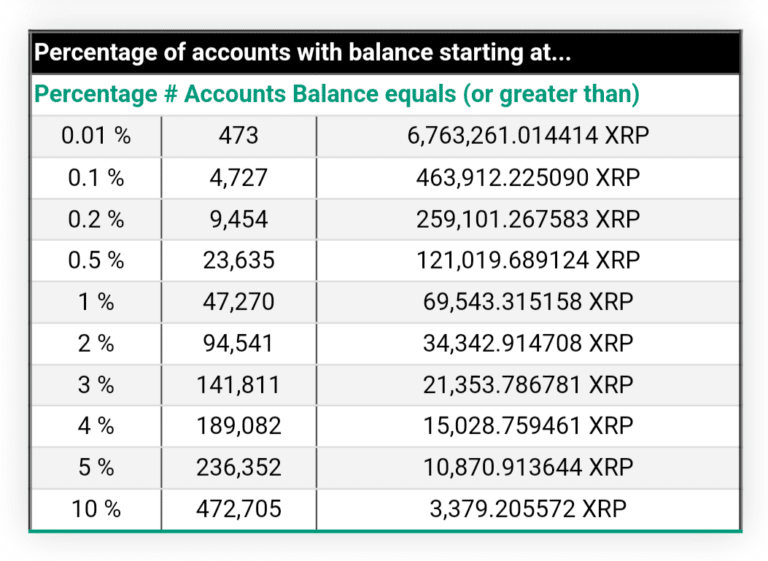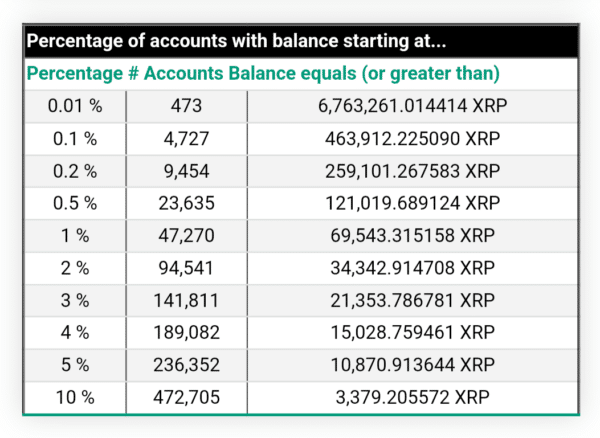 This confidence is evident in the accumulation trend observed among addresses holding between 100,000 XRP and 5 million XRP. Notably, addresses holding 100,000 XRP to 500,000 XRP have been augmenting their bags since November. These wallets now hold over 5.2 billion XRP, representing a 16.6% increase from their collective balance of 4.46 billion XRP last November.
Moreover, addresses holding between 1 million XRP to 5 million XRP have embarked on a similar accumulation spree. These wallets now collectively hold 2.72 billion XRP. This value marks a 16.2% surge from their cumulative holding of 2.34 billion XRP in November 2022. 
XRP Wallets Increase Amid Bullish Sentiments
Meanwhile, the total number of XRP addresses has continued to increase, signaling a growing interest in the asset. The Historic Wallet Count metric from Rich List indicates that XRP wallets have surged since hitting the 4 million mark last year. 
As of October 1, 2022, total XRP wallets stood at 4.3 million, according to a previous report from The Crypto Basic. This figure now stands at 4.7 million, indicating that market participants have created an impressive 400K+ XRP addresses in the past nine months. Messari also highlighted increased daily active addresses and transactions on the XRPL in Q1 2023.
A resurgence of bullish sentiments surrounding XRP has contributed to these impressive metrics. The Crypto Basic recently disclosed that XRP's market dominance had surged to an 8-month high. The asset has outpaced the overall crypto market in the past few weeks. 
Follow Us on Twitter and Facebook.
Disclaimer: This content is informational and should not be considered financial advice. The views expressed in this article may include the author's personal opinions and do not reflect The Crypto Basic's opinion. Readers are encouraged to do thorough research before making any investment decisions. The Crypto Basic is not responsible for any financial losses.
-Advertisement-