CoinCodex, a prominent data aggregator, has assessed Shiba Inu potential to hit $0.01 while setting a prospective price target for the asset by 2030.
Shiba Inu (SHIB) remains at the mercy of the bears, plagued by the prevailing market turbulence. However, some proponents continue to hope for a rally to $0.01. To this end, CoinCodex, a leading data aggregator, has assessed SHIB's potential to record a similar run.
In particular, CoinCodex's article evaluates the possibility of Shiba Inu hitting $1 or $0.50. The data compiler explicitly states that such a price target is "not very likely," given current market conditions.
According to the report, despite being unlikely to hit $1 or $0.50, Shiba Inu could still record some potential price surges. The article highlighted SHIB's previous rally as an indication that the asset has such potential for a massive run. Notably, SHIB surged by 85,784,180% in 2021.
CoinCodex emphasized that Shiba Inu could not replicate its 2021 rally the following year because of the woes witnessed in the broader market. Moreover, they noted that the asset's large supply further hindered more rallies.
Shiba Inu Supply Dilemma
As a result, the report argues that, for Shiba Inu to hit $0.50 or $1, its supply must be reduced by a large proportion. Considering a price of $0.00001, CoinCodex noted that if SHIB surged to $0.01, its market cap would hit $5.5 trillion, considering a supply of 550 trillion tokens.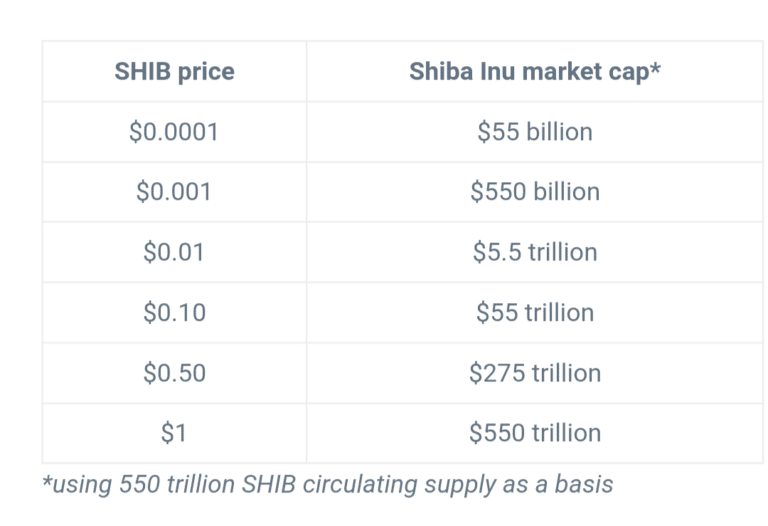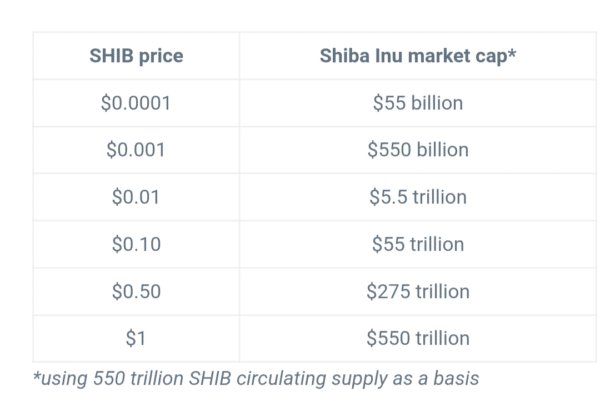 For context, the entire crypto market cap currently stands at $1.19 trillion. Apple and Microsoft, the two largest companies by market cap, have respective valuations of $2.984 trillion and $2.507 trillion. 
If its circulating supply remains unchanged, a price of $0.01 would make Shiba Inu more valuable than the entire crypto market at its current valuation. It would also make the asset more valuable than Apple and Microsoft. There isn't enough money in the market to achieve this feat.
How Could SHIB Hit $0.01?
Due to this, CoinCodex presented the perfect solution to the hindrance: token burns. Shiba Inu's astronomical surge in 2021 was possible due to Ethereum founder Vitalik Buterin's burn of 410 trillion SHIB that year.
CoinCodex correctly stresses that Shiba Inu needs to reduce its supply to have a chance at hitting $0.01 or even $1. At this moment, such a magnitude of burn might not be possible. To this end, CoinCodex concluded that it is unlikely for the asset to hit the price target. However, it did not rule out the possibility.
Shiba Inu Price Prediction
Factoring in the effects of the broader market, CoinCodex set Shiba Inu's price at $0.001978 by 2030. This would mark a 26,238% increase from SHIB's current value of $0.00000751. The data aggregator used Bitcoin's price movements as a measure for this price projection.
Follow Us on Twitter and Facebook.
Disclaimer: This content is informational and should not be considered financial advice. The views expressed in this article may include the author's personal opinions and do not reflect The Crypto Basic's opinion. Readers are encouraged to do thorough research before making any investment decisions. The Crypto Basic is not responsible for any financial losses.
-Advertisement-