Welcome to a fun journey through the world of the top cryptocurrency memes and GIFs for 2023. Here we celebrate the humor and creativity of the crypto community, showcasing their knack for capturing and influencing Web3 and internet pop culture. We'll be looking at lighthearted meme coins and other important tokens, including ApeMax, Bitcoin, Ethereum, Dogecoin, Shiba Inu, Pepe Coin, and others. The information here is gathered from hilarious content creators and internet sleuths to provide both new and seasoned crypto fun lovers with entertaining and interesting content.
Definitive list of the best places to get crypto memes
ApeMax Twitter: It offers a blend of project updates and community-driven humor, making it a unique hub for ApeMax and general crypto memes.
r/CryptoCurrencyMemes on Reddit: This dedicated subreddit is a thriving community where users share and upvote the funniest memes about the latest crypto trends and news.
9GAG: Known for its vast and diverse meme content, 9GAG has a robust section dedicated to crypto-related humor, from light-hearted jests to ironic commentary.
Google Images: A broad and easily accessible platform, Google Images provides a plethora of crypto memes in various formats sourced from across the internet.
Pinterest: With its visually appealing interface, Pinterest hosts a wide array of creative and unique crypto memes curated by its user community.
Instagram: Thanks to its huge user base and emphasis on visual content, Instagram is a rich source for crypto memes, with numerous accounts dedicated to the niche.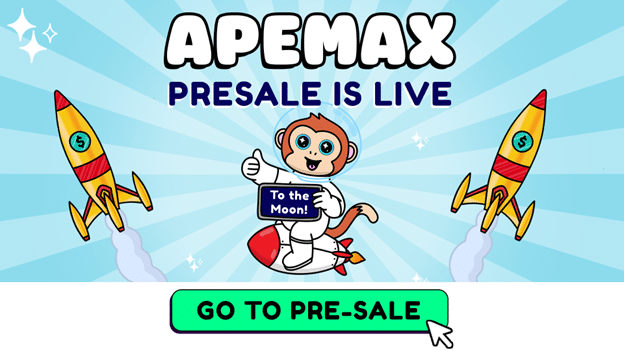 What is ApeMax and why are people making ApeMax memes?
ApeMax, a standout in the blockchain space, is a new and fun cryptocurrency gaining recognition for its unique "Boost-to-Earn" feature and smart tokenomics. This innovative token is a fresh perspective to the world of crypto. The rise of ApeMax has led to the creation of numerous ApeMax memes, a testament to the project's humor and creativity. Fans can also create and share memes as a way of expressing their excitement, as well as to engage in friendly banter and commentary on the cryptosphere. This combination of pioneering technology and community spirit is what makes memes so compelling in the Web3 space.
What is the ApeMax Presale?
The ApeMax Presale is a token sales phase open to eligible buyers only. This presale event provides a unique opportunity for individuals to follow the ApeMax journey from its early stages. The fervor surrounding the ApeMax Presale is also fuel for the meme engines, allowing fans to share humorous posts and graphics within the Official ApeMax Discord and Telegram groups.
What is the most famous meme crypto?
Undeniably, the most famous meme cryptocurrency to date is Dogecoin (DOGE). Originally created as a joke in 2013, Dogecoin has gained widespread popularity. It features the face of the Shiba Inu dog from the "Doge" meme as its logo, and its rise to fame is a testament to the power of community humour and the internet's love for all things meme-related. Dogecoin has cemented itself as an iconic player in the meme crypto sphere, inspiring a wave of similarly-themed coins.
What are the best new meme coins?
Venturing into the playful universe of meme cryptocurrencies, we find several fresh projects that have been making waves and capturing the attention of crypto enthusiasts. Here are some of the best new meme coins:
Shiba Inu (SHIB): Building on the legacy of Dogecoin, Shiba Inu has been dubbed as the "Dogecoin killer" by its community. With its native ShibaSwap exchange and plans for an NFT marketplace, it's quickly making a name for itself.
ApeMax (APEMAX): Leveraging the humorous ApeMax persona and a unique Boost-to-Earn model, ApeMax offers holders more than just laughs. It brings together a vibrant community and innovative token utility, standing out even in the crowded meme coin scene.
SafeMoon (SAFEMOON): With a name like SafeMoon, this coin humorously nods to the crypto industry's desire for a 'moonshot'. The coin also boasts tokenomics that reward long-term holders.
Baby Doge Coin (BabyDoge): As the name suggests, Baby Doge Coin is the self-proclaimed "son of Doge." This coin has gained traction for its hyper-deflationary tokenomics, promising that every transaction in its network benefits all holders.
These coins represent some of the best recent additions to the meme coin sector, each bringing its unique blend of humor and serious crypto innovation. Remember, though, that buying meme coins involves high risks, and it's always best to do your research and check eligibility before taking the plunge.
What are the most popular crypto meme formats?
According to our research, some popular meme formats include:
Roller Coaster GIFs: Representing the wild price swings in crypto.
Wojak Comics: Depicting the emotional highs and lows of investing.
"To the Moon" Memes: Reflecting the investor optimism of cryptos soaring in value.
Brain Expansion: Usually showing the progression of an investor's understanding of cryptocurrencies.
Remember, humor is an entertaining aspect of crypto and meme coin culture. However, let's not forget that all types of cryptocurrencies, including meme coins, come with high risks and can experience significant price fluctuations and volatility. Before you dive in and make purchasing decisions, make sure you're cautious, and conduct comprehensive independent research before making any decisions. Also, please note that individuals from the United States, Canada, sanctioned nations, and other blocked territories are not eligible to purchase ApeMax tokens. For a complete list of these excluded countries, please refer to the official ApeMax website.
Follow Us on Twitter and Facebook.
Disclaimer: This content is informational and should not be considered financial advice. The views expressed in this article may include the author's personal opinions and do not reflect The Crypto Basic's opinion. Readers are encouraged to do thorough research before making any investment decisions. The Crypto Basic is not responsible for any financial losses.
-Advertisement-