After months of teasers and waits, the Shiba Inu community will now finally experience the launch of its ecosystem scaling solution, Shibarium.
In a tweet on Tuesday, Shytoshi Kusama, the Shiba Inu community lead, revealed that Shibarium could be coming today, August 16. Kusama particularly made the hint in a reply tweet to an update on X about the ongoing ETH Toronto conference.
"Surprise for you tomorrow," the pseudonymous developer remarked.
Surprise for you tomorrow too

— Shytoshi Kusama™ (@ShytoshiKusama) August 15, 2023
The reactions that followed Kusama's tweet mostly expressed enthusiasm that the Shiba Inu community will finally get the Shibarium mainnet launch.
Beana, the co-founder of a Shiba Inu-themed launchpad, commented:
"Hope we don't get an encyclopedia tomorrow. Shytoshi Kusama. We all just want Shibarium Mainnet launch."
Shibarium Launching Today
Meanwhile, a prominent figure in the Shiba Inu community shared a screenshot of Kusama's messages to the community Discord server. In the conversation, Kusama said:
"Soon is tomorrow; see you at the keynote."
It is worth mentioning that the 'tomorrow' referred to in all instances in this context implies today, August 16. Furthermore, the developer emphasized that the wait was over. He noted that the community now has a real date to look out for the expected Shibarium.
"You got a date today. Tomorrow," Kusama replied to a community member who asked in the Shibarium Discord server if the lead developer could reveal the launch date to the community.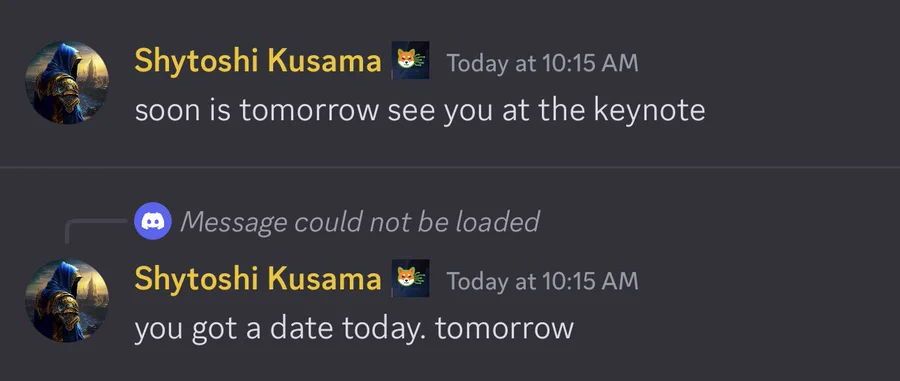 Notably, the official Shiba Inu X account tweeted a sneak peek clip capturing Kusama welcoming Shiba armies to his keynote presentation to be made at Blockchain Futurist Conference. Per the video, the time for the presentation is 5:35 Eastern Daylight Time (EDT).
Soon becomes tomorrow#SHIBARMY pic.twitter.com/I7P1lQgC07

— Shib (@Shibtoken) August 15, 2023
As The Crypto Basic disclosed, the development team aims to launch Shibarium at the Toronto summit. Expectedly, the Shiba Inu community is currently bustling with excitement as the wait is finally over.
An XRP-Shiba Inu enthusiast remarked: 
"Has our day really come?! Would make it the summer to remember first XRP gets clarity and then Shibarium; ill mark this year on my calendar and celebrate it every year!"
Follow Us on Twitter and Facebook.
Disclaimer: This content is informational and should not be considered financial advice. The views expressed in this article may include the author's personal opinions and do not reflect The Crypto Basic's opinion. Readers are encouraged to do thorough research before making any investment decisions. The Crypto Basic is not responsible for any financial losses.
-Advertisement-