As XRP continues to hold above the $0.50 threshold, Michaël van de Poppe, a prominent analyst and crypto trader, has disclosed the point at which he would enter the XRP market.
Van de Poppe made this disclosure in his latest analysis of XRP's movements, as he aimed to satisfy a request made by his audience. He highlighted that XRP has retraced the gains it accumulated in the back of the lawsuit victory.
"Full retrace on this one after the win of the SEC case.
Personally, I'm buying strength. This means that I'm looking for a breakout above $0.54.
A retest there is a great one for a long."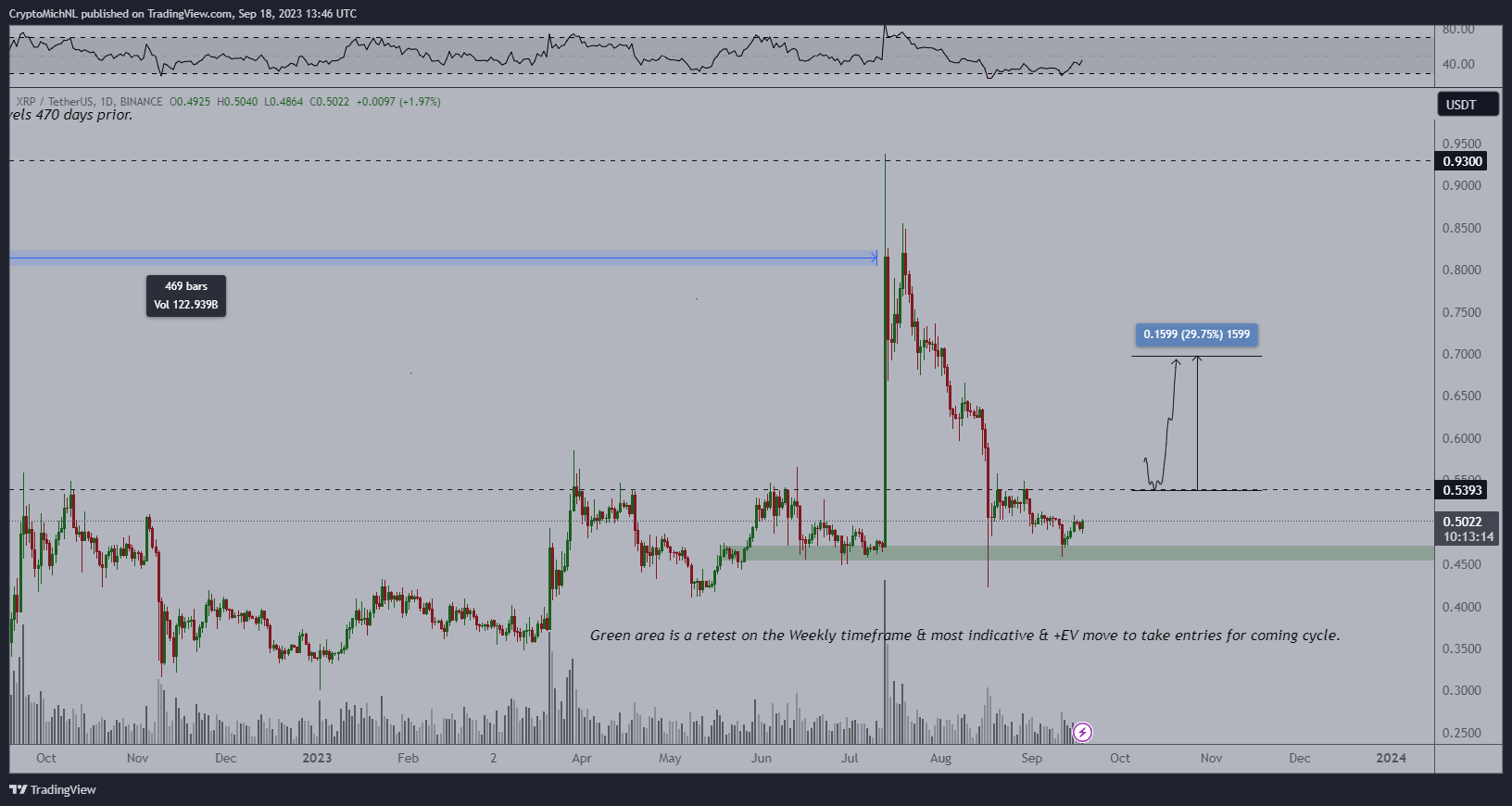 Recall that XRP spiked 97% to a yearly high of $0.93 when the judge ruled it was not a security on July 13. However, the asset witnessed intense resistance at this high, resulting in subsequent declines that persisted for over a month.
XRP eventually collapsed to $0.4226 on August 17. However, a recovery saw XRP surge above this level, but its current value suggests that it has fully retraced the gains of July 13.
In his recent analysis, Van de Poppe stressed that he was looking to buy XRP when he noticed strength in the market. This strength would be exemplified to him by XRP breaking above the $0.54 price territory.
Since relinquishing the $0.54 threshold on August 17, XRP has retested the price point only twice. The last time this happened was on August 29, when it surged to $0.5496 but faced resistance.
This price level, especially $0.5393, has been a formidable resistance point. Van de Poppe is anticipating a break above it. Should XRP stage a breakout, the analyst believes it signifies strength and could indicate further surges.
XRP Target Set at $0.70
Van de Poppe has set a conservative price target for when XRP breaks out. Data from the accompanying chart shows a targeted 29.75% increase from the $0.5393 price. This increase would lead to XRP recapturing the $0.70 price for the first time since August 2.
This analysis of XRP's price actions comes when the asset is well above $0.50. Despite the bearish trend, investor sentiment remains fairly good. The Crypto Basic recently disclosed that XRP's liquidity has been high since the lawsuit victory.
XRP is changing hands at $0.5080 as of press time, up 2.69% in the last 24 hours. The asset has increased 0.57% today, with an impressive 7.44% surge over the past week. XRP is up almost 50% this year.
Follow Us on Twitter and Facebook.
Disclaimer: This content is informational and should not be considered financial advice. The views expressed in this article may include the author's personal opinions and do not reflect The Crypto Basic's opinion. Readers are encouraged to do thorough research before making any investment decisions. The Crypto Basic is not responsible for any financial losses.
-Advertisement-