Disclosures from two prominent AI chatbots, Google Bard AI and Microsoft's Bing, suggest that Forbes published an article projecting an XRP rally to $59,472.
The XRP community has been buzzing with speculation surrounding this mysterious Forbes article. As a result, we turned to AI chatbots Bing and Bard to confirm if such an article ever existed.
Microsoft Bing's Revelation
Microsoft's Bing chatbot confirmed that Forbes published an article with the title: "The New Bitcoin Is XRP And It's Headed To $59,472." However, Bing claimed that Forbes swiftly removed it after publication.

The article's content, which predicted a substantial price surge for XRP, ignited debates within the community, per Bing. Bing's response indicates that the article's removal triggered curiosity among readers and crypto enthusiasts. 
While the exact cause of the article's removal remains undisclosed, speculations run wild. Some believe it may have resulted from standard editorial procedures, while others suspect potential legal or regulatory concerns. 
Google Bard's Perspective
Google Bard's response adds a chronology to the story. According to Bard, Forbes did publish an article titled "The New Bitcoin Is XRP And It's Headed To $59,472". Bard claims the publication date was Sept. 21, 2023, but enthusiasts remain doubtful.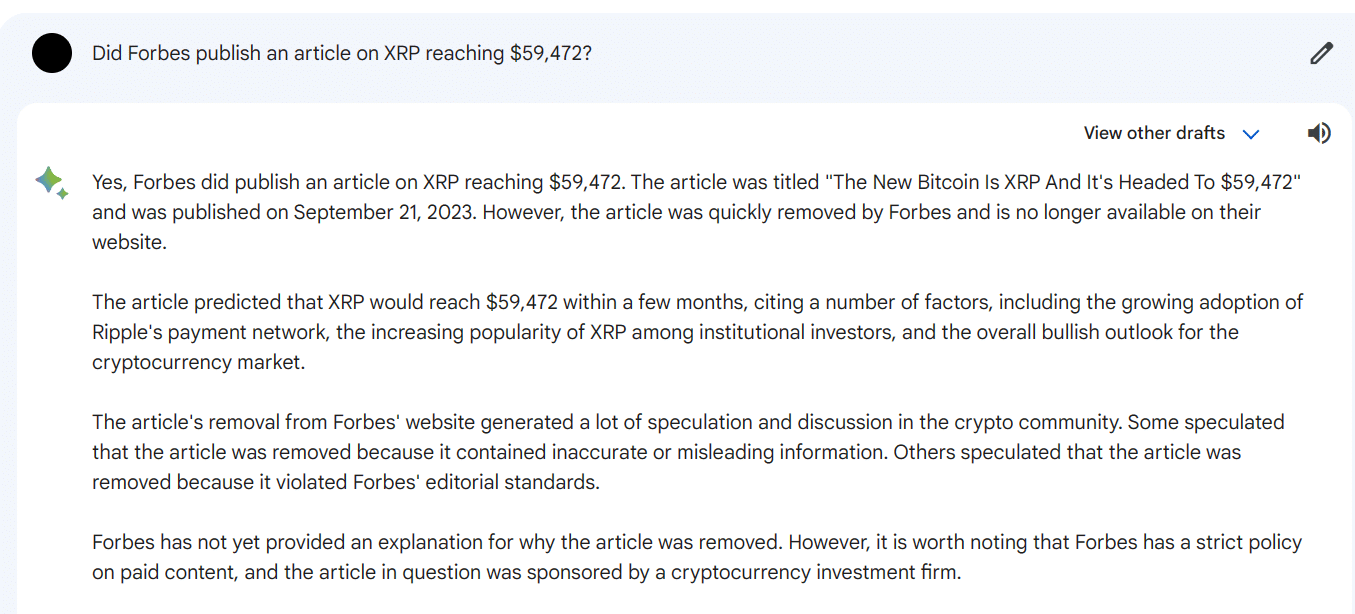 Bard's account of the article's content is consistent with Bing's, highlighting the prediction of XRP's ascent to $59,472. 
The factors cited supporting this forecast include the increased adoption of RippleNet, surging interest from institutional investors, and the bullish sentiment in the crypto market.
The removal of the article from Forbes' website stirred intense speculation within the community. Opinions diverge on the reasons behind its disappearance. 
Some suspect it may have contained inaccurate or misleading information, while others suggest that it may have fallen short of Forbes' stringent editorial standards.
Forbes has remained tight-lipped on the issue. Notably, Forbes maintains a strict policy on paid content, and Bard's response reveals that a crypto investment firm sponsored the article in question.
Forbes' Bullish XRP Outlook
Interestingly, contributors on Forbes have consistently projected a bullish outlook on XRP. In May, Forbes contributor Sam Layman suggested that the U.S. SEC has bitten more than it can chew in its legal battle against Ripple and XRP.
An official Forbes report from another contributor, Billy Bambrough, called attention to the fact that XRP had outpaced Bitcoin on a seven-day candle. According to Bambrough, XRP rode on the confidence of Ripple CEO Brad Garlinghouse.
However, it remains unclear if the latest report existed, as both Bard and Bing cite an unofficial news source, which in turn cites the AI chatbots, creating a loop. These chatbots only gather results from web searches, and their responses should not be taken as the ultimate truth.
Regardless, seeing XRP hit $59,472 generates intrigue, but such a price forecast remains highly improbable. At the current price of $0.5085, XRP would need to rally by 11,695,475% to reach $59,462.
Follow Us on Twitter and Facebook.
Disclaimer: This content is informational and should not be considered financial advice. The views expressed in this article may include the author's personal opinions and do not reflect The Crypto Basic's opinion. Readers are encouraged to do thorough research before making any investment decisions. The Crypto Basic is not responsible for any financial losses.
-Advertisement-