The XRP Army is pondering about XRP's potential value in the coming bull season now that the digital asset has amassed increased support.
🚀 🚨 Remember when XRP soared 60,000% in 12 months, from $0.006 to $3.84? 🤔📈

That was pure speculation! Now, with stronger partnerships and real-world utility, the potential is staggering. 🌐✨

What's your 2024 price target for XRP?💥🚀 Comment Below 👇 #XRP… pic.twitter.com/RzrOUWl6aT

— Good Morning Crypto (@3TGMCrypto) November 7, 2023
The foundation of this contemplation rests on the fact that XRP engineered an astronomic bullish trajectory five years ago.
XRP
60,000% Gain
In particular, data from market tracking platforms indicated that XRP traded at $0.006361 on January 7, 2017. However, exactly 12 months later, XRP has increased to an all-time high of $3.84. This parabolic growth implies a growth percentage exceeding 60,000%.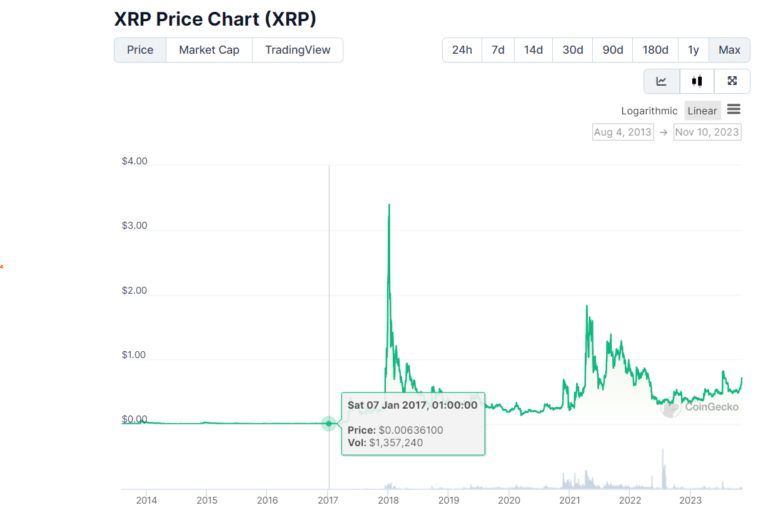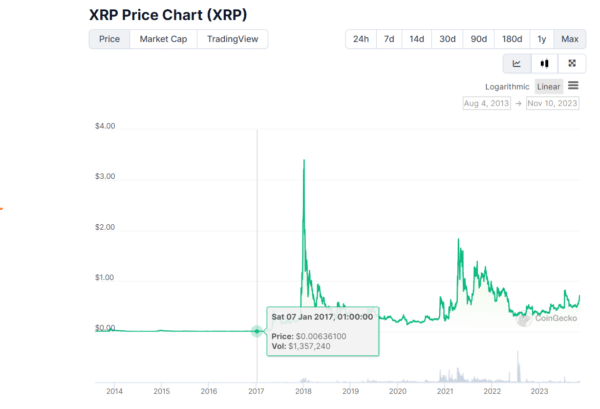 According to market analysts, XRP orchestrated such a remarkable feat with less utility and adoption from banks, as well as with a smaller community of enthusiasts.
Therefore, the XRP Army now argued that XRP's bullish pattern in the coming bull cycle would be phenomenal, having garnered expanded interest from prominent financial institutions alongside more projects building on XRP Ledger (XRPL).
XRP Utility and Price Outlook
Recall that in September, SBI Holding, one of the leading payment giants in Japan, confirmed it had started using XRP to facilitate intercontinental payment with four countries in the Asia Pacific. 
Likewise, Xumm, a non-custodial wallet for XRPL, has recorded 602,989 active users from 236 jurisdictions worldwide in three months.
Meanwhile, in a recent tweet, a team member for the 3T Warrior Academy Research surveyed the sentiments of the crypto community about XRP's price outlook for 2024. The researcher particularly asked if the crypto community believes XRP would reclaim the ATH of $3.84 next year.
Interestingly, the overwhelming majority of the respondents (84%) voted yes. 
Aside from community views, reputable chart analysts have argued that XRP would reclaim and surpass its ATH based on the pattern formed on XRP's market chart.
Specifically, symmetric triangles witnessed prior to the 2014 and 2018 peaks have resurfaced on XRP's chart for the current longstanding accumulation haul.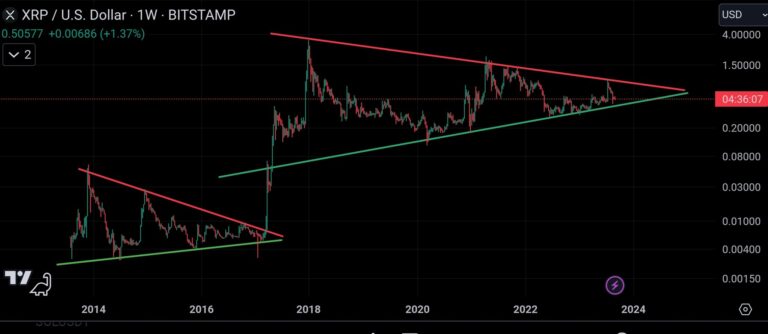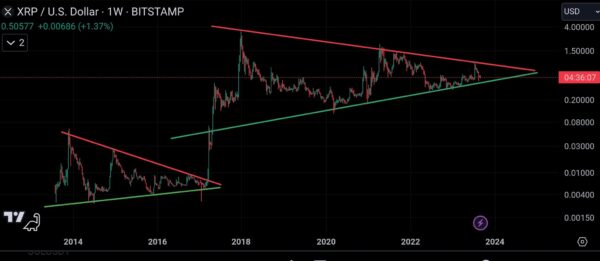 XRP growing over 60,000%, as it did in 2018, would put its market value above $400. However, predictions of XRP reaching triple-digits in the coming bull cycle are uncommon in the crypto community. Most analyst forecasting XRP's ultimate bullish breakout have had their projections between $10 and $100.
For example, chartist EGRAG argued XRP's ultimate point could be a 27 times growth to $98, having stayed 68 months in accumulation.
On the other hand, the banker who has projected a $500 value for XRP based her sentiment on the $250 trillion future valuation of the cross-border payment landscape. 
Ultimately, it remains to be seen what percentage increase XRP could pull with its increased prominence in the financial sector.
Follow Us on Twitter and Facebook.
Disclaimer: This content is informational and should not be considered financial advice. The views expressed in this article may include the author's personal opinions and do not reflect The Crypto Basic's opinion. Readers are encouraged to do thorough research before making any investment decisions. The Crypto Basic is not responsible for any financial losses.
-Advertisement-