Amid the recent XRP decline to the $0.61 territory, EGRAG, a prominent crypto chartist, has called attention to the next crucial XRP resistance and support levels to watch.
XRP is currently trading for $0.6105, down 1.8% over the past 24 hours. The asset is witnessing growing interest despite the ongoing slump, with trade volume up 24% in the last 24 hours to $1,258,720,817. 
As XRP trades at the current position, EGRAG took to X to unveil the significance of the Gaussian Channel and Symmetrical Triangle in understanding XRP's price movements. The analysis brings attention to pivotal support and resistance levels on the 5-day chart.
Key Support and Resistance
EGRAG identified $0.60 as a critical support threshold. Breaching this level could signal a shift in sentiment, possibly triggering increased selling pressure. 
The market exhibits resilience within the firm support range of $0.54 to $0.55. This is a zone where buying momentum tends to intensify. It is important to closely monitor any price actions within this band for potential trade decisions.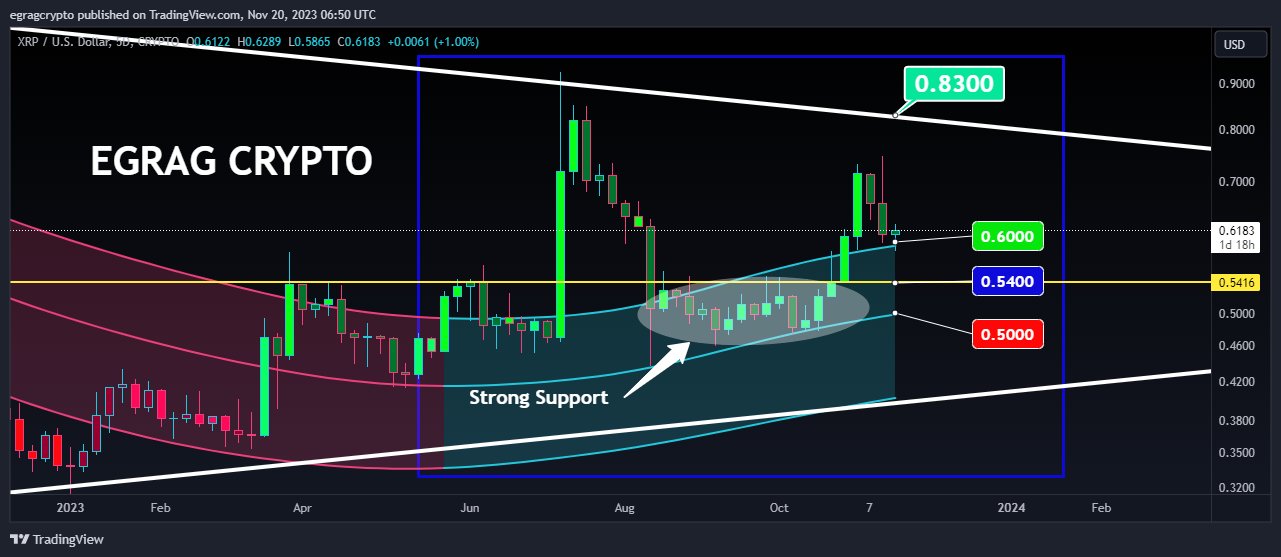 He further emphasized a robust support level at $0.50, indicating a significant threshold where buyers have historically shown increased interest. This level is crucial for maintaining XRP's stability.
In addition, EGRAG pointed to a macro resistance point, a level where historical price movements have encountered notable obstacles. This signifies a challenging zone for XRP to surpass, requiring a substantial bullish push. This territory represents the symmetrical triangle barrier at $0.83 to $0.85.
XRP Might be Oversold
Furthermore, current metrics suggest XRP is undersold, hinting at a potential reversal of the prevailing bearish trend. Notable indicators include the CCI at -73.32 and the Stochastic RSI at 3.63.
The CCI, or Commodity Channel Index, currently standing at -73.32, indicates an oversold condition. This implies that XRP may have reached a point where selling pressure is excessive, potentially paving the way for an upward momentum in price.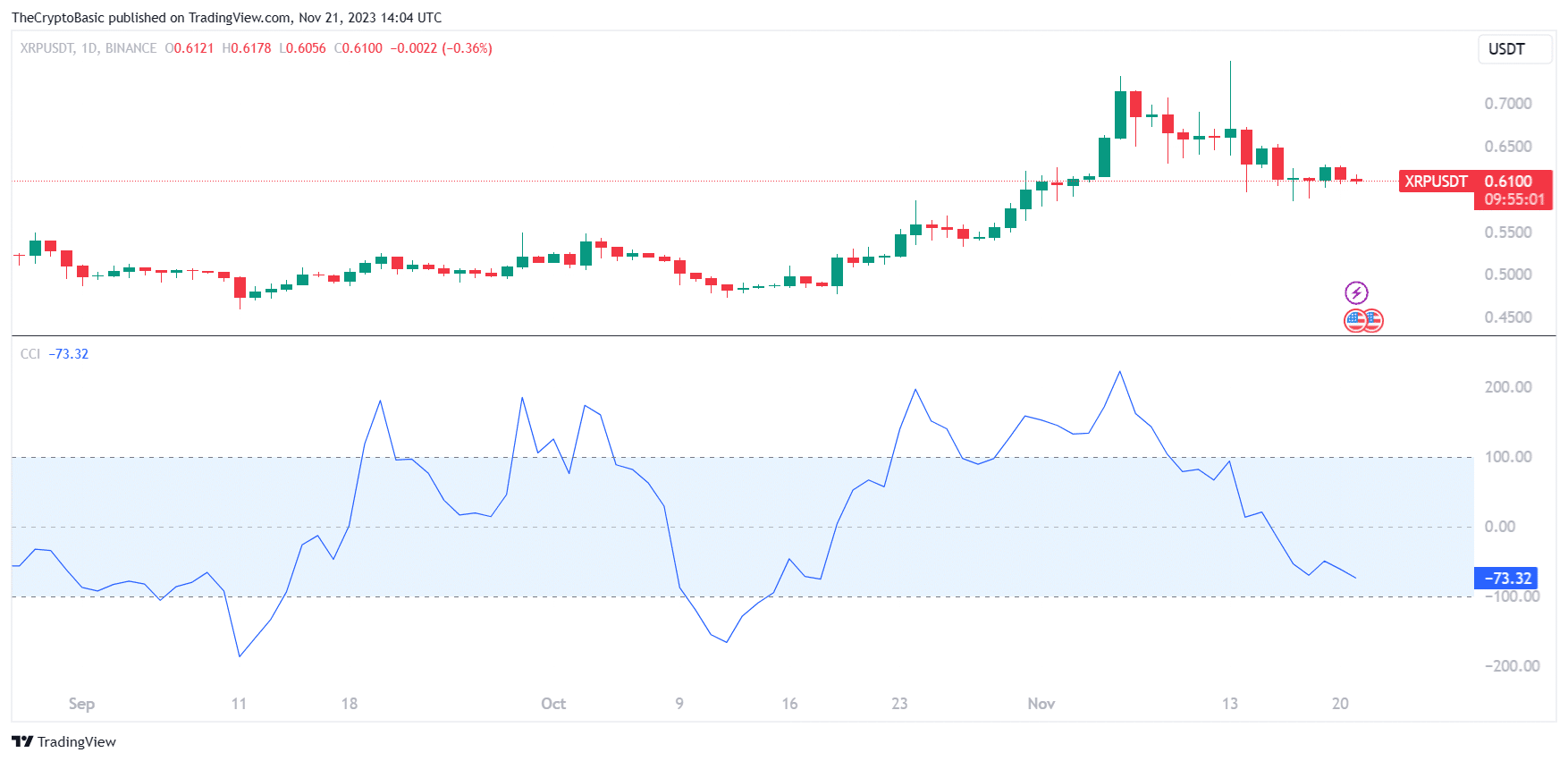 The Stochastic RSI at 3.63 also signifies an oversold market. This reading suggests that XRP's recent downtrend might be reaching a saturation point, increasing the likelihood of a rebound.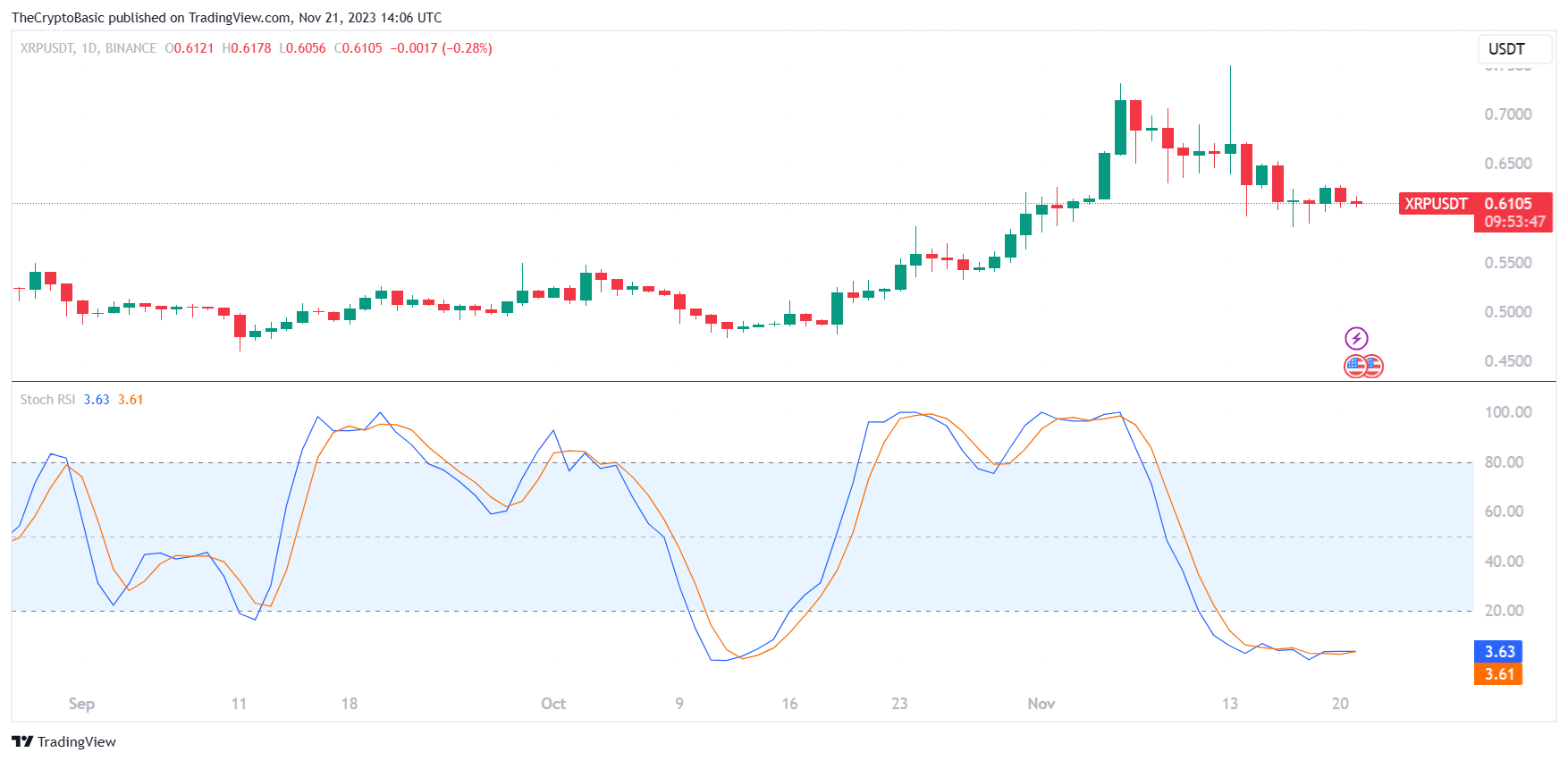 Moreover, The Crypto Basic recently called attention to the formation of a bullish pennant pattern on the daily chart for XRP. A pennant typically signifies a period of consolidation after an upward or downward momentum. The formation of the pennant suggests that XRP could resume the previous upward trend.
Follow Us on Twitter and Facebook.
Disclaimer: This content is informational and should not be considered financial advice. The views expressed in this article may include the author's personal opinions and do not reflect The Crypto Basic's opinion. Readers are encouraged to do thorough research before making any investment decisions. The Crypto Basic is not responsible for any financial losses.
-Advertisement-